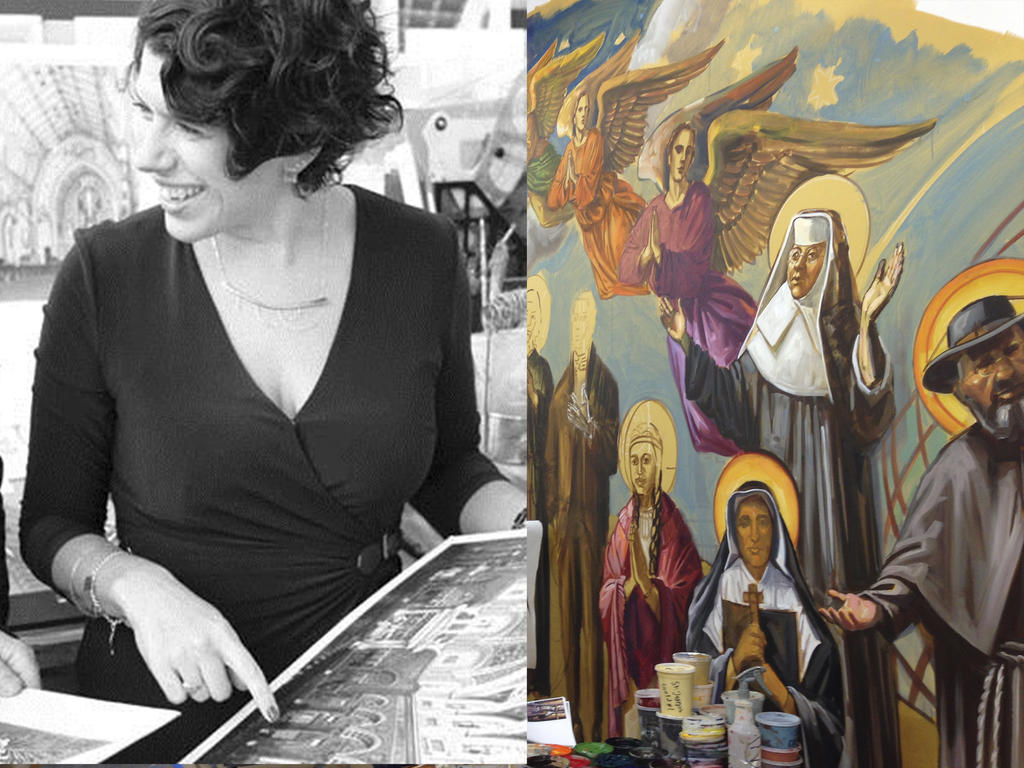 November 06, 2019
How did you get to where you are now? What paths can one take in the arts? 
I had no idea my job existed before I had it. It feels providential to be doing this work that I had strangely specific training for, but had no idea I could do or would be suited to. What I do is extremely niche so there isn't a known path to be charted, but there were definite things along the way that prepared me, pulled me in, sustained me and propelled me forward. I studied art history because it really interested me. I loved connecting the dots. I remember when I switched majors from international relations a lot of people's parents acted like it was a fanciful thing I could never get a job in. I thought then, and think now, it is extremely practical to study something that resonates with you. I have pulled a lot of very long hours and made a lot of sacrifices that have contributed to my success that I would not and could not have done if I wasn't devoted to my subject.
Coming out of school I didn't have a clear career objective, but I knew the training involved with art history (writing, research, and analysis) had broad application outside the field. At Rhodes, I had the privilege of studying art history with David McCarthy and the entire art faculty. I had the opportunity to understand art as a lens through which to view history and culture. I fell in love with the study of religion and philosophy through the Search program with Dr. Shade and Dr. Kaltner. I remember being excited in David's class to discover that as a Catholic I had the vocabulary to decode semiotics of traditional and modern works. In my junior year, I participated in European Studies  on the western track (based at Lincoln college, Oxford, and involving a month-long study of art and architecture throughout continental Europe). I had no idea the training in ecclesiastical art and architecture would be something I would draw upon literally every day in my professional life. I went on to do a semester-long visiting program at the University of Edinburgh and returned to the University of Edinburgh after graduating from Rhodes to do a master's in the history of art (2006). My advisor there was a Picasso scholar, but I also took a class on medieval alterity. At Rhodes and Edinburgh I did internships in the development departments of local museums (the Brooks in Memphis and the Scottish national galleries). I know one of the things I do well is connect with people. I also like to share my passion about what art can do—not as decoration or accumulated wealth, but as a way of shaping how we think, behave, and believe. I was very interested in public art, activist art, and liturgical art. 
I knew I wanted to do something related to the arts but I also needed to eat and pay rent, so entry level gallery jobs were out of the question. Immediately following my graduate work I took a paid internship at the Peggy Guggenheim in Venice (2006), and my mom was diagnosed with cancer so I moved home to Massachusetts and took care of her for about a year and a half. I posted my resume online and kind of forgot about it. I bartended and substitute taught and went to India and became a yoga instructor. My mom started to be well again and my dad, who was in New York,  started to decline. "I guess I should be in New York," I said out loud. Two days later the phone rang. A head hunter wanted to know if I was interested in a position as the executive assistant at EverGreene, a specialty contracting company in New York. "I need a job in New York," I thought, so I went for the interview.  
EverGreene designs, restores, and creates architectural artwork (plaster, paint, murals and decorative finishes) for historic and new theaters, state capitals, churches, courthouses, and commercial buildings across the country. It was a tough job and it wasn't directly in the arts, but I knew I had an excellent opportunity to learn a lot about business by working closely with the founder. I didn't think I'd stay longer than a year, but but before the year was through I was promoted to marketing manager - I didn't love marketing, but I really was proud of the work the company did and happy to have the opportunity to learn about the technical side of preservation, the logistics of construction, delve deeper into design and architectural principles, and write a lot of proposals to win work. When the recession hit, I was fortunate to be seen as a utility person who could serve the best interest of the company. I wore a lot of hats. My company recognized that I connected well with religious clients and asked me to take over business development for that sector, as the director of the sacred space studio. This work has been incredibly rewarding. Because my chief designer and I really understand the function and historic precedent of the art and architecture in religious settings we quickly became recognized, not only as the company to fix the plaster and paint the murals, but as a valued consultant in the development of liturgical artistry programs who could also advise on the materials, logistics, cost, and self-perform the work. Increasingly I was contributing to the creation of new work, so I embarked on a masters in theology, something I'm chipping away at slowly at St. Joseph's College of Maine online. 
As a business developer, I am usually working with the architect and church to develop the scope of work, design the aesthetics, put pricing to everything, create an implementation strategy, coordinate with other trades, sell the work, maintain the client relationship, and make sure we deliver a quality project. I love that I get to work with clients who recognize art and architecture as invitations to prayer, calls to action, and civic engagement. I love the conversations and meditations I get to have in the process. I have been fortunate to have worked on several basilicas and cathedrals, and dozens of parish churches and houses of worship. 
My career path has been an unexpected evolution over the course of more than a decade. I think being flexible, willing to work hard, and open to trying out and learning  from roles that didn't fit neatly into the art career track (or what I ultimately wanted to do) were essential. Everything is preparation.  
How did your time as an art/art history major prepare you to meet your career goal? 
I use my art historical training literally everyday when suggesting appropriate design solutions, referencing precedents in the design process, reviewing our work in progress, and being familiar with the references my clients are drawing upon for each project. But it's not just that obvious stuff. It's the ability to write a convincing argument for why a church should spend the insurance money from a fire on reinstating artwork in the sanctuary, rather than painting it white and putting the money entirely towards mission; uncovering murals that have been painted over is a good investment; or why commissioning new, site-specific artwork is important for a student chapel at a university. Generally speaking, our competition isn't with other studios, it's with the idea that this kind of work can't be done any more or is too expensive, but it can be done, and there are always smart ways to do it and usually community members willing to support it; but it requires a champion who can articulate a convincing case. I also always think about slide tests whenever I'm remembering the name of a church, and the town it's in and the people involved, what it looked like and who the historic architect and artist were— keeping track of all that for hundreds of leads across the country are the same skills required to pass a slide test. 
What art and art history course(s) were you most impacted by? 
David McCarthy's American History of Art, and European Studies (with Sally Dormer and Stevens Anderson) totally changed my life and prepared me for my work.
Because the church was the greatest patron of the arts the world has known, Search classes with John Kaltner were extremely impactful. In the art department, I also constantly draw upon studio classes with Val Valgardson, the gallery management class with Hamlet, the classics, and Victor and David's surveys.
Any advice for Rhodes students?
I think it's practical to devote yourself to things you love, because you are more likely to succeed there than with anything that seems like a smart move but leaves you cold. I also suggest being very open to how you can apply your knowledge and skills. There are a lot of opportunities in less well known enclaves of the art world. I would never have guessed that I would be in the construction industry, crunching numbers for estimates, climbing around the back of a ceiling, dealing with the chemistry of coatings and substrates, or teaching clergy about how art and architecture can help them in their mission. I would be willing to stretch and open to the unexpected preparation each experience offers.