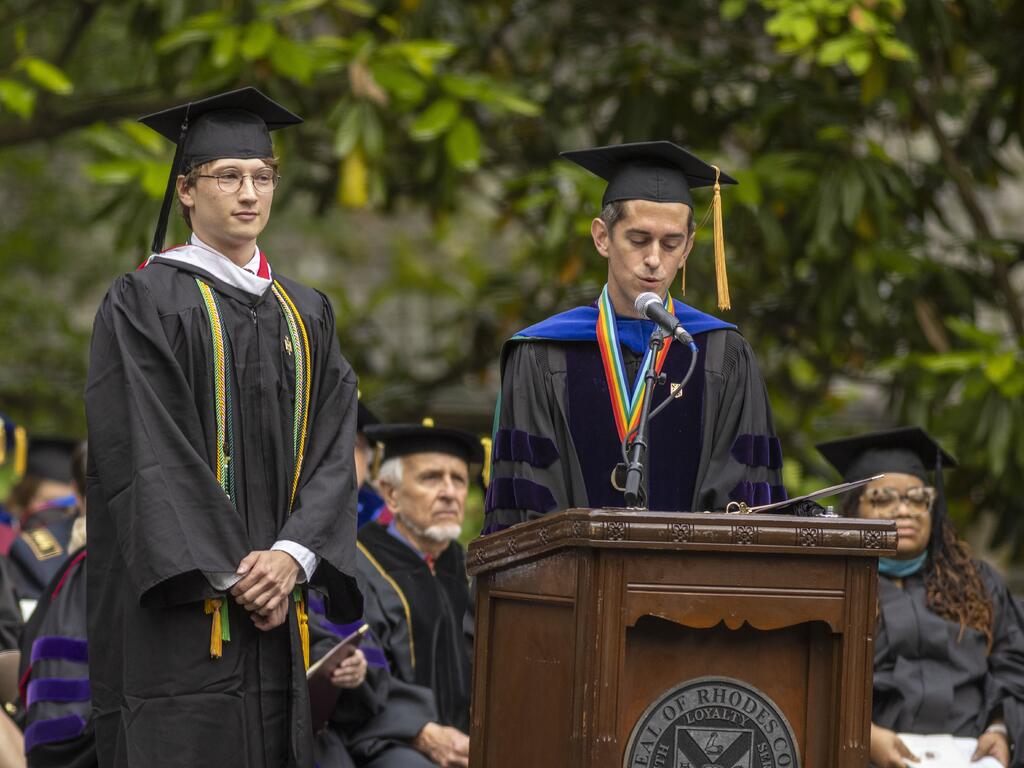 May 13, 2023
Annual awards were presented at the 174th Commencement Exercises of Rhodes College held today on campus.
Walker Coleman is the recipient of the Peyton Nalle Rhodes Phi Beta Kappa Prize, the college's highest academic honor and awarded to the graduating senior who has best demonstrated an exceptional combination of scholarship, creativity, and achievement and a commitment to the liberal arts and sciences.

The 2023 Algernon Sydney Sullivan Awards were presented to graduating seniors Priscilla Foreman and Mia Harris, and to Dr. Timothy S. Huebner, associate provost and the Irma O. Sternberg Professor of History.
Each year, in cooperation with the New York Southern Society, Rhodes presents the Algernon Sydney Sullivan Award to two graduating seniors and one non-student who have given selflessly to others and the college. The student recipients are nominated for the award by their peers and have exemplified excellence of character and service to humanity. Huebner was presented the award for his leadership, resiliency, and dedication to Rhodes.

MORE ABOUT THE RECIPIENTS
Peyton Nalle Rhodes Phi Beta Kappa Prize
Walker Coleman is an international studies and art history double major from Cincinnati, OH. In his junior year, he was accepted into Phi Beta Kappa, America's oldest collegiate honor society that champions the liberal arts and sciences. He has pursued a wide range of academic interests that reflect the breadth of the liberal arts, which has helped equip him to examine and answer questions in truly interdisciplinary ways.
His recent academic explorations include examining why some non-democratic regimes in Asia have produced some of the most effective environmentalist movements in comparison with those of liberal democracies. In pursuit of better understanding this phenomenon, he drew on the concepts and lenses utilized in sociology, economics, and environmental studies.
In another instance involving art history scholarship, Coleman completed a directed inquiry to study and provide a date for the much-disputed fresco of the dolphins adorning the Queen's Megaron of the Palace of Knossos, Crete. He also turned his attention to the fish in the fresco and brought in key methods and findings from environmental science, bioarchaeology, and more extensive art historical scholarship to better understand the context of the imagery in the Bronze Age.
Coleman has noted that "to best serve truth and reveal the fullest expression of human plurality, one must question the structures and narratives that inundate our world."
His professors have described him as a person characterized by "openness, humility, curiosity, and speculation" and as someone who "does not want to simply think 'outside of the box,' but who wants to reconstruct the box."
Coleman is interested in environmental security issues surrounding food and geopolitics and will join the communications and partnerships teams of the Global Crop Diversity Trust in Bonn, Germany, in August 2023.
Algernon Sydney Sullivan Awards
As a double major in media studies and history from Whitehall, AR, Priscilla Foreman has been an integral member in many circles of the Rhodes College community, building solid relationships with administrators and peers and sharing the voice of the student body to its fullest.
Foreman has served as a Resident Assistant, a student representative on the Board of Trustees, a member of the Honor Council, and an inaugural member of the Cultural Programming Committee, and has served as communications director for the Multicultural Vision Program. She was honored as Rhodes Royalty in 2022.
In addition, Foreman is a member of the Rhodes City Lynx Service Program. Her commitment to community service is demonstrated through her work with City Leadership, an organization that promotes Memphis and her internship with the world-renowned Stax Museum of American Soul Music. She also has worked as a history intern for NASA.
One of Foreman's peers commented, "I am convinced that this school would not run without Priscilla Foreman. As my MVP mentor, Priscilla was my first introduction to Rhodes—and what a way to be introduced to Rhodes. She is a kind-hearted person whose purpose is to help others. Anytime I've ever had an issue, I text Priscilla, not because she always has the answer, but because she is dedicated to helping me find it. I look up to and strive to be just like her—a helpful servant leader (who is also hilarious). She is my role model, and I'm so proud of her."
Another nominator said, "Priscilla is patient, understanding, and supportive even when things don't go according to plan. Her presence is calming, and I am immediately in a better mood when I see Priscilla."
When Foreman isn't serving in some kind of capacity for others, she can be found behind a camera, as an avid photographer, capturing the beauty of people, places, and pets.
***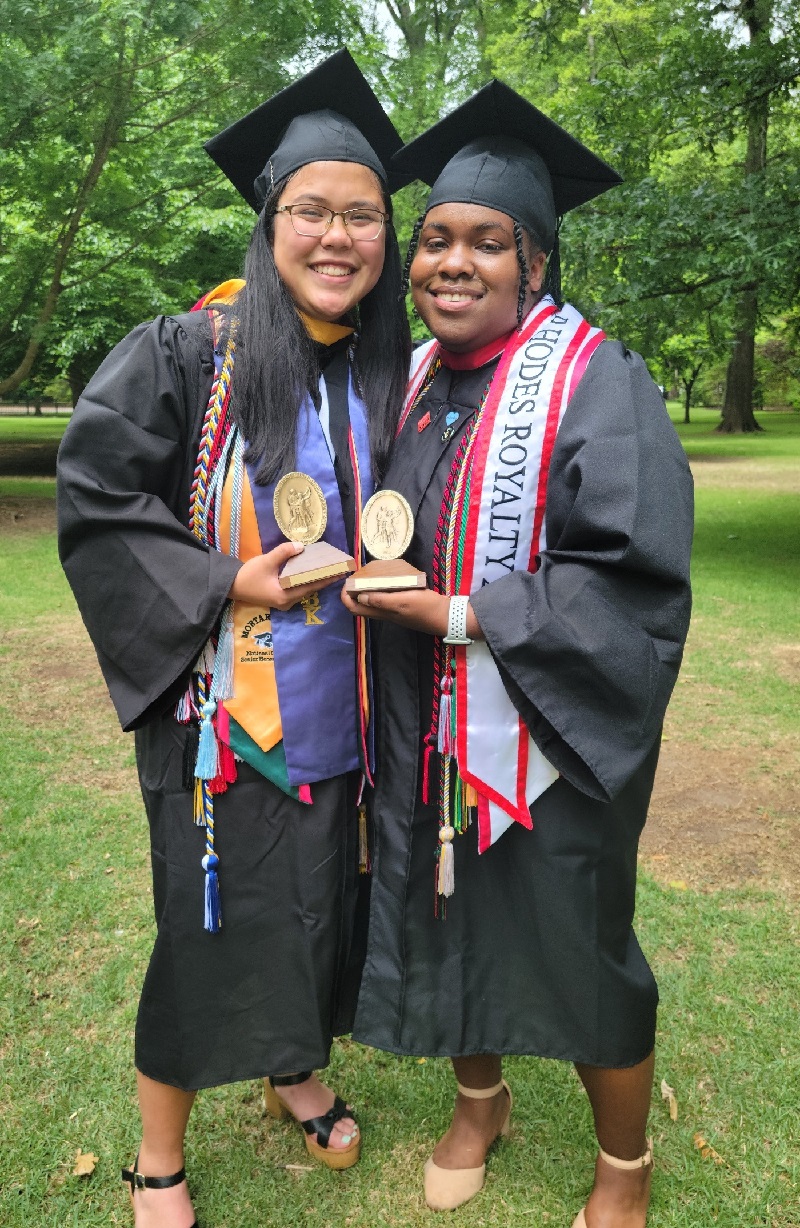 A biology major from Hermitage, TN, Mia Harris first stepped onto campus as a student-athlete on the women's swimming and diving team but quickly became a welcoming face to the entire campus.
Harris has served as president of the Mortar Board senior honor society and the Beta Beta Beta biological honor society. She also was an active member of Shoot Your Shot, Womxn of Determination, A.S.I.A., and she worked as an Animal Behavior and Conservation Fellow at the Memphis Zoo. In April, Harris garnered the Matthew Sean Jones Award from Rhodes Student Government, given to one who genuinely pursues the highest ideals of "active" student advocacy.
One of her nominators commented, "Mia Harris embodies love, compassion, perseverance, acceptance, and the purest form of joy one could ever encounter. I have countless memories of Mia stepping out of her comfort zone to help strangers, sitting with professors, students, friends, and everyone in between when times were difficult, and ensuring everyone knew her door was open to anyone, for anything. It is impossible not to hear her bold laugh across campus, become infected with happiness from her smile, feel reassured and refreshed in her presence, or be inspired to love unconditionally and abundantly watching her shower others with admiration and respect."
Another said, "Through my interactions with Mia, I've learned about the importance of building relationships and serving others. Mia is a role model for me in terms of how to cultivate a community of kindness and respect. I'm so grateful for Mia's presence on campus and the positive impact she's had on my college experience so far. Overall, Mia's inclusive and caring personality makes her such a valuable member of the Rhodes College community. Her dedication to self-improvement, kindness, and service to others serves as an inspiration to all of us."
***
A member of the faculty at Rhodes since 1995, Dr. Timothy S. Huebner is a specialist in the constitutional and legal history of the 19th-century United States and teaches courses on the history of the American South. He is known for guiding his students in confronting our region's difficult history while still offering hope for the preservation and advancement of liberty.
He founded and directed the Rhodes Institute for Regional Studies and served for six years as chair of the Department of History. Huebner also is the recipient of the Clarence Day Award for Outstanding Teaching and the Jameson Jones Award for Outstanding Service, both presented by the college.  In 2004, he was named Tennessee Professor of the Year by the Carnegie Foundation for the Advancement of Teaching and the Council for Advancement and Support of Education.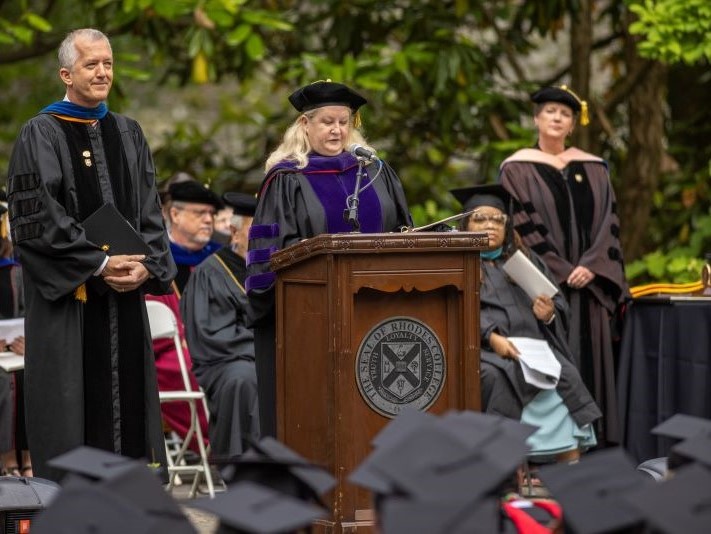 Huebner was essential in helping the college navigate the response to COVID and the safe return to campus of our academic operations. As part of the Revenue Generating Task Force, he increased the college's summer school and remote course offerings. He also expanded the resources in the Registrar's Office to streamline and enhance student registration. Huebner  continues to work on several important initiatives: creating a more equitable compensation model for department and program chairs; establishing an appointment process for department and program chairs; and building a framework for innovation to generate new ideas, initiatives, and programs for the college.
Dr. Katherine Clay Bassard, provost and vice president for Academic Affairs, shared, "Tim epitomizes the ideal of a servant leader and, as associate provost, has always considered the needs of faculty and the college above his own. His integrity, empathy, and willingness to help wherever needed have been exemplary and he has done this during some of the most challenging times of the college's history.  I am grateful beyond measure to have worked alongside him to maintain academic excellence at Rhodes."
Huebner will be stepping down from his position as associate provost at Rhodes, and this fall will return to the faculty as a professor of history. He also will continue to co-chair the college's 175th Anniversary Committee, including co-teaching a course on the history of the college.