November 02, 2022
At the annual Fall Conference of the Tennessee Chapter of the American Planning Association (TAPA), the Mound Up! Neighborhood Revitalization Plan was recognized with the Outstanding Student Project award. The plan was created by a coalition of Orange Mound community organizations over the course of the past two years with assistance from more than 30 Rhodes students and Assistant Professor of Urban Studies Dr. Austin Harrison. The conference was held Oct. 26-28 in Knoxville, TN, and attended by a wide range of associated stakeholders in the field of urban/regional planning, transportation engineering, and development.
The Mound Up! Neighborhood Revitalization Plan—created by the community for the community—is a restorative "bottom-up" equity plan centered on comprehensive community development principles such as public safety, cultural preservation, economic development, health and wellness, education, and housing. 
Established in 1890 in Memphis, Orange Mound is a historic African American community with strong civil involvement. It was designated a Preserve America Community by former first lady Michelle Obama in 2016. 
Nonprofit organization JUICE Orange Mound initiated the partnership with Rhodes College in the fall of 2020. Since then, Harrison and students have worked alongside six different community organizations who served as the plan's steering committee. 
The community coalition have worked with students to conduct more than 150 surveys and 20 community meetings and listening sessions as well as analyze data, provide technical assistance, and research other similar "bottom up" plans.
Students on the project taking the Community Development and Action course taught each fall by Harrison and a spring practicum receive class credits for their work. Other students are compensated for their time by a grant Rhodes received from the City of Memphis, Division of Housing and Community Development.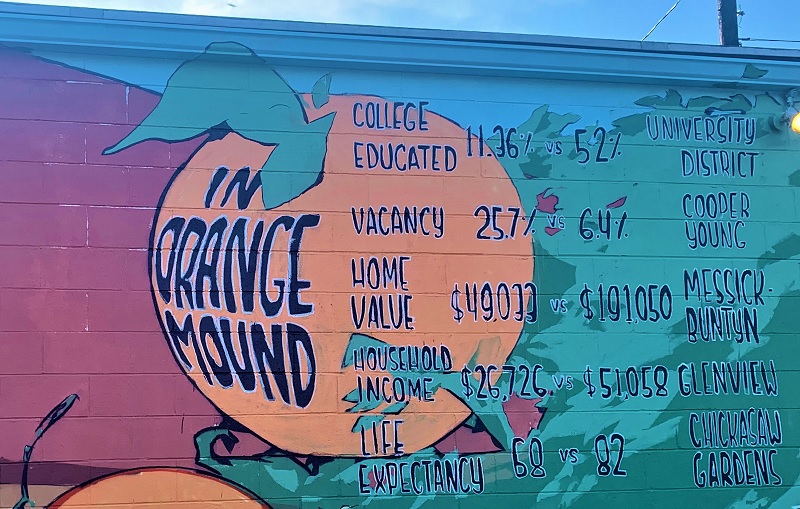 Now that the 80+ page plan is completed, students in the Community Development and Action course are gaining expertise in community development finance so that they can help resident leaders prepare fundable project plans that they can take to foundations, social impact investors, and other community development financial institutions (CDFIs). 
 
TAPA selected the Mound Up! plan for its unique, resident-led approach. It will be featured at the national level on the American Planning Association blog.