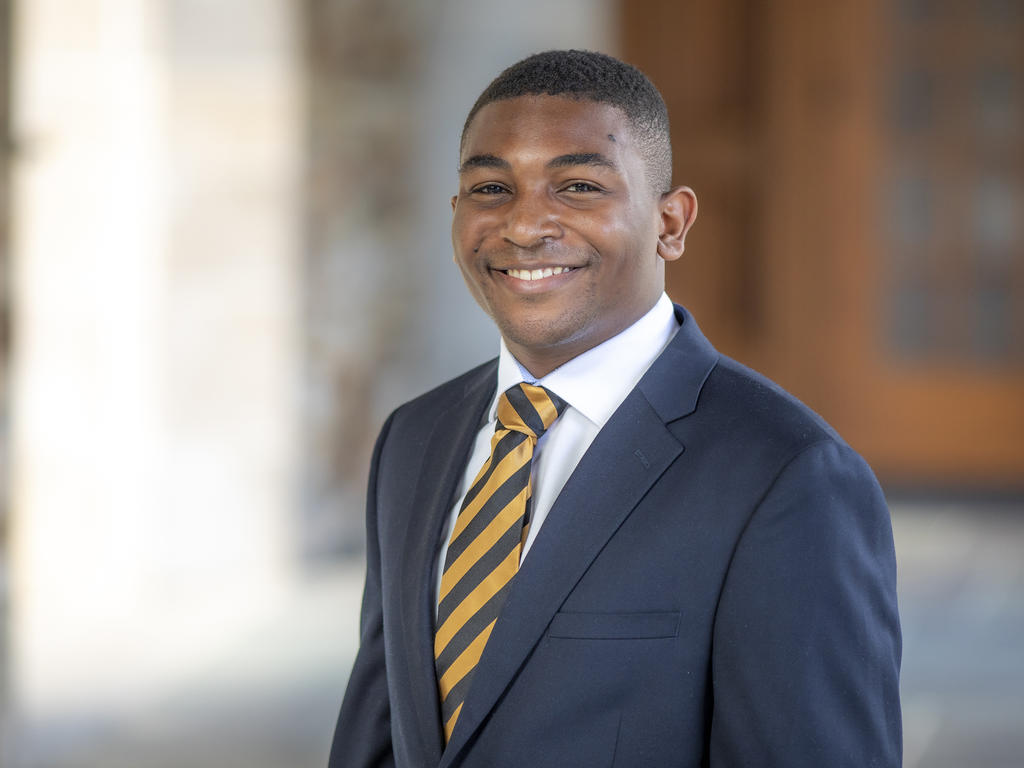 September 30, 2022
An urban studies major from Jackson, MS, David Caddle '23 is leading Rhodes Student Government (RSG) as president for the 2022-2023 academic year. The senior is on a pre-law track and also serves as a student representative of the Rhodes Board of Trustees and a member of the mock trial A team.
Caddle's history of student leadership at Rhodes started early. He joined the student social affairs judicial body at Rhodes—the Community Standards Council—during his first semester at Rhodes. He became the president of the council his junior year, the same year it was rebranded from its former name, the Social Regulations Council. The name change was to emphasize a renewed commitment to a safe, sensitive, and community-informed social climate at Rhodes, and Caddle was at the forefront of leading changes to further promote this new brand. Under his leadership, the council saw  increased student life participation and launched new programs, such as the Red Ribbon Week, which was aimed at raising drug and alcohol awareness on campus.
"We were able to change the culture of the Community Standards Council focused on making sure that we were foremost advocating for students," Caddle says. Now, as Student Body President, he is striving for similar improvements to the RSG.
Caddle's introduction to leadership in RSG was as a second-year senator. Although he was inspired by great initiatives that the RSG implemented, he also saw the potential for RSG to become more efficient at responding to the day-to-day issues affecting student life.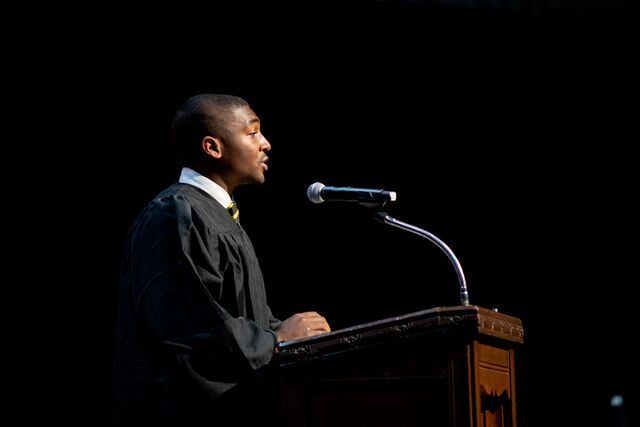 One way Caddle is affecting change as president is by creating opportunities for open dialogues directly with the student body. As an example, RSG will host a town hall this semester, open to all students who hope to share their ideas, questions, and concerns. RSG members also are proactively reaching out to community representatives, such as student clubs or organizations, to strengthen communication and connection with these student groups. While awaiting results from its community engagement and outreach efforts, RSG is putting in place measures to address issues it is aware of. The dining committee, for example, was formed in the spirit of ensuring quality food options for students at Rhodes dining facilities. Some of RSG's projects in development include advocating for adding pronoun preferences to student IDs and more outdoor furniture for students to congregate.
Caddle's experience on the Community Standards Council has led to fast transformations at the RSG under his leadership—particularly, he is guiding the RSG to become more solution-driven and centralized. From the feedback of the student body, each member is expected not only to come forward with issues but also to present solutions in general body meetings, where discussion is coordinated by parliamentary calling. The fruits of such discussion will be brought to Rhodes administration by Caddle and RSG Vice President Claire Kiernan. Caddle believes the success of RSG lies not only in its ability to facilitate transparent and meaningful communication between the student body and administration, but also in making sure that students are aware of any proposals or resolutions being discussed. He urges the community to follow RSG on Instagram, where such information will be updated.
Caddle's personal leadership style has been shaped by a quote he tries to live by: "Imagine how much can be done if you just didn't want the credit." He believes in giving credit where credit is due and in having honest conversations with others in order to accomplish goals he hopes to achieve. 
With graduation nearing, Caddle plans to pursue a joint master's degree in public policy and law, focusing on the policy side of government.
"I think public policy is the most pragmatic way of trying to get the results that I want to see in the world, by using data and by using evidence to show that if we change the ways we conduct our business, we can improve the lives of people," says Caddle. "Down the line, I would like to be a military lawyer, which is a Judge Advocate General in the United States Military."
Tram Truong '24