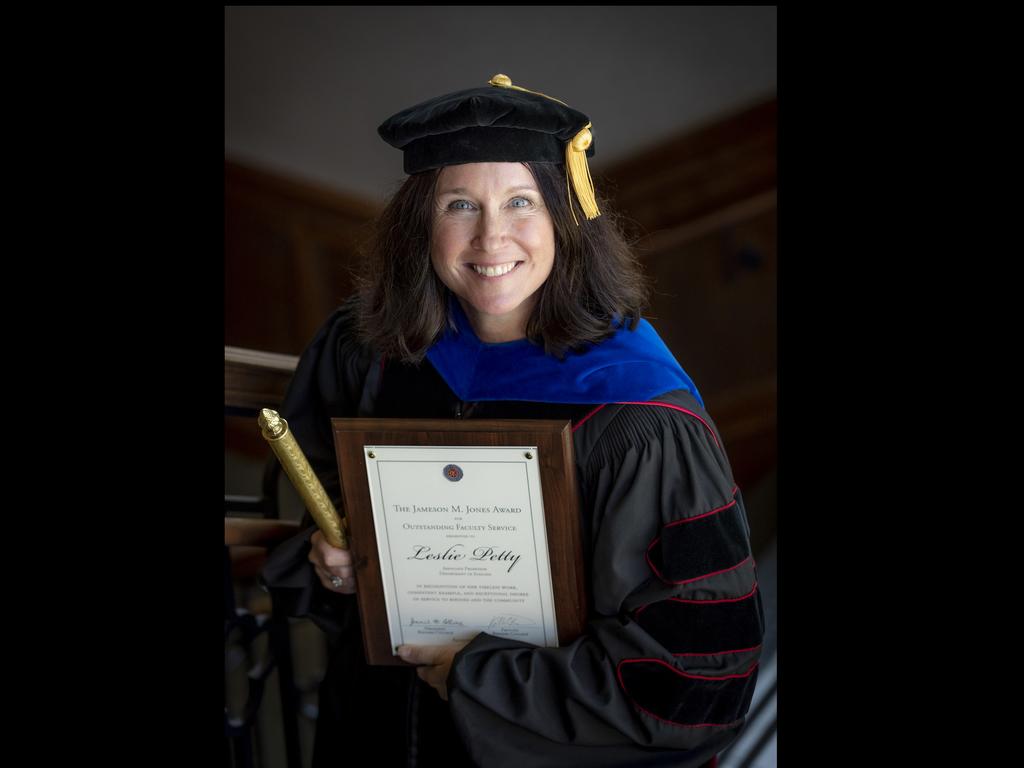 August 19, 2022
Dr. Leslie Petty, associate professor of English and chair of the department at Rhodes College, was presented the 2022 Jameson M. Jones Award for Outstanding Faculty Service on Aug. 19 at the college's Opening Convocation. This is an annual ceremony to mark a new academic session and welcome the new Rhodes class.
 
Established in 1988, the Jameson M. Jones Award for Outstanding Faculty Service honors a current faculty member who has established an outstanding record of service to the college. It is named in memory of Dr. Jameson M. Jones '36, who served as the college's chief academic officer for more than 15 years.
Petty joined the Rhodes faculty in 2003 as an assistant professor of English after earning a Ph.D. from the University of Georgia.
"Known in her discipline for her scholarship in the areas of feminism and American fiction, Prof. Petty quickly made a name for herself at Rhodes as an important contributor to the life of the campus community," said Dr. Katherine Bassard, provost and vice president for academic affairs, who made the presentation.
 
Petty joined the Gender and Sexuality Studies Steering Committee as well as served as faculty mentor to the English honor society Sigma Tau Delta, faculty associate for the Rhodes baseball team, assistant director of the Rhodes Summer Writing Institute, and as a member of the Faculty Development Committee.
After receiving promotion to associate professor and tenure in 2010, Petty served two terms on the Tenure and Promotion Committee, including a year as chair and three years as chair of the Gender and Sexuality Studies Program, during which she coordinated the annual Gender and Sexuality Studies Student Symposium.
Bassard also noted Petty's work as chair of the Department of English, saying that she has worked "tirelessly to advance the department, support her faculty, and engage with students. Her collaborative approach has garnered uniform praise from faculty."
One of her nominators wrote: "Prof. Petty has led the department through some of the most challenging times any of us have experienced in our careers. She has expertly held the department together under COVID-19, maintaining clear lines of communication during our periods of teaching remotely while also continuing to adapt departmental procedures and innovate on the fly."
  
In addition, Petty has served on the Faculty Appeals Committee, Faculty Governance Committee, President's Strategic Plan Steering Committee, Planning Priorities Task Force, and the search committee to find the college's 21st president.
 
"Prof. Petty has repeatedly demonstrated her commitment to colleagues, students, and the college, and in doing so has set a high standard for service," said Bassard. "Finally, you may have noticed that she was serving the college today in one of her other roles – as a faculty marshal, leading and directing today's convocation procession."
As the recipient of the 2022 Jameson M. Jones Award, Petty joins a distinguished group of faculty who have demonstrated through their outstanding records of service that they embody the kind of intellectual leadership and commitment to service that were so important to Jones.