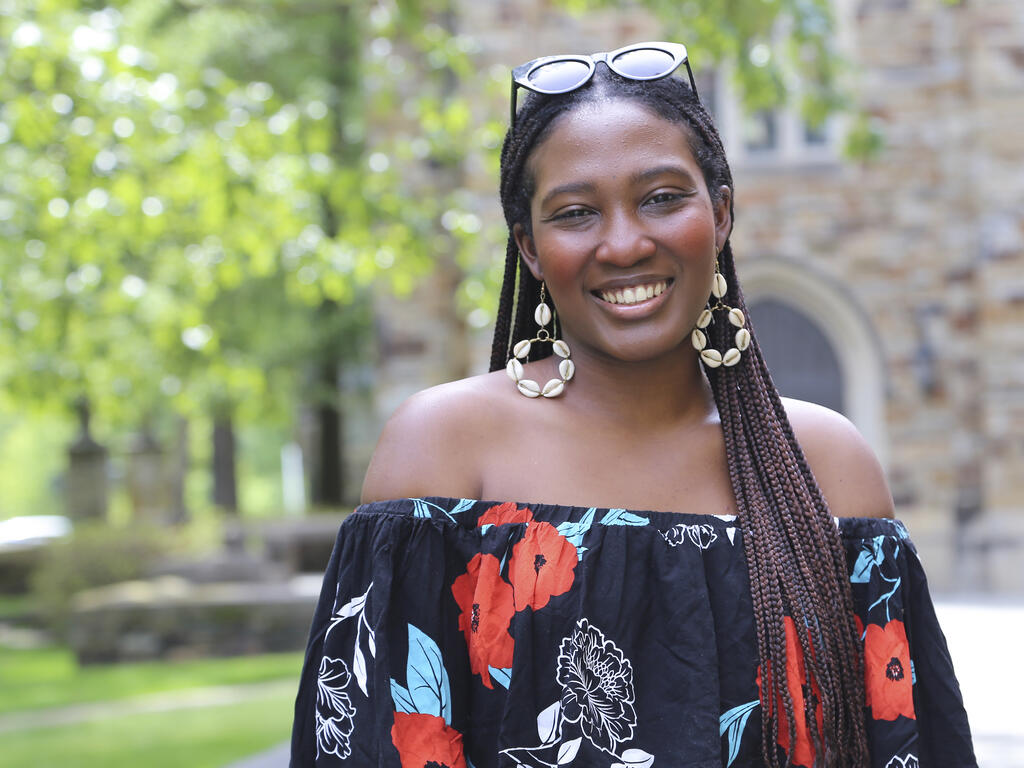 May 05, 2023
Business and French double major Fikemi Aiyepeku '23 is the first Rhodes student to secure placement at one of the big three management consulting firms—Bain & Company, McKinsey & Company, and Boston Consulting Group—which mostly recruit from graduate programs and a narrow set of top 10 universities. The Lagos, Nigeria, native credits her liberal arts education, faculty mentors, and peer support as the driving factors behind her placement as an associate consultant at Bain. "Having this kind of education really helped me think creatively within a business context and to balance multiple complexities in case studies." 
When Aiyepeku began her college search, she hoped to find a personalized experience in which she would be equally challenged and supported. She found that dynamic at Rhodes, saying, "I've been pushed to focus on my weaknesses until they become strengths, and I've found a loving community here to support my progress—from students to professors." 
Having come to Rhodes with experience in competitive leadership roles from attending the African Leadership Academy in Johannesburg, South Africa, Aiyepeku found Rhodes' collaborative approach to education refreshing. "I love that I feel like I don't have to immediately know everything," she says. "I can trust my peers and professors for guidance when I need it."
That support and trust allowed Aiyepeku to tackle ambitious pursuits during her time at Rhodes. In spring 2022, she completed a fully immersive semester abroad in Lille, France, which, while challenging, she considers one of the most rewarding experiences. "I learned to find the joy of life outside of my comfort zone." 
Another major contributor to Aiyepeku's successful college experience was the community she fostered with other international students. "The international community at Rhodes is where I found my closest friends to date," she says. "I feel so appreciated, special, and encouraged by our friendships." Being an international student also gave her a unique outlook on academics, as she was able to apply her classroom experiences to a global context.
Additionally, as the Rhodes Student Associate for International Students Services, she has helped other community members navigate their experience at Rhodes. She is also the president of the African Student Association, a Rhodes Global Delegate, the student coordinator for the French honors society Pi Delta Phi, and this spring was inducted into Phi Beta Kappa, the nation's oldest and most prestigious collegiate honor society.
As Bain only extends offers to one percent of all applicants, Aiyepeku considers her professors' support in navigating the recruitment process itself invaluable to her success. This achievement is noteworthy not just for Aiyepeku, but for Rhodes. Her placement leaves a legacy of excellence and opens doors for future Rhodes students. 
By Hannah-Elsie Meit '25