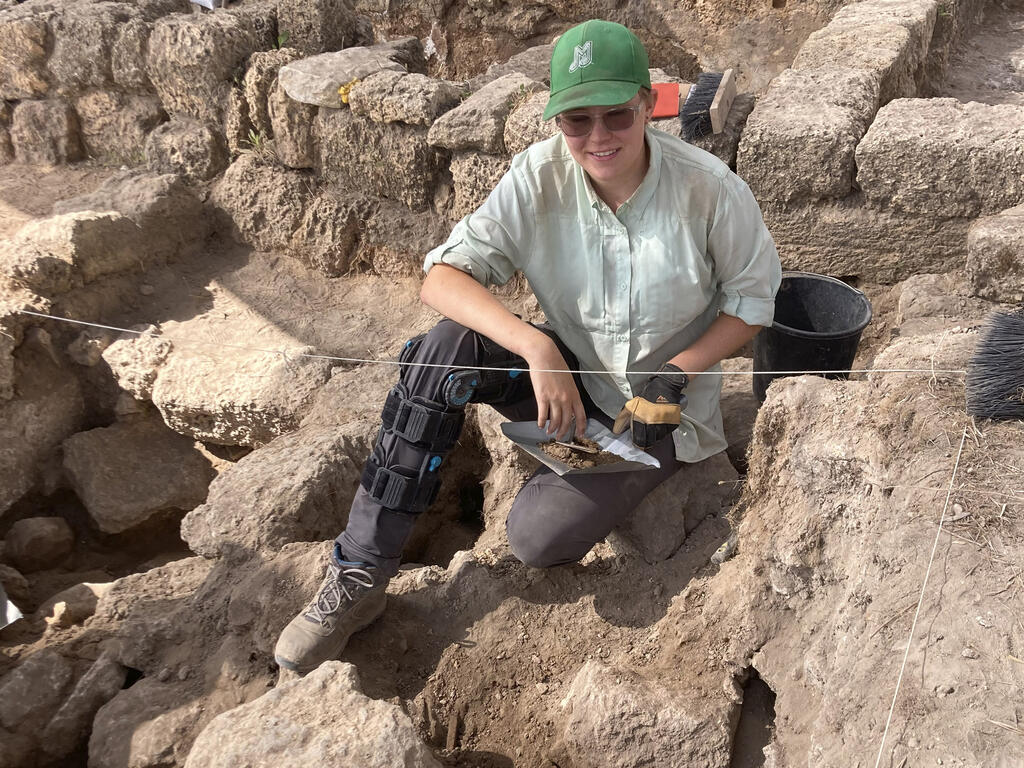 January 19, 2023
Last spring, three Rhodes students accompanied Dr. Kenny Morrell, associate professor of Ancient Mediterranean Studies, to Caesarea, Israel, for the archaeological opportunity of a lifetime: the Caesarea City and Port Exploration Maymester.
As one of the most active ancient ports in the Eastern Mediterranean during the first and second centuries B.C.E, Caesarea is a particularly productive location for an archaeological dig. The artifacts uncovered are reflections of not just the lives of Caesarea's ancient inhabitants, but of the mingling of cultures at this hub for international interaction. 
Since the first survey season in May 2017, Morrell has visited Caesarea annually in partnership with Vanderbilt professor Dr. Joseph Rife to continue excavation. The archaeologists search for coins, pottery fragments, bones, and other museum-quality ancient objects commonly associated with the field. However, Morrell focuses less on that type of find, being more passionate about the discoveries that truly allow a window into ancient life. 
One such discovery happened during the 2019 season. "All of a sudden, we realized that we were working on top of a large cistern, or underground storage facility, which had not been opened for at least a thousand years," Morrell says. "To actually stumble upon one that hadn't been opened for that long was a treat."
Anthropology and sociology major Elizabeth Acree '25, one of the students accompanying Morrell this past May, shared his excitement for ancient livelihoods. "I loved finding jewelry because it really hammered home that these were real people who lived entire lives, parts of which we'll probably never be able to piece together," she says. "Finding a bracelet, ring, or earring was even more exciting to me than finding a coin."
Acree was introduced to the Department of Ancient Mediterranean Studies through Dr. Susan Satterfield's "Other Side of Rome" class, which focuses not on Roman glory but on slavery and misogyny. Acree fell in love with diving into and dissecting ancient life and saw the Israel Maymester as the perfect next step in furthering her understanding of the subject. She is now considering a minor in either Ancient Mediterranean Studies or archaeology.
The month spent in Israel not only allowed students like Acree to become true archaeologists during their time abroad, but was also, as Morrell says, rigorously interdisciplinary. When not on the dig, students had the opportunity to visit Jerusalem to see some of the sacred sites they read about in their Foundations courses. Some of the holy places visited this May were the Temple Mount, the Church of the Holy Sepulchre, and the Wailing Wall, respectively belonging to Islam, Christianity, and Judaism. "We can talk about these sites all we want," Morrell says, "but it does make a difference to actually go there, to actually see the Mediterranean, to actually see the remains of these various cultures."
Jerusalem is uniquely situated to provide students with this multicultural experience. "In one morning, we were able to visit sacred sites for three major Abrahamic religions," Morrell says. "All of these things really put the documents, texts, and traditions we study into perspective."
In the coming years of the Israel Maymester, Morrell is hoping to both bring more students and to expand the archaeological project to include a maritime component. He plans for students to participate in mapping the port area, and there is the possibility of underwater excavation. "There are still puzzles that we are trying to solve," Morrell says, and he encourages all students, regardless of their major, to join him in Israel to help in the discovery and understanding of life during ancient times in Caesarea. 
By Hannah-Elsie Meit '25