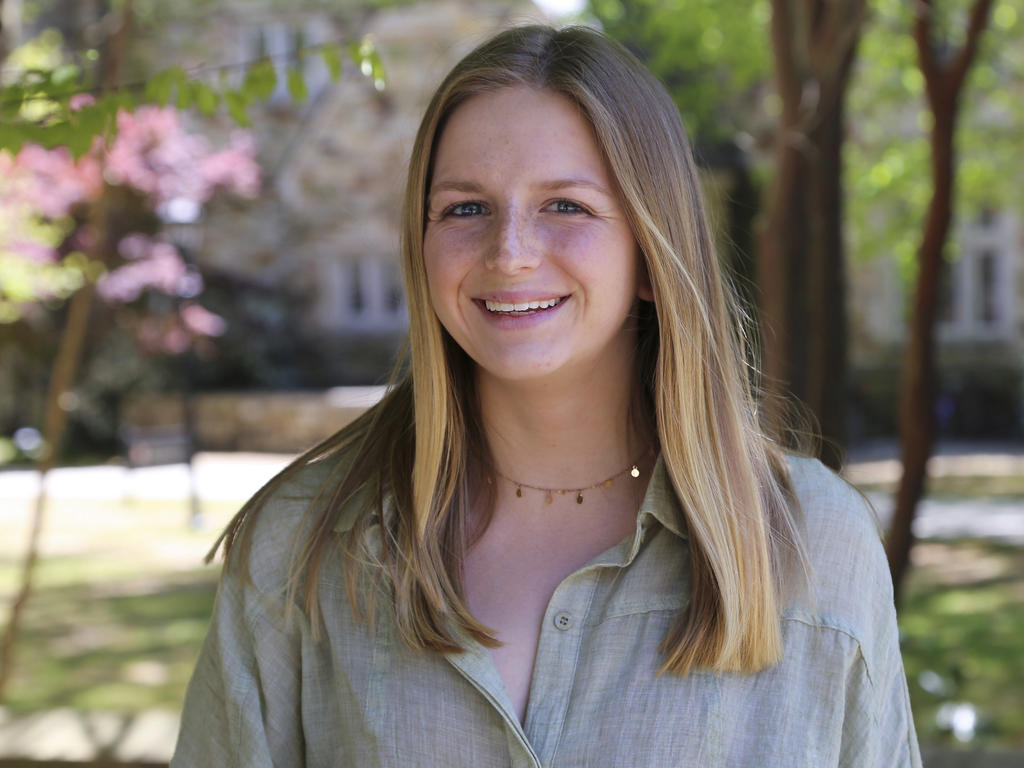 May 08, 2020
It seems only natural that Margaux Moze '20, whose namesake is a wine produced in the Bordeaux region, would develop an interest in wine. But it was an enduring interest in French culture and a semester abroad in a small town in the south of France that opened her eyes to the world of the international wine trade and the possibility of being a part of that industry. "I first went to France after my junior year in high school, and even at 16, I could tell that wine was part of the whole culture," says Moze.
When the time came for Moze to start looking into study abroad programs at Rhodes, her French studies made returning to France the obvious choice, but she was eager to explore a creative application of her economics coursework. "I found a program that had an economics and wine class. I had been interested in economics for so long, and wanted to know more about the trade side," says Moze. An economics and international studies bridge major, Moze applied for the Buckman-Mollerup Scholarship, a competitive, merit-based award offered by the international studies department.
Moze was awarded the scholarship, and in the fall of 2018 found herself on the way to the International American University in Aix-en-Provence. There, under the direction of Amy Mumma, an expert in the international wine industry and a wine consultant, she was immersed into wine culture, studying everything from the economics behind the international wine trade to food and wine pairings. She had the opportunity to participate in an independent study with Mumma, where she developed her own research project exploring the international champagne trade and how it is perceived by millennials in the United States.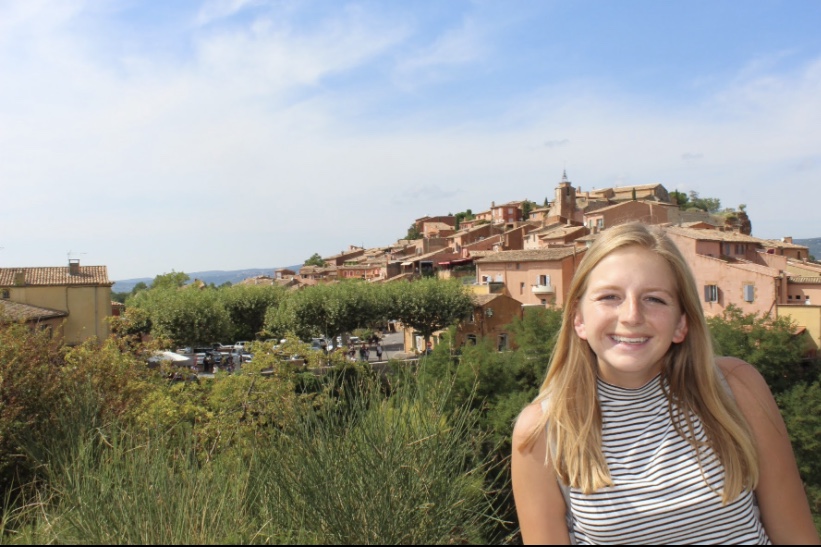 "It's not as commonly known that champagne really refers to wine made in the Champagne region of France, and France did not want anyone else calling their wine champagne, but now, if you go into Kroger, the sparkling wine section is called champagne. In France, calling anything but by its proper name would be a big mistake."
Moze asked her classmates to do a blind tasting and then rank various sparkling wines based on taste, looks, aroma, their preference, and which they thought cost the most, and then decide which they thought was the champagne. Impressed with Moze's work and the results of her research, Mumma encouraged her to submit her work to the American Association of Wine Economists (AAWE) to be considered for awards and publishing. Moze was invited to attend the AAWE conference the following summer in Vienna, Austria, and present her research.
"I was the youngest person there, by far. I was actually the only undergraduate student. I learned so much, and it totally solidified that the wine world is something I want to be a part of," says Moze. "There are so many different areas of study within it that I had no idea existed, and I've become increasingly interested in the ecological side. There is a huge push to make the wine industry more sustainable, and the debate going on right now is between using a cork or twist off. Austria has made a national switch to twist offs, but in the U.S., there has been a long-held stereotype that twist off means cheap, when really it doesn't, and cork farming is so expensive and really unsustainable."
After Vienna, Moze returned to her home state of Texas and spent the rest of the summer working at a winery in Fredericksburg, in Texas' own wine producing region. "Some days I worked in the tasting room, where I got to experience firsthand the aspect of selling wine. I learned about marketing and pricing, how to get people to buy cases at a time, and hosted parties. Then two days a week, I would wake up at 6 a.m. and work in the vineyard and prune the vines, vine to wine, as they call it. That was hard work, but I loved it, and making connections with other harvesters in the vineyard was great."
Moze is continuing to explore alcohol consumption trends among millennials in her Economics Senior Seminar, where she is following the growth of the craft brewery industry in the U.S. over the past decade and observing how it has impacted beer consumption. Her international interest has endured, too, and she is interested in working a wine harvest in Chile or Argentina. "It would be a great way to gain credibility in the wine industry for whatever I do next. I want to work in Chile or Argentina because their wines are really well known and celebrated."
Moze credits her professors in the economics department with encouraging her to pursue passions that lie outside of the ordinary. "Professor Collins and Professor Teresa Gramm have been especially encouraging, and they both go above and beyond to inform us of the world of economics beyond the macro. They emphasize aspects of international trade, the economics of sustainability, and other influential factors that you aren't exposed to when you're getting an overarching economics degree. And that's the beauty of pursuing economics at a liberal arts college."
By Grace Merriman '21