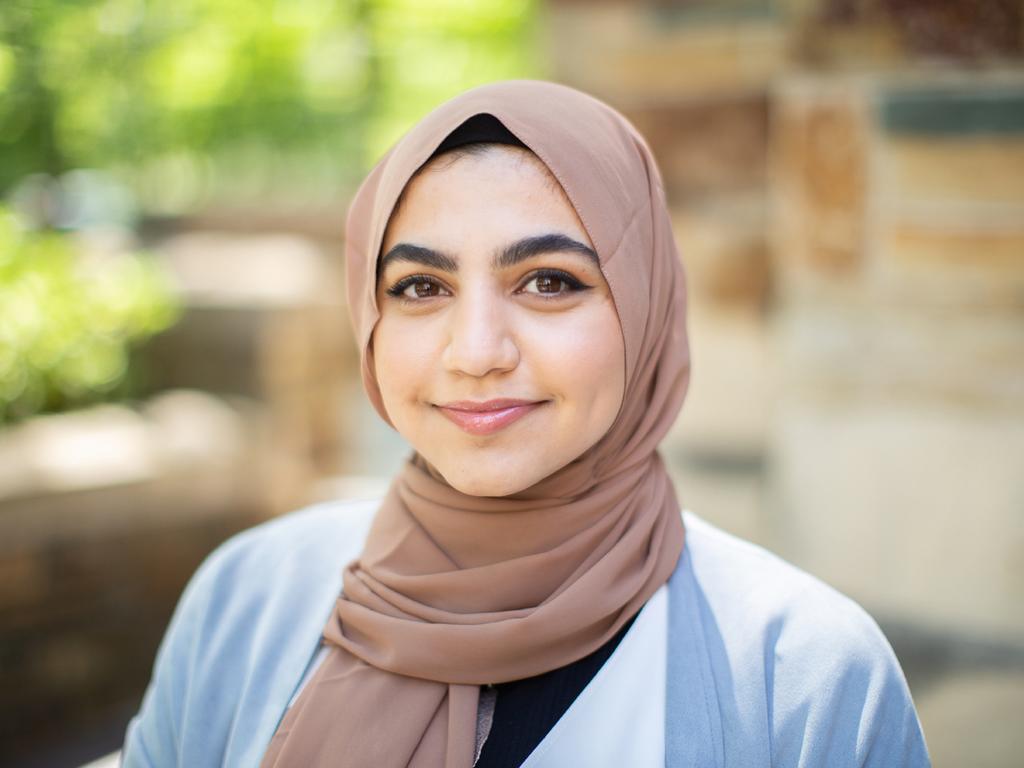 September 19, 2022
Maryam Taysir, who graduated from Rhodes in May with a bachelor's degree in business, is the recipient of an Emerson National Hunger Fellowship, an 11-month program that provides unique leadership development opportunities for motivated individuals who wish to make a difference in eliminating hunger and poverty in the United States. This new cohort of 18 change-makers began their work this month.
 
"I'm so grateful to be joining the 29th class of Emerson National Hunger Fellows. Getting to be a part of the Emerson Fellowship family—people who've dedicated some part of their careers to tackle poverty, homelessness, and food insecurity—is incredible," says Taysir. "In my personal aim to tackle these issues, I still have a lot to learn. The fellowship will provide an opportunity to learn from people who've not only worked on the ground but also who've connected with policymakers to make change. This feels like the next step in which I hope to be able to continue my work in the field while also potentially influencing change on a macro level. That is why I'm excited about the chance to be a part of this fellowship."
Emerson Fellows are placed with community-based organizations across the country and with policy-focused organizations in Washington, D.C. Taysir is working at Maryland Hunger Solutions in Baltimore. According to its site, the organization works with state and community partners to provide education about hunger in Maryland, improve public policies to end food insecurity and poverty, and ensure that eligible residents are connected to federal and state nutrition programs and school meals programs.
In Memphis, Taysir was the community service chair for nonprofit organization 901 Ummah, which has a Feed the City program providing meals to those in need, particularly in the downtown area. She also worked as a diversity, equity, and inclusion intern and a human resources intern at AutoZone.
On campus, Taysir served as event coordinator of the Muslim Student Association, co-founder and president of the Rhodes chapter of Students for Justice in Palestine, and mentor for the Multicultural Vision Program. "I was so blessed to have multiple faculty mentors who have inspired me and contributed to my personal and professional growth," says Taysir. "I'd like to particularly thank Amy Moen for always believing in me, aiding me in overcoming any obstacle I was facing, and being the mentor who made going to Rhodes all the more worthwhile. I'd also like to thank my advisor, Dee Birnbaum, for challenging me in ways I didn't know I needed to be challenged, and Professor Charles McKinney for being my favorite professor ever. 
"I know I want to work in a career that helps provide education to the public and increase the awareness of hunger issues as well as improve resources and accessibility to those resources to people in need. I look forward to the experience I will gain through the Bill Emerson National Hunger Fellowship." 
For more information on the Emerson National Hunger Fellowship and other fellowships, please contact the Directors of Postgraduate Scholarships at Rhodes, Jason Richards  or Esen Kirdis.