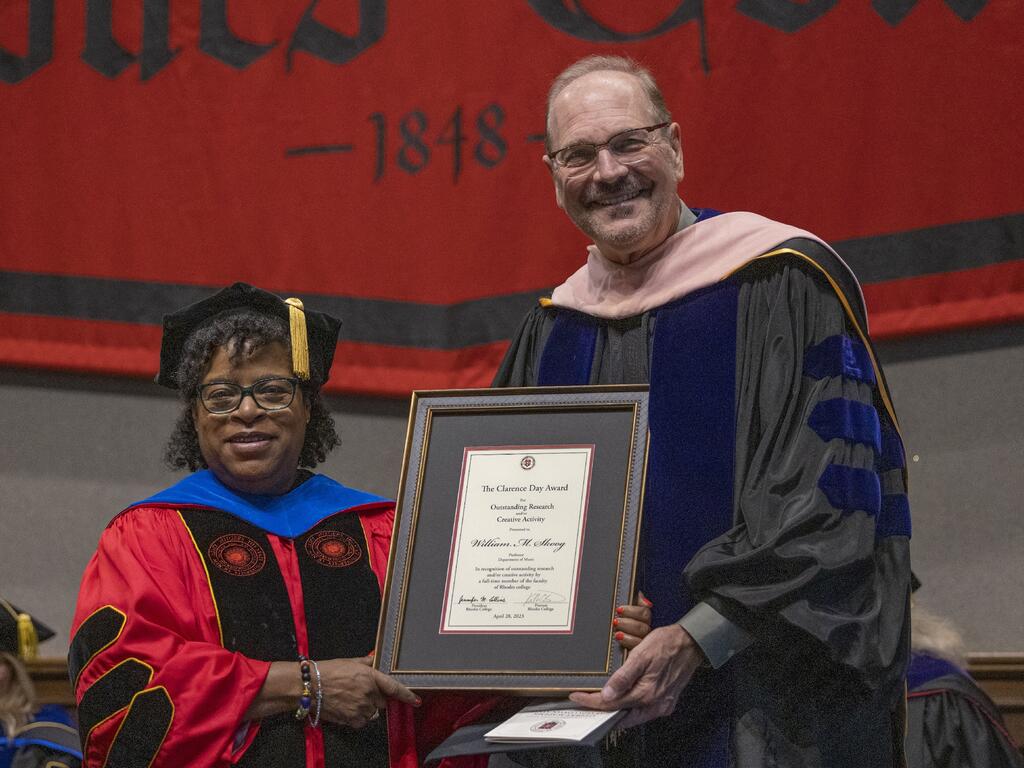 April 28, 2023
Dr. David McCarthy and Dr. William Skoog were presented Rhodes College's highest faculty honors for teaching and research at the college's annual Awards Convocation, held on campus April 28.
McCarthy, professor and chair of art and art history, received the Clarence Day Award for Outstanding Teaching. Skoog, professor of music and director of choral studies, received the Clarence Day Award for Outstanding Research and Creative Activity. The awards, first given in 1981, were established by businessman and Rhodes alumnus Clarence Day and are provided by the Day Foundation.
***
The Clarence Day Award for Outstanding Teaching is given to a member of the faculty who has demonstrated excellence in teaching over the previous three years as determined by the assessments of students and colleagues, the effective use of imaginative and creative pedagogy, and a strong record of motivating students to embrace a life of continuing study.
McCarthy joined the Rhodes faculty in 1991, and his colleagues and students have described him as inspiring, engaging, and challenging. "He is praised for his charismatic teaching style in the classroom and for his dedication to students outside the classroom. His recommenders regard him as an outstanding teacher and an even better human being," said Dr. Katherine Bassard, provost and vice president for academic affairs, who made the presentation.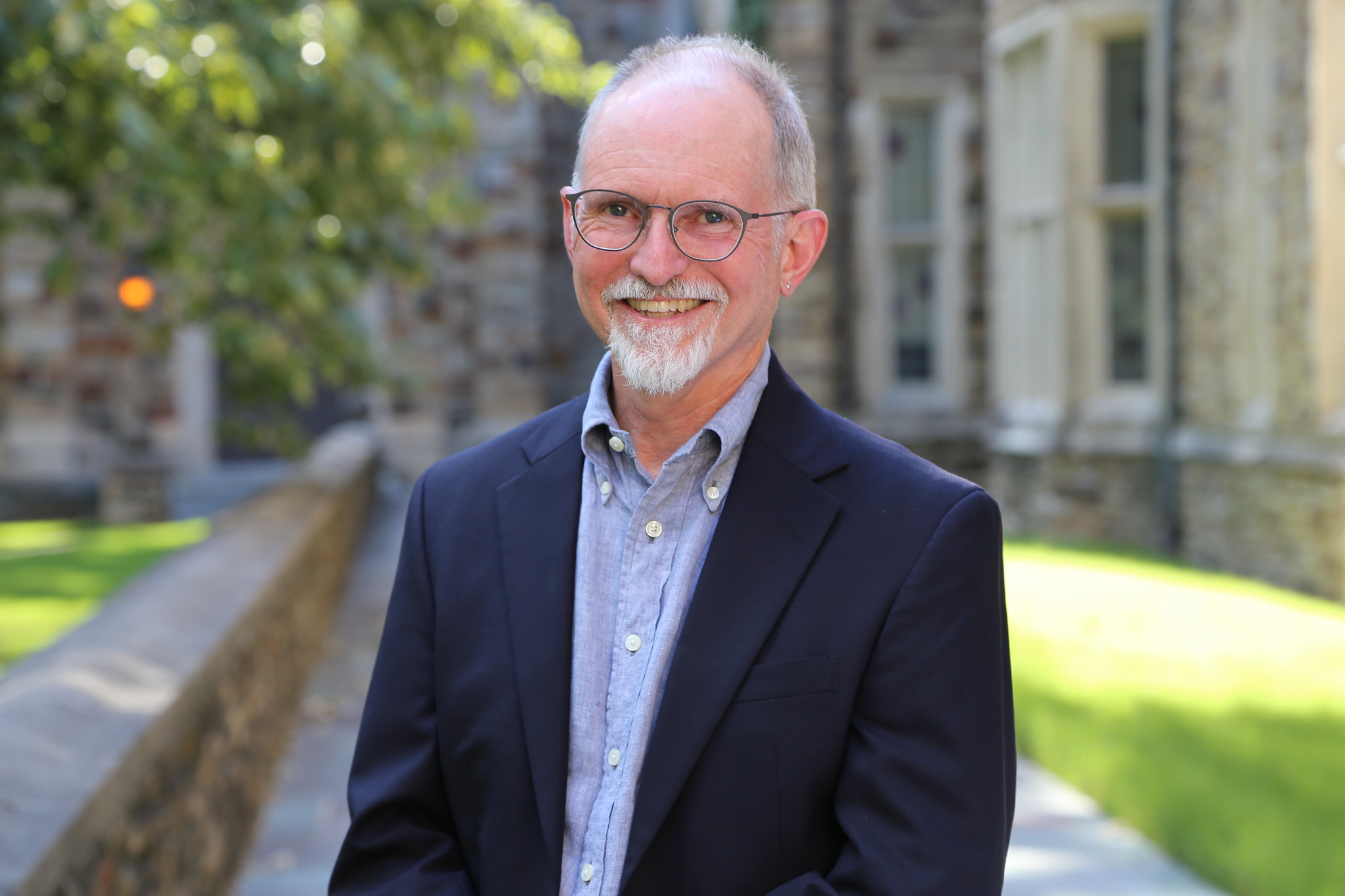 Again and again, McCarthy has been applauded for being, as one colleague wrote, "a master teacher who is deeply passionate about the importance of art history as a lens through which we see culture in all its ugliness and glory evolve over time, and who has so precisely engineered his lectures, they become hypnotic . . . ." Another colleague noted, "While he likes to project the persona of a really tough teacher, and he does expect a lot from his students, he is truly a champion for student success. Students in his class will certainly learn how to look closely, how to write an argument, and how to back it up with research, but he is also empathetic and caring."
A former student wrote about McCarthy: "His classes taught me excellent habits for thinking, studying, writing, and working. He really taught the material in a very effective way—asking thought-provoking questions during class—making me feel like I already knew so many of the things we were talking about and he was there to help unlock them by giving us context, readings, and tools to connect the dots. He taught the class material in effective, memorable ways—20 years later I remember a great deal from that first class."
McCarthy has created a community of Rhodes art history students that spans the world, and he works to keep those connections strong by giving advice, recommendations for graduate school, or simply guidance on how to navigate life during and after college.
In addition to his dedicated teaching, McCarthy has been a very active scholar and sought-after speaker. He has published four books, nearly 20 articles and exhibition reviews, and has been invited to speak at such prestigious venues as the Smithsonian Institution and the New Museum of Contemporary Art.
***
The Clarence Day Award for Outstanding Research and Creative Activity is presented to a member of the faculty who has accomplished unusually significant professional work in the past three years and who has demonstrated that research and/or creative activity is an integral part of their discipline. This work must be demonstrated to have had an important effect on the award recipient's teaching, directly benefiting Rhodes students by its influence on course content or pedagogy.
A member of the Rhodes faculty since 2009, Skoog has established himself as an exceptional musical artist and scholar, creating once-in-a-lifetime performances and experiences. "Bill's creative and scholarly work has had a direct, positive impact on our students and the campus community," said Bassard in making the presentation. "His international reputation enables him to bring exceptional artists to Rhodes."
Internationally, Skoog has conducted choral festivals in Dublin, Paris, Salzburg, Vienna, Rome, Lucerne, and Prague in the prestigious Dvorak Festival. He is frequently invited to adjudicate choirs and to conduct combined festival choirs, and he has served as conductor and vocalist on many occasions at Carnegie Hall. In 2021, Skoog was conductor and artistic director for the world premiere of Lucas Mason's Sohrab and Rustom at the National Opera Center in New York City.
Skoog's publishing credits include Music Educators Journal, Choral Journal, and Cambridge Scholars Publishing. He has established himself as an expert regarding the works of jazz composer Dave Brubeck and Pulitzer Prize-winning composer Jennifer Higdon and, in 2021, published The Choral Works of Jennifer Hidgon. One nominator wrote, "Choral conductors rarely publish, and there are very few book series dedicated to choral music. That he has managed to remain an active conductor and write a book and secure publishing is astounding."
Skoog also has had many invitations to speak about Brubeck's compositions, including giving the keynote at the International Conference on Arts and Humanities in Hawaii. Skoog currently is editing two major choral-orchestral works by Brubeck, To Hope (the Mass) and Upon This Rock.
Feedback from students over the years describes Skoog as a very motivating and inspiring professor, and many of them consider their time with him as one of the highlights of their Rhodes career.