Rhodes commerce and business alumnus Nick Parinella '17 has been issued design and utility patents by the United States Patent and Trademark Office for his invention, the Kangaroozie™, a can cooler (or koozie) with a water-resistant compartment to store valuables. Parinella, who served as president of the Rhodes Entrepreneurship Club, came up with the idea for his invention after not having a place to secure his keys or credit cards while tubing on the waterways in his hometown of Austin, TX.
He created a prototype of the Kangaroozie™ after winning first place in the 2016 Rhodes Business Plan Competition. In addition to prize money, Parinella won legal services from Rhodes alumnus and patent lawyer Bill Hulsey '77, who has a wealth of intellectual property experience. Hulsey helped him file a trademark application for the invention's name and a provisional patent for the prototype, which allowed time to test the market before filing additional patents.
In 2017, Parinella raised $11,596 in pre-sales during a 35-day campaign on a crowdfunding website and manufactured his first round of Kangaroozie™ inventory. Says Parinella, "Bill and I continued to work together and filed a design patent, which was issued in 2019."
 
The utility patent, which is the more protective patent, was issued in January of this year. In general terms, the design patent protects what an article looks like, and the utility patent protects the way an article works and is used.
 
"The utility patent is the toughest patent to get," says Hulsey, explaining Parinella's invention had to meet several patentability requirements such as being novel, non-obvious, and sufficiently documented. "I think it's great to have students get out into the business or professional community and look back and say, 'You know I did this thing at Rhodes.' Nick has a website and a company now. I don't know where all he'll go with it, but it is something very tangible and very much a manifestation of his creativity."
Parinella has been selling his product throughout the United States in stores and boutiques. "Additionally, I was able to expand the selection of colors from the original blue and red," he says. "Sales have been going well."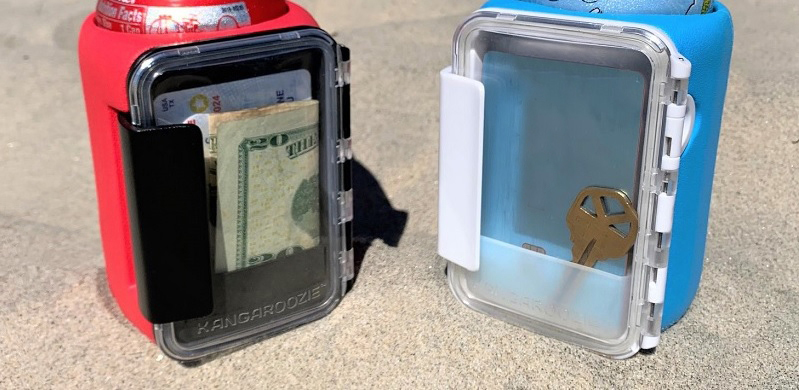 While a student, Parinella also completed an entrepreneurship course taught by Bud Richey, then associate vice president of external affairs at Rhodes, and Eric Mathews '02, chief executive officer of Start Co.
"I still recall Nick coming to my office on a Monday and opening the discussion with 'I've been thinking about the matter of customer discovery that we've talked about in class.' With that preface, he spoke of his idea to keep cash, a key, and an ID safe while tubing down rivers. He had vetted the idea with classmates and other students and received positive feedback," says Richey. "At that time, Nick pulled from his backpack a cardboard 'pocket' attached to a koozie with duct tape."
 
Richey also served as the Rhodes Entrepreneurship Club advisor, and he guided and connected Parinella with individuals who were able to assist him depending on the stage of business development that he was in.
"Bud and I only taught entrepreneurship for one semester at Rhodes College, but the trailing indicators of success of those students indicates the power of inspiring and empowering student entrepreneurs, as these students have launched products and businesses post-graduation, garnered revenue, and created jobs," adds Mathews. "Nick's patent award is another demonstration of the benefits of the experience. Everyone should be able to bet on themselves, their ideas, and where they live, including at Rhodes College, to launch new businesses."