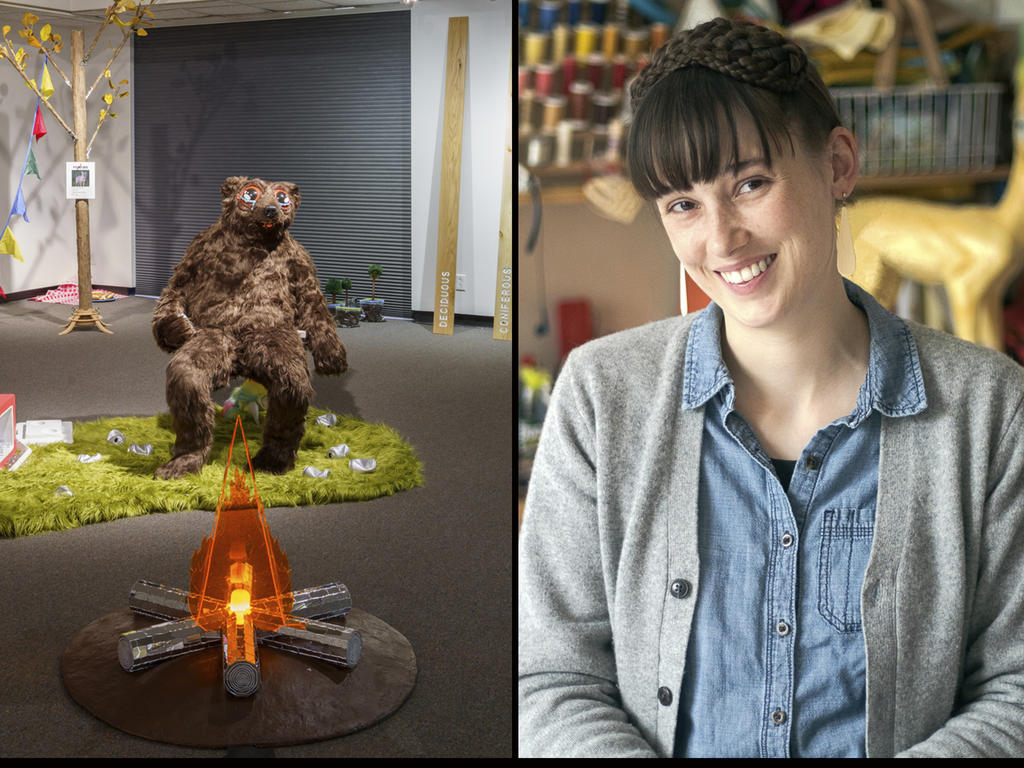 October 12, 2021
After a year of virtual programming, the Clough-Hanson Gallery at Rhodes College has reopened to the public with a new exhibition of works by Prof. Raina Belleau of the Department of Art and Art History. Inspired by pre-pandemic 2020 wildfire eruptions, Enchanted Forest Fire offers a chance to reflect upon our emotional repertoire during the drastic shifts of events in our surrounding environment.
"A lot of what was happening in pre-pandemic 2020 with the wildfire season was that we were seeing those events in a new way, with an understanding that this has the potential to be a new normal—which is something that we think about now in terms of the pandemic," says Belleau.
"When I was thinking about this body of work, I was thinking about a pre-apocalyptic scene. At the end of the world, what's your reaction going to be? And everybody has different ways of processing traumatic events."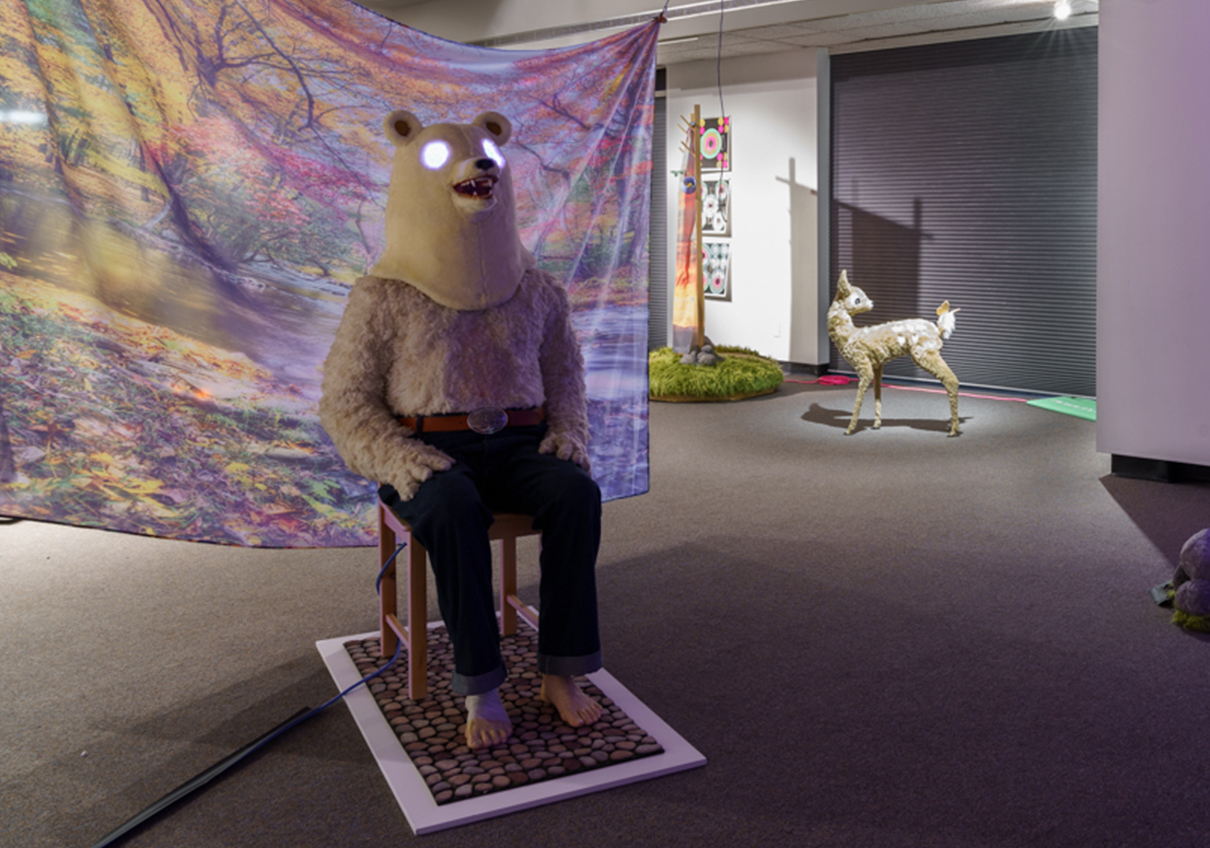 The subject is handled with dark humor, presenting Disney-like creatures as characters in pre-apocalyptic scenes. This mainstream cultural imagery is turned on its head to open viewers up to a greater recognition of reality.
"Because they're familiar, I can load those characters and those elements with some of this sneak-attack humor, or humor-sadness," Belleau explains. "By taking the idea of the enchanted forest, which is an idyllic space, a childlike space that we recognize as being separate from the world that we live in, and transitioning the word 'forest' into 'forest fire,' I am flipping it into a space that is very real, that is a current event, and that is dangerous. And that destroys the innocence of the enchantment.
"At the end of the world some of us will dance wildly, others will cry, and some will shrug and carry on in mundane routines. The fable told by the animal sculptures in the exhibition is the one we are all living in. One where a climate crisis brought on by human action affects every living thing without their agency."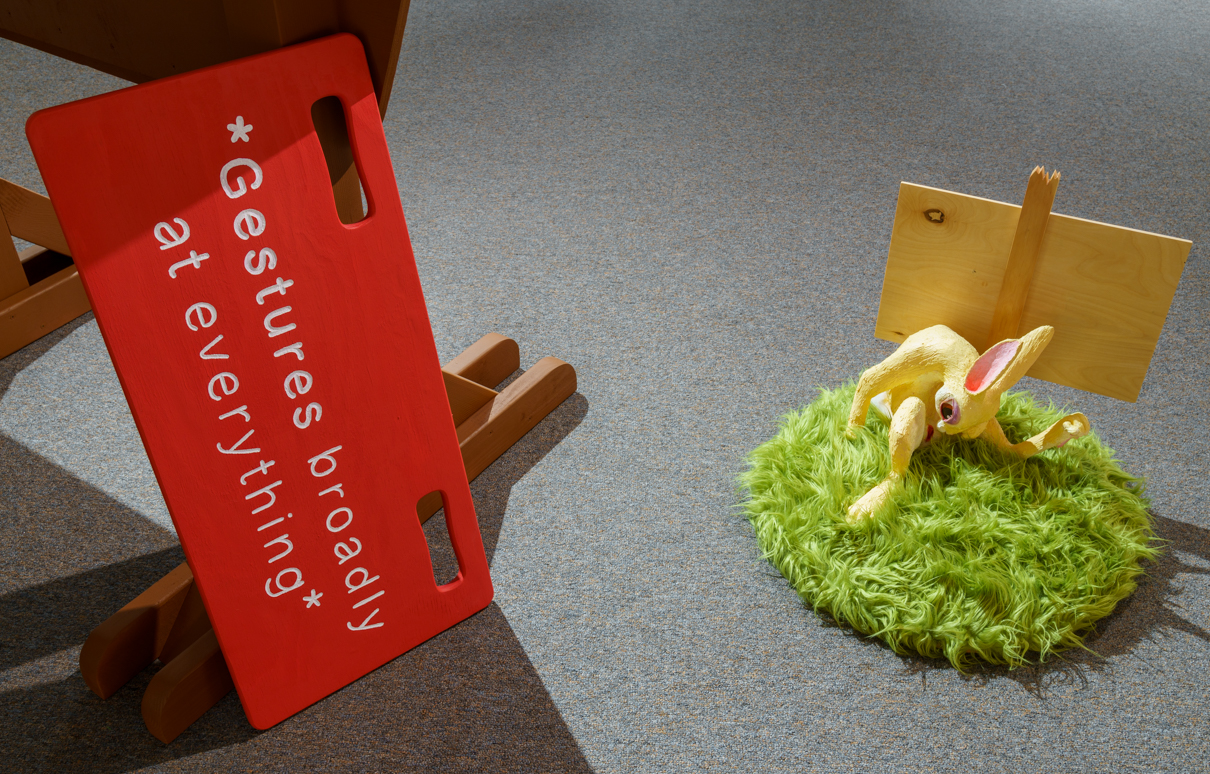 Of the new exhibition, Joel Parsons, director of the Clough-Hanson Gallery, says, "I'm so excited to fully reopen the gallery to students, staff, faculty, and the Memphis community. And what better way than with an exhibition by one of our own faculty. The work is bright and funny and engaging, and also dense with meaning and materials. It really rewards careful viewing—I hope everyone will come see it."
Enchanted Forest Fire runs through Oct. 16. The second exhibition of the semester, The Photographer's Shadow: David Harper, will open with a reception on Oct. 29 and run through Dec. 11. Additionally, for the duration of the fall semester, the gallery is presenting Stilled Life, an exploration of domestic solitude featuring selections from the Special Collections of Rhodes College, including works by Mary Sims, Veda Reed, and Valerie Berlin.
By Tram Truong '24
Clough-Hanson Gallery is open Tuesday through Saturday from 11a.m - 5 p.m.  Admission is free and open to the public. Vaccination and masks are required.