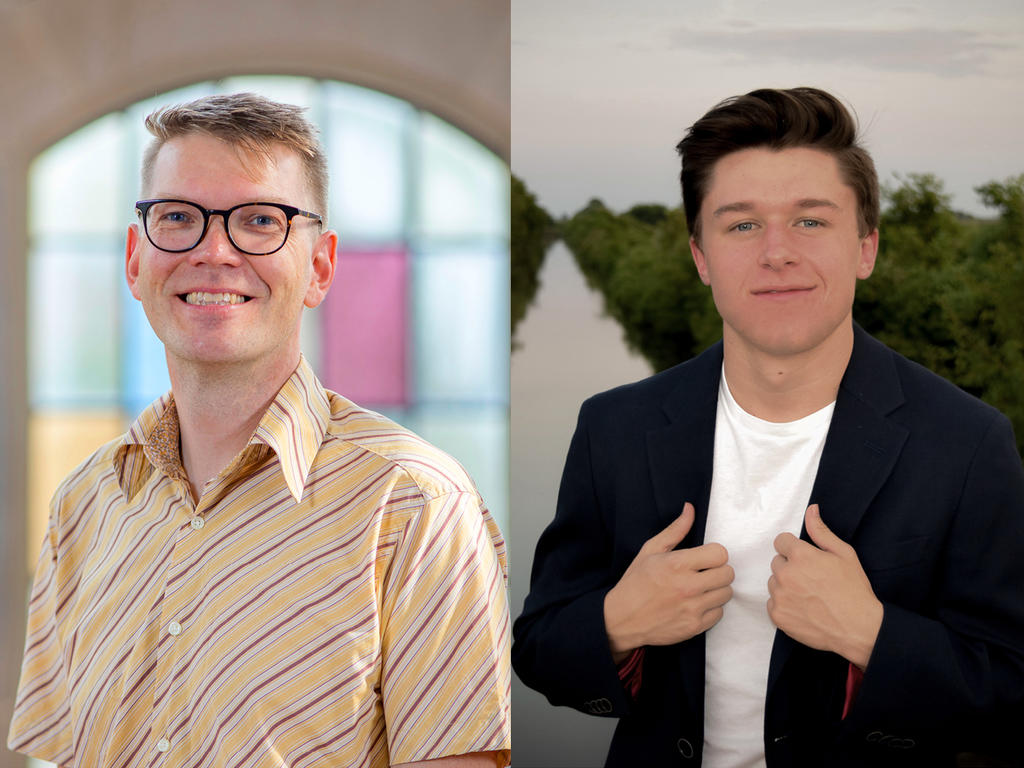 March 09, 2021
Despite a summer of social distancing, Rhodes Professor Karl Erickson and student Gunner Smith '21 collaborated on a three-dimensional augmented reality project that has since been featured in multiple film and video festivals. Not only did the project, titled "Hello. How Are You? Goodbye," benefit both professor and student as artists, the final product exemplified how digital art has persevered despite the pandemic.
Upon receiving the Bridging the Distance grant from the UrbanArt Commission in Memphis, Erickson was tasked with creating an interactive work of art that could reach audiences during lockdown. He chose to pursue a three-dimensional video both to explore the potential of new animation software and to enable audiences to more deeply engage with and even participate in the art.
The final product of Erickson and Smith's summer collaboration focused on how humans can connect to plant life by translating electricity into sound. "Subject matter wise, my art is always about connections and communication," says Erickson. "I think that was amplified by this need when we're in such a screen-based world to figure out how we reach beyond that, how we remember nature."
Smith, an art and business self-design major, credits his interest in art to the Rhodes European Studies semester abroad program, during which he studied art history in Greece and Italy and after which he took a solo tour around Europe. That experience challenged him to embrace his independence and allowed his unique artistic voice to flourish. As for the art department at Rhodes, Smith commends the flexibility it offers young artists. "I think the art education here at Rhodes is very empowering because it challenges you to put something weird or strange on the canvas, and I find that very relieving at times," says Smith.
Erickson chose Smith as his assistant for this project because of his enthusiasm, curiosity, and work ethic. In addition to instructing Smith in studio art classes, Erickson served as Smith's mentor for the Turley Memphis Center Fellowship, for which Smith researched the Luciann Theater and Madison Heights neighborhood in Memphis, examining the impact of social technology on queer individuals and the queer community.
Both Erickson and Smith are quick to praise collaborations such as these for the benefits they bestow on both students and faculty. Erickson helped Smith navigate the limits and logistics of his research for the Turley Memphis Center while Smith helped Erickson troubleshoot the animation software for his UrbanArt Commission project. "I was very lucky to be able to say to him – and I think this is probably true for faculty across campus – 'Here's this problem. Can you figure it out, and then bring it back to me?'" says Erickson. "I think that's a model I haven't seen at too many other undergraduate-focused schools."
Like Erickson, Smith claims the summer fellowship in animation helped him grow as an artist. Smith's tasks included experimenting with the software, testing out different techniques, and researching ways to bring this technology into the classroom and his own work. "It helped me tremendously in thinking about how this related to my own art, specifically in my approach to shape and contour," shares Smith. "It also helped me make a game plan for what my own animations might look like or what the subject matter might be."
Smith is now a nominee for the Watson Fellowship. His proposal involves observing queer performances around the world, from Tel Aviv to Buenos Aires. Smith is especially excited for the chance to live and work as a traveling artist, making art out of what little he will take with him and whatever he comes across during his journeys. "When you hodgepodge material together, when you just find material, I think it makes it more queer in a way," says Smith. "I think there's this idea in queer art to put materials together that don't look like they're together; it's like the forbidden love story."
Much of Smith's work can be found at https://gunnerreedenterprises.com/. His and Erickson's animation project, which was recently featured in Indiana University's Performing Media Festival, is available on YouTube.
By Jaclyn Flood '21