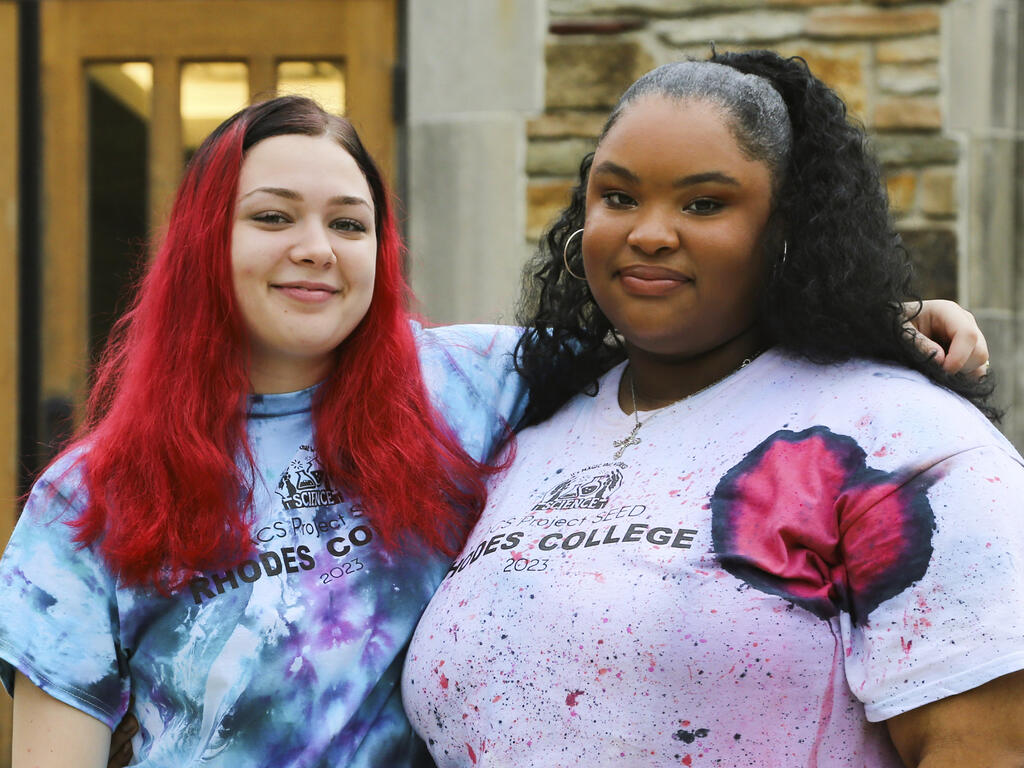 August 04, 2023
Essence Harvey and Gwen Wheeling, incoming first-year students, won't have any difficultly learning their way around Rhodes this fall, because they've already spent two summers on campus. Both are participating for the second time as part of a six-member cohort in the Project SEED program. Hosted by Rhodes for the first time in summer 2022, Project SEED provides numerous research opportunities for high school students with diverse identities and socioeconomic backgrounds and a strong interest in STEM (science, technology, engineering, and math). 
"Project SEED gives us an opportunity to make a significant contribution not only to the future of STEM, but also Rhodes College," says Karen Mosley, instrument technician and chemical safety officer in the Department of Chemistry. "We can reach students from diverse backgrounds who have great talent, but limited opportunity. Through Project SEED, Rhodes provides that opportunity and, in the process, achieves its vision 'to attract and retain a talented, diverse student body.'"
In addition to Harvey and Wheeling, this year's cohort included Brandon Leake, who worked in the lab alongside Wheeling with assistant professor of biology Dr. Kelly Diamond; Ngoc Tran and Dantrielle Burks, who worked with associate professor of biology Dr. Jonathan Fitz Gerald; and Adriana Ramirez, who joined Harvey in working with Mosley and associate professor of chemistry Dr. Larryn Peterson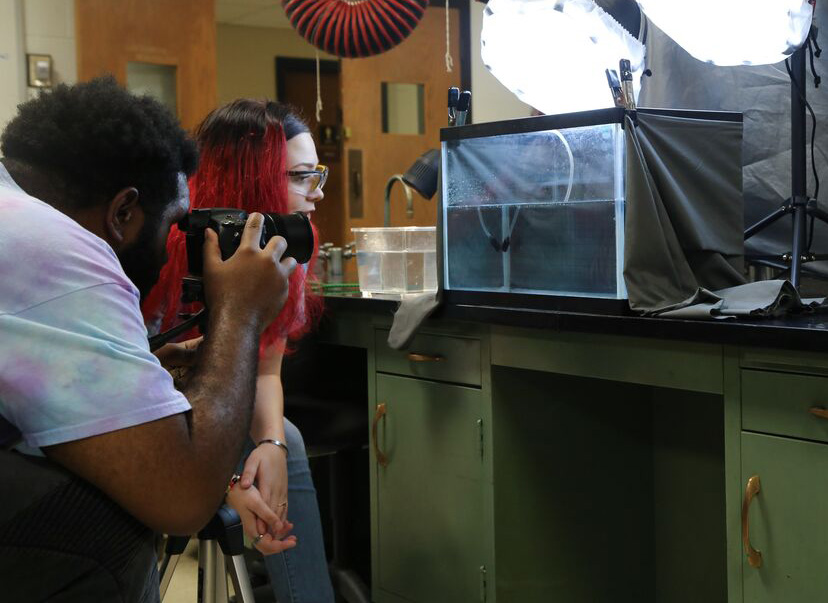 The students also represented Rhodes at a Community Exhibition showcasing the high school Research Immersion Programs at St. Jude Children's Research Hospital, the University of Tennessee Health Science Center, and Rhodes. 
Additionally, in August Wheeling, Harvey, Ramirez, and Tran will travel to San Francisco to attend the American Chemical Society national meeting to present their work and attend the Donor Reception. 
Project SEED also gives participants an inside look at college life and various scientific disciplines. Says Wheeling, "Last year I worked in the area of chemistry, which Essence is doing this year, and I'm working with live animals in a biology lab. Working with Dr. Diamond this year has been a great experience for me because I'm already really interested in biology. I want to be a zoologist, especially after this experience, and am more and more confident."
Harvey, who wants to be a pathologist, adds, "You learn about different careers that you wouldn't necessarily think about, or get to know the type projects done. In my project last year, we worked with fungi. I wouldn't have thought about fungi for a second if I wasn't in the program."
Harvey and Wheeling, both students in Compass Community Schools in Memphis, knew each other before getting involved in Project SEED and went through high school and the college application process together. The soon-to-be roommates kept the trend going when deciding on Rhodes for college.
"For me, it was Project SEED last year and working with the professors," says Wheeling. "The experience made me excited to move forward with my education."  
"I knew I wanted to go here and had connections to Rhodes already," says Harvey. "But, especially for the support pre-med students have here, Project SEED gave me that extra push.  I am excited about independence and being able to pursue my dream." 
This summer's program was made possible due to the generosity of the American Chemical Society, the Office of Academic Affairs, and the Department of Chemistry. The local section of the American Chemical Society also received a grant to support the program this summer.
By Noah Friedman '25