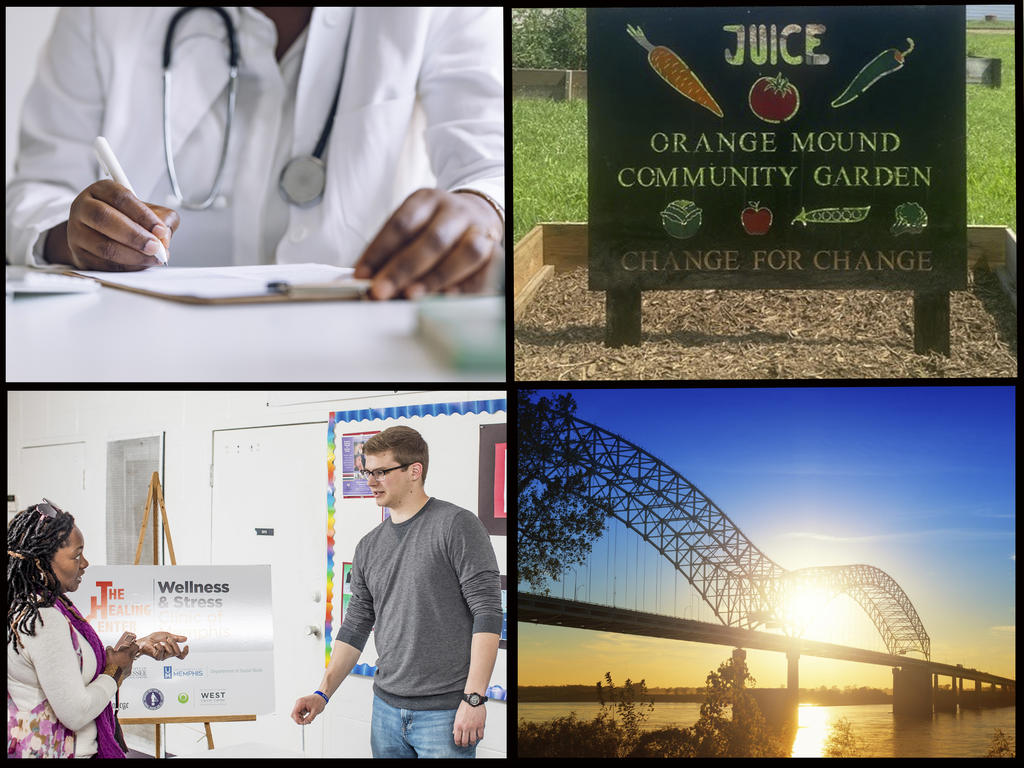 October 21, 2021
Working toward a more equitable healthcare system in the United States means understanding the social and cultural determinants of health. Rhodes College, thanks in part to a three-year grant received from The Andrew W. Mellon Foundation in 2019, has been robustly incorporating issues of health equity into its liberal arts curriculum; developing health equity education in Memphis hospitals for current and future physicians; and deepening partnerships with healthcare, cultural, and social justice organizations.
"We developed a grant-funded health equity lecture series involving 11 Rhodes faculty and 13 different lectures. Since May 2020, lectures have been used in 75 different venues," says Dr. Kendra Hotz, chair of the health equity program at Rhodes and the Robert R. Waller Professor of Population Health. "We have brought these educational offerings to medical students, medical residents, hospitals, and healthcare systems, community organizations, Leadership Memphis, and many others."
Topics addressed include managing services for COVID-19; environmental risks, such as toxic waste dumps near low-income neighborhoods; physician bias; food insecurity; narrative medicine; race and poverty; and the impacts of substandard housing and transportation on health outcomes.
Rhodes also partnered with the Wellness and Stress Clinic of Memphis to provide health equity workshops for staff at local K-12 schools. Rhodes students have assisted with COVID-19 testing offered by the clinic.
"One of the most exciting developments in health equity at Rhodes involves our work offering Graduate Medical Education (GME)," says Hotz. "The grant-funded lecture series helped us to build a reputation for high-quality health equity education, and that led to a relationship with Baptist Memorial Health Care. Rhodes now offers their family medicine residents three courses, one in each of their three years of residency." The courses include training in cultural humility, social determinants of health, and health and healthcare policy. 
Physicians seeking certification in palliative care come to Memphis for a one-year fellowship opportunity at St. Jude Children's Research Hospital and Le Bonheur Children's Hospital. Hotz and two other Rhodes faculty—Dr. Peter Hossler and Dr. Duane Loynes Sr.—currently serve as faculty-in-residence at Le Bonheur Children's Hospital and offer workshops as part of that rotation for the palliative care fellows. Hossler works with them on access to healthcare and mechanisms of change. Hotz focuses on social determinants of health such as housing and transportation, and Loynes has led Cultural Intelligence workshops.
"Cultural Intelligence, or 'CQ' for short, measures one's capacity to function effectively in a variety of cultural contexts, whether domestically or internationally," says Loynes. "It's critical for healthcare practitioners to increase their CQ, since even the most minute presence of bias can drastically alter the health outcomes of the communities they are trying to serve."

This fall, Rhodes enrolled the third class of students in its Post-Baccalaureate Certificate In Health Equity program, designed for healthcare professionals and students who are using a "gap year" to apply to medical school. Students can complete the certificate program on a full-time basis in one year or part-time over the course of two years by taking one course each semester. Courses offered include Health Equity and Health Disparities, Politics of Health and Healthcare Policy, Narrative Medicine and Inequality, and Developing Cultural Humility.
For Rhodes undergraduates, the Health Equity Fellowship provides a full-time, funded summer experience working in the community. Shaili Samuel '23, a health equity major from Albuquerque, NM, served as a Health Equity Fellow at JUICE Orange Mound and says, "Part of my role has been getting people to take surveys so that we can hear their voices, understand the issues that they see in the neighborhood, and directly address those issues while working with the community."
"Equipped with their liberal arts education, our Health Equity Fellows have made site visits and reflected on their experiences," adds Iris Mercado, program coordinator in The Lynne and Henry Turley Memphis Center. "They've continued to build a culture of equity at Rhodes to make the campus a more diverse and inclusive space and strengthened relationships with community partners by not only supporting their work, but also expanding on programming and partnerships across our institutions. From working with the Wellness and Stress Clinic to JUICE Orange Mound and Room in The Inn, our fellows continue to expand their knowledge and understanding of how interconnected social issues are in our society and work to highlight the work that is being done on the ground by the community members and organizations to address these disparities."