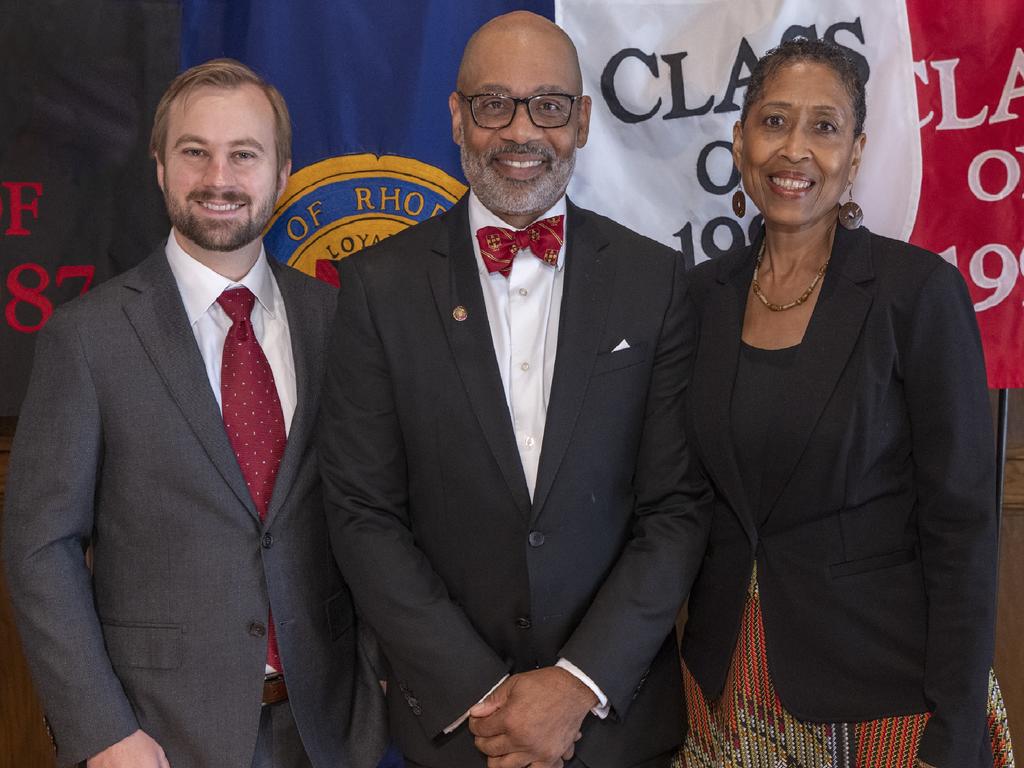 October 31, 2022
Rhodes College's 2022 alumni awards were presented during the college's Homecoming/Reunion Weekend Oct. 28-29. Dr. Russell T. Wigginton Jr. '88 received the Distinguished Alumni Award, Brad Hensley '12 the Young Alumni Award, and Kathy Moore Cowan '78 the Black Student Association Distinguished Alumni Award.
Distinguished Alumni Award
The Distinguished Alumni Award recognizes alumni who have brought honor to Rhodes College through extraordinary achievement in their profession and community.
Dr. Russell T. Wigginton Jr. is president of the National Civil Rights Museum. He earned a bachelor's degree in history from Rhodes in 1988 and returned to his alma mater in 1996 to teach in the history department. In 2003, President Emeritus Bill Troutt tapped him to serve as special assistant to the president to build meaningful partnerships in the Memphis community. His more than 20-year career at Rhodes also includes serving as vice president for college relations, vice president of external programs, and vice president of student life.
In 2019, Wigginton joined Tennessee's State Collaborative on Reforming Education as its chief postsecondary impact officer. He became president of the National Civil Rights Museum in 2021.
 
Active in the Memphis community, Wigginton has served on numerous boards including Metropolitan Inter-Faith Association, Big Brothers Big Sisters, Facing History and Ourselves, ArtsMemphis, Knowledge Quest, Bridges USA, Ballet Memphis, Memphis Literacy Council, and Memphis Symphony Orchestra, just to name a few.
 
Wigginton holds a master's degree and doctorate in history from the University of Illinois at Urbana-Champaign.

The Young Alumni Award
This award is presented to young alumni who have brought honor to Rhodes through achievement in their profession and community.
Originally from Oak Ridge, TN, systems engineer Brad Hensley graduated from Rhodes in 2012 with a double major in biology and physics. As an undergraduate, he developed an interest in aerospace engineering and went on to earn a master's degree in aerospace engineering from the University of Colorado – Boulder.
 
While working in the aerospace industry, Hensley has led efforts to develop advanced deployable structures for defense and commercial spacecrafts. He also is an inventor with multiple patents in a technology called slit-tube boom, which has been adopted by the space industry to deploy spacecraft systems.
Hensley was involved in a NASA-simulated mission to Mars during the summer of 2022. For 45 days, he and other crew members lived and worked like astronauts on the Human Exploration Research Analog at NASA's Johnson Space Center in Houston while "traveling" to the Martian moon Phobos.
Hensley has offered shadowing opportunities to Rhodes physics students interested in the aerospace industry and serves as consultant for the college's RHOK-SAT project involving a four-inch cube satellite designed by faculty and students to be launched into space aboard a NASA-sponsored rocket by late 2024.
Black Student Association's Distinguished Alumni Award
The award recognizes African American alumni whose record of outstanding personal achievement and service to others has inspired Rhodes students and brought honor to their alma mater.
Memphian Kathy Moore Cowan graduated from Rhodes in 1978 with a bachelor's degree in political science and anthropology/sociology, and she went on to earn a master's degree in urban planning from the University of Tennessee, Knoxville. She has spent more than two decades driving high-impact community investment activity and currently serves as executive director of the Memphis office of the Local Initiatives Support Corporation, which supports community development initiatives across the country.
Cowan also has served as vice president/community development manager for Regions Bank-West TN, SW Kentucky, North AR; senior community development specialist for the Memphis Branch of the Federal Reserve Bank of St. Louis; and president/CEO of The Works, a nonprofit community development corporation serving South Memphis.
 
While working at The Works, Cowan trained several interns who were Rhodes students.
She has volunteered her time and service on a number of boards including Memphis Housing Authority, the Blight Authority of Memphis, Community Foundation of Greater Memphis, and Mustard Seed, Inc.