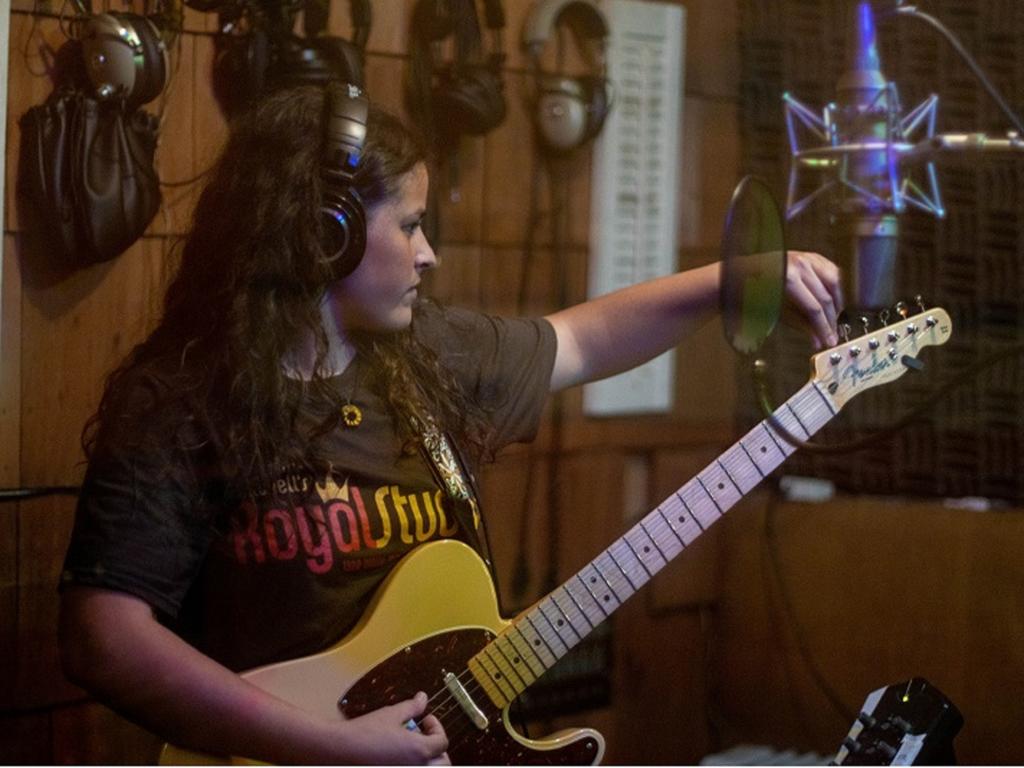 July 22, 2022
Rhodes College music major Lina Beach '23 is recording her first album at the legendary Willie Mitchell's Royal Studios in Memphis, where musicians such as Al Green, Ann Peebles, Rod Stewart, John Mayer, and Bruno Mars have recorded hits. Beach also has been cutting tracks with musicians from the talented Hi Rhythm Section, which once was the studio's house band and helped to define the studio's unique sound.  
"I've been listening to Al Green records for years, learning the bass lines and guitar riffs, and it's so surreal to get to work with the same musicians in the same studio where all those records first came to life," says Beach, who also sings and plays guitar, bass and piano. "It's hard to even find the words to describe what a huge impact this opportunity has made on my life as a musician and artist. It's incredibly special to get to work with Boo Mitchell on my first album, while I am still finding my voice and my sound." 
Established in 1957, Willie Mitchell's Royal Studios is one of the oldest perpetually operated recording studios in the world, containing rare vintage machines as well as the latest digital equipment. Lawrence "Boo" Mitchell, the son of original producer and legend Willie Mitchell, manages the studio. 
So how did Beach get such a life-changing opportunity to record there? Here's how the 21-year-old's journey has unfolded. 
Beach grew up in a musical home in Franklin, TN, and says she started playing piano as soon as she could climb on the bench. Although the guitar became her obsession in middle school, engineering music would come later. 
"I remember in middle school being on the church worship team where we would set up to run sound every Sunday morning. That was my first exposure to the engineering side of things, but I always felt recording and engineering was too over my head," says Beach. "I didn't know any of the lingo that the sound guys used, and as a very male-dominated space, I never saw myself being able to fit in there. That changed when I started working at Royal Studios last spring. I was hired to get footage from the sessions and run the social media pages, and that meant I got to sit in for hours, watching Boo Mitchell engineer and produce all these different artists. I would go home and watch YouTube videos on ProTools, microphones, and all the gear I would see around the studio." 
"I wrote my first song last July after I got a concussion and had to wait in the ER for hours without getting treated. I went home and was lying in my dark room with a guitar in my hand and started playing chords. I just started singing, and the words came so naturally. That was the beginning of my song Doctor, Doctor. Then in the fall, I got COVID during the first week of classes, and I was messing around with my guitar and loop pedal and came up with this loop that put me in a trance."
Beach wrote another song while in quarantine and later showed it to Mitchell, who encouraged her to write more songs. And that's what Beach did. This spring, she applied for and was accepted in the Rhodes Institute for Regional Studies, which allows students to pursue research and creative projects through the lens of Memphis and the Mid-South area.
"I had these songs I've been working on for about a year, and once I realized there was a Rhodes summer program that could help with expenses and put structure around this huge project while working alongside a cohort of awesome professors and students, I jumped at the idea," says Beach, who also asked Mitchell if he would produce her album. 
"He responded saying that he'd be happy to produce a record for me. That blew me away, and I realized the power of an ask. A few of my songs were soulful, and although the idea seemed incredulous at the time, I asked him if there was any chance Hi Rhythm could play with me. Next thing I know I'm in the studio with these legends. It's been a whirlwind. I've had experiences I never would've dreamed of, and I'm so thankful for everything and everyone that has made this possible."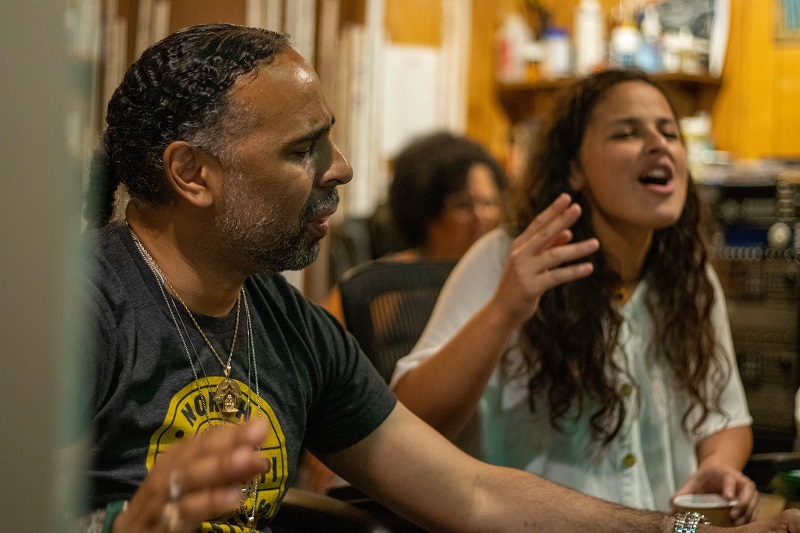 Although Beach has not come up with a title for her album, she describes her music as "nostalgic, inspired by soul, blues, R&B, and jazz." 
At Rhodes, Beach is studio manager and engineer for the Mike Curb Institute for Music, which is the program that introduced her to Royal Studies when its fellows recorded a cover of America The Beautiful  with blues musician Bobby Rush. 
 
"Curb also helped me find a community of students with the same passion for music I have, and some of my best friends have come out of the connections I made there," says Beach. "My amazingly talented friends Khulan Erdenechimeg and Yifei Zhang are working on a film that will document the making of this album, as well as my journey to discovering myself as an artist. Khulan, Yifei, Jackson Hendrix, Di Wu, and Aidan Smith were all with me on the first week of my session, capturing photos and videos throughout the process. It was so awesome to have these friends there with me during this experience of a lifetime."
This fall, Beach plans to keep the momentum going by mixing, mastering, and doing all the preparation necessary to release her album in the spring. "I think this album will launch me into the future with an incredibly solid foundation," she says.