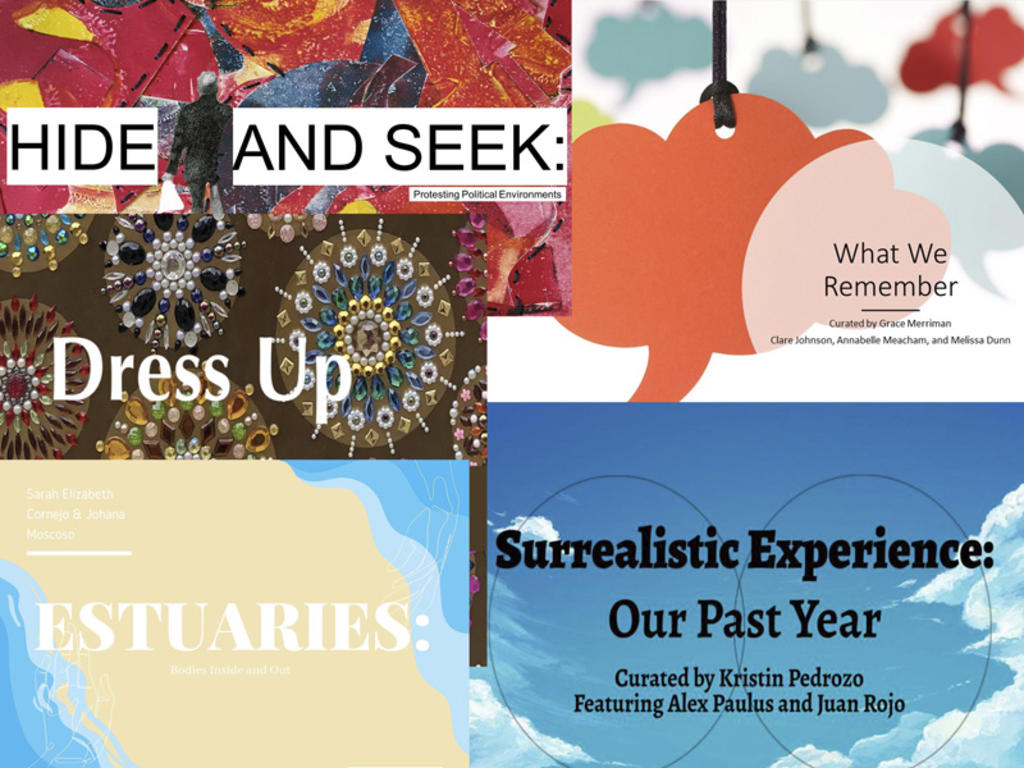 July 08, 2021
Art students at Rhodes this spring found new opportunities to express themselves virtually. Including collaborations with artists in the Memphis community and with support from faculty, their work culminated in three major projects that are available to view virtually on the Rhodes College website.
Curation in Context 2021 features exhibitions curated by Art 260 students Kristin Pedrozo '22, Fatima Leal '23, Gunner Smith '21, Grace Merriman '21 and Finn Mullen '22. The class, taught by Joel Parsons, director of Clough-Hanson Gallery, explores the basics of art exhibition spaces and their roles in a community. Students worked virtually with Memphis-based artists to curate diverse art experiences related to the current social landscape, the home, personal relationships, and the human body.
Pedrozo's Surrealistic Experience: Our Past Year, featuring Alex Paulus and Juan Rojo, uses everyday objects and humor to communicate the surrealism of 2020. Leal's Estuaries: Bodies Inside and Out features Sarah Elizabeth Cornejo and Johana Moscoso, whose works made from organic and discarded materials explore external and internal changes of the human body. Smith's Hide and Seek: Protesting Political Environments explores the work of Mary K VanGieson and Nelson Gutierrez and their different artistic approaches to the politicalness of our world. Merriman's What We Remember follows the work of Clare Johnson, Annabelle Meacham, and Mellissa Dunn, documenting their unique approaches to make visible the act of remembering. Mullen's Dress Up pairs works by Juan Rojo and Leslie Barron that center on unconventional clothes as a creative means of self-expression or social commentary.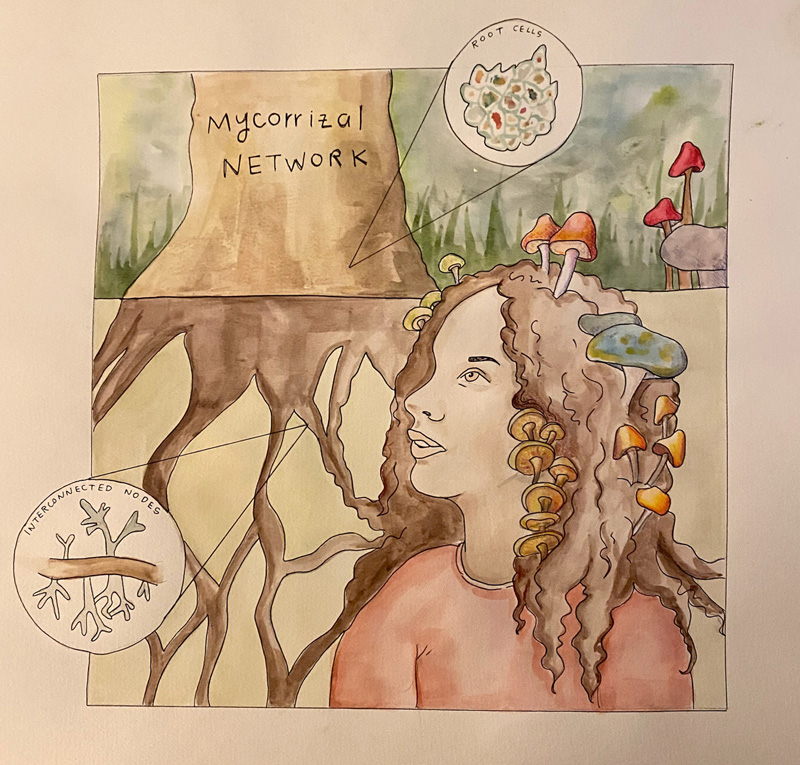 Art and science at Rhodes converged in Topics in Art:  Art and Science Studio, which was designed to create an interdisciplinary opportunity for students. Taught by Raina Belleau, assistant professor of art and art history, the class explored themes, concepts, and processes from the natural sciences using a variety of artistic techniques and materials. For the "Scientific Illustration" project, students researched a topic or subject of their choice to create an illustration that visually explained their subject and research. "Block Printing: Mutants and Multiples" invited students to interrogate the concept of "mutation" collaboratively and artistically. "Material Matters" focused on the adaptation of everyday processes and materials into artworks that addressed a relevant scientific issue. For "Site and Science," students worked in groups to create a proposal for a site-specific artwork with an idea borrowed from science. For their final project, "Macro vs. Micro," students picked a subject to research from the sciences that is either too small or too big to see or to comprehend and created a work of art. The goal was to give the viewer a new perspective, a better understanding, or a desire to know more.
The four-year journey of Rhodes' 2021 graduating art majors culminated in the Senior Thesis Exhibition, featuring original works from painting and sculpture to animation and installation. Nathalie Tamez-Guerrero uses abstraction to create an interior landscape where she can approach, embrace, and converse with different elements of her personality. Bec Heyman takes out forms of the muscles, organs, bones, and cells to arrange highly decorative collages, celebrating the beauty of the human inner body. Krista Lebovitz dives into and beyond the realm of objecthood by reimagining everyday items through an extravagant and futuristic lens. Rubie Loman makes sense and reconciles with her body by putting it on display on large watercolor canvases. Gunner Smith flamboyantly expresses the joy of everyday fantasies in contrast with contemporary anxieties about human connections. In the video below, each artist's work is introduced by Erin Harmon, associate professor of art and art history, followed by the artist's statement in their own words.
By Tram Truong '24