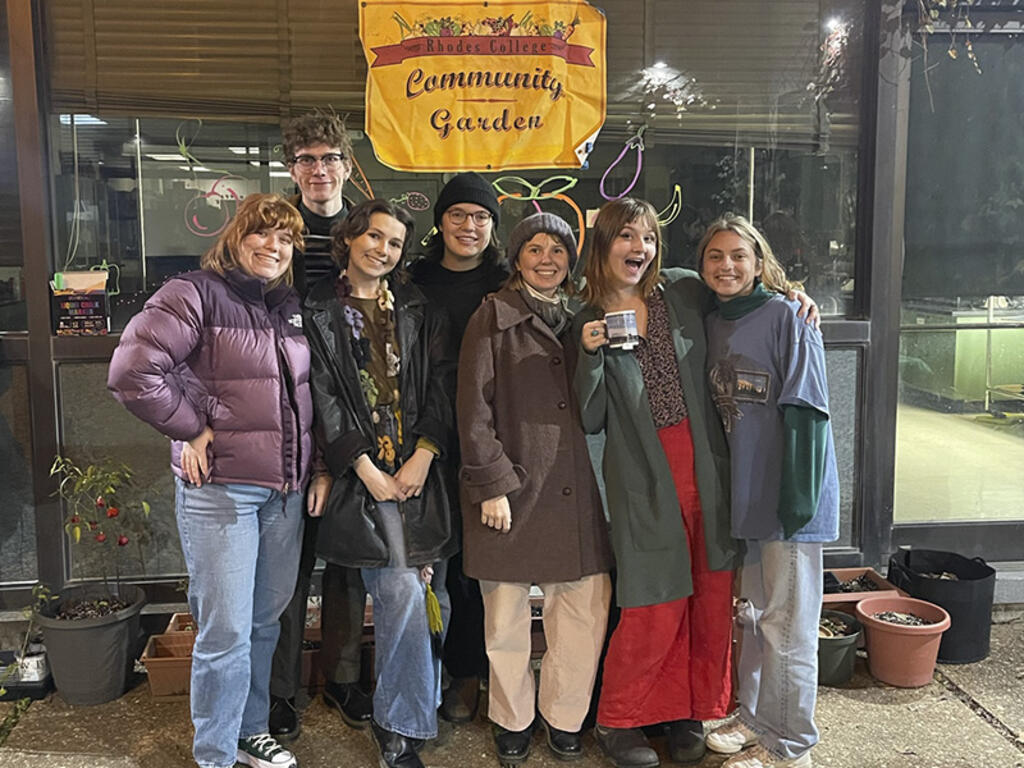 February 08, 2023
The Rhodes gardening club, Roots, successfully launched the college's first-ever compost project last semester, but the campus community is no stranger to student-led food waste prevention initiatives. The student-run Food Recovery Network (FRN) has been delivering leftover food from the refectory to Memphis food missions for almost a decade, and now Roots is making sure that food scraps are turned into usable compost.
Since joining Rhodes as its food service provider, Bon Appetit has been a key player in student food waste prevention initiatives. Bon Appetit is committed to sustainability initiatives such as buying locally grown food as much as possible to preserve biodiversity, protect open space, support family farmers, and keep money invested in the local community. 
Roots started planning the logistics of their composting project with Bon Appetit almost a year ago. Anna Tilley '25, an Urban Studies major and Roots' head gardener, initiated conversations about composting with Jose Upegui, executive sous chef with Bon Appetit, who was enthusiastically on-board from day one. "Bon Appetit has a heavy emphasis on sustainability," says Tilley. "And composting was easily incorporated into Bon Appetit's everyday functions because of their values." 
Much of Roots' planning involved coordinating funding for the first year and working to ensure that composting can be incorporated into the college budget as a permanent staple. Roots also facilitated an agreement with Atlas Organics, which takes the collected food scraps from Rhodes and turns them into compost. In return, Roots gets compost for their garden at a discounted price from the company. Pickups are currently scheduled every Monday, but the group is working with Bon Appetit to increase the frequency. "Our long-term end goal is to compost most, if not all, of the food scraps in the refectory," says Tilley.
Tilley also hopes for more support from all students and community members in their sustainability efforts. "It's important for students to take the initiative to eliminate personal food waste created at the refectory. Eating on smaller plates, taking leftover food to-go, and getting seconds instead of large helpings helps reduce food waste."
Food Recovery Network president Ian Ogilvie '24 shares a similar appreciation of his experience partnering with Bon Appetit, which packages and ensures leftover food is ready for members of FRN to pick up three times a week and provides them with the necessary tools for measuring recovery quantities. 
"Bon Appetit has been instrumental in our recovery operations since they came to Rhodes. Integration with their daily operations has beeneasy and is now relatively streamlined," says Ogilvie, who adds that sustainability has improved over the past semester. 
"We have expanded our food recovery efforts to include student organizations such as sororities, cultural clubs, and activity groups. In the future, we would hope to see sustainability take on a more active role in campus life—for example, establishing food recovery and composting efforts for all campus events involving food, including both student and college organized events."
By Tram Truong '24