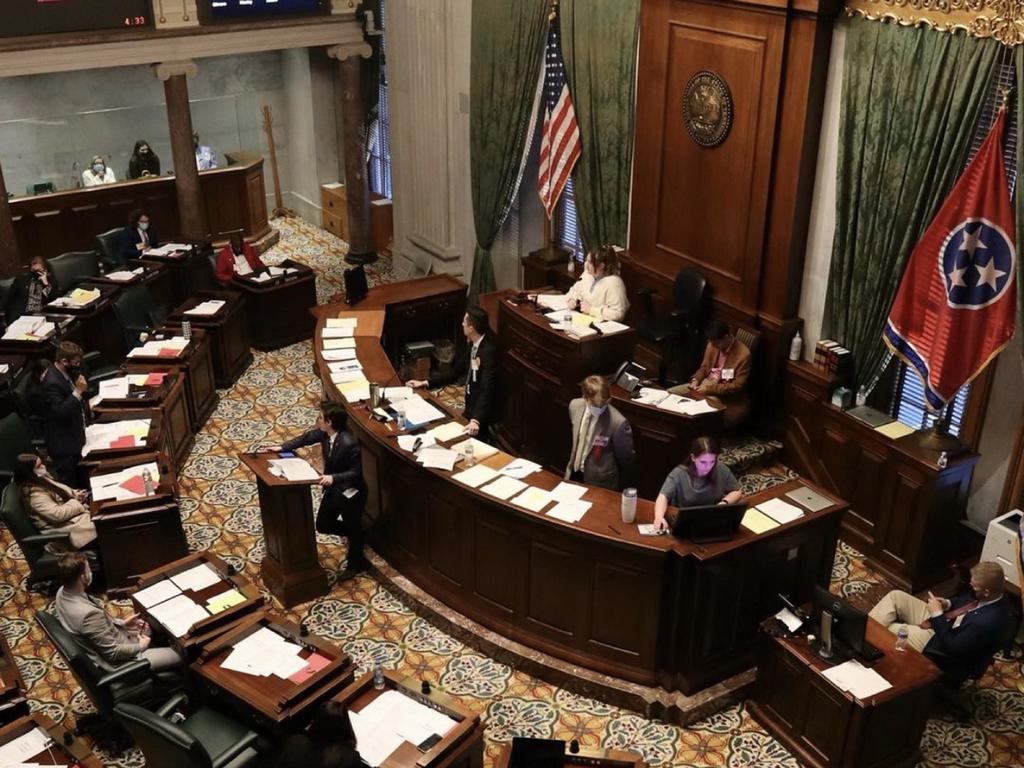 December 08, 2021
Rhodes College sent a delegation of 11 members to the Tennessee Intercollegiate State Legislature's (TISL) 52nd General Assembly, held Nov. 18-21 in Nashville, and two brought back individual awards.
Harry Dircks '24 won the Outstanding Senator award recognizing students who possess great debate skills, have knowledge of parliamentary procedure, and are effective in legislative session. Pierce Rose '22 received The Douglas Carlisle Award, given to outstanding students who have made significant contributions to TISL through participation, service, and leadership in the legislative branch and in their college delegation. In addition, Keaton Dicapo '24 was elected as Speaker Pro Tempore of the House of Representatives and will serve on the Executive Council, which governs and directs the organization on a statewide level.
TISL offers students from more than 40 Tennessee colleges and universities the chance to exchange ideas, express their opinions, and experience aspects of state politics and government. At each General Assembly, which is a simulation of mock state government and includes an Appellate Moot Court, students draft bills and amendments to express their views on state politics, participate in committees, learn parliamentary procedure and the legislative process, prepare briefs and argue a hypothetical case in the moot court competition, act as media covering and examining state politics, and advocate for or against legislation pending before the House and Senate.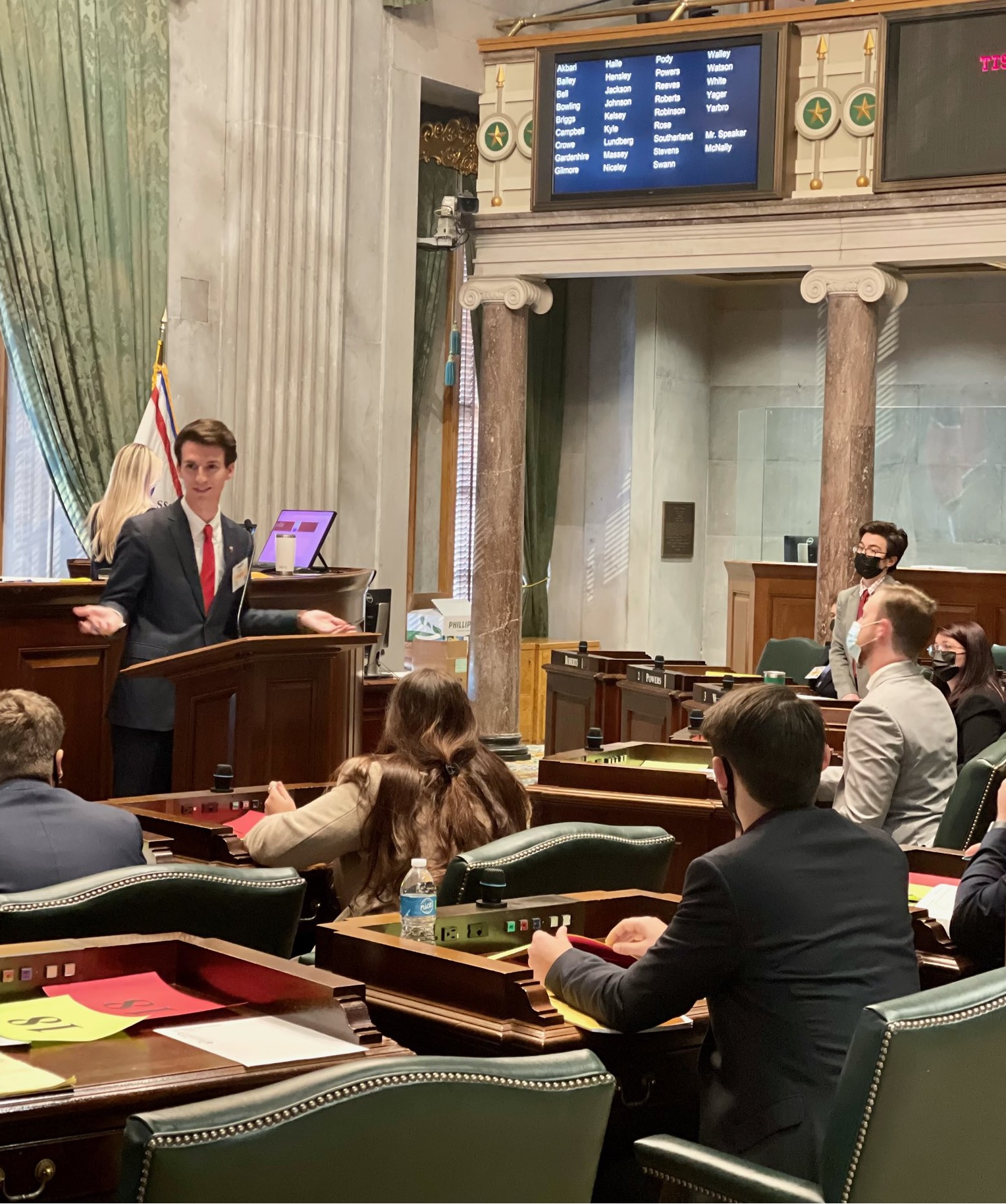 During each General Assembly, delegates can run for TISL offices. Matthew Kenny '22, who served as this year's Governor, was instrumental in the General Assembly returning to in-person at the State Capitol.
"I oversaw planning and administrative aspects of all events for the past year, leading a team of student leaders from different colleges and universities throughout Tennessee," he says. "This was our first major in-person event after COVID-19, and therefore involved extensive reviews and reconsiderations of what and how to do each aspect of the four-day conference."
 
A political science and Greek and Roman studies major, Kenny learned about TISL his first year at Rhodes while at the Rhodes SACK Fair, where students meet the leaders of student organizations and receive information on how to become involved on campus.
 
"TISL has given me the chance to grow as a leader and professional, and to make long-term connections with state officials and employees," says Kenny. "I am interested in attending graduate or law school and working in state or federal legislatures as legal counsel or as a legislative staffer."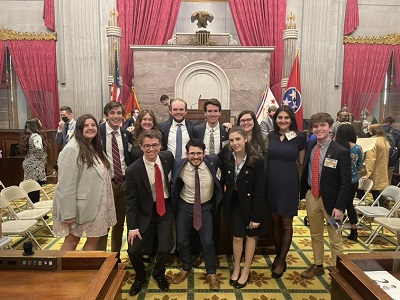 Maya Ring '23, a political science major who serves a Speaker Pro Tempore of the Senate, has been involved in TISL for three years, and she worked throughout the year with the legislative council within the executive council and on a bill contest hosted by the Senate.
"I believe that TISL is the best organization to give students a firsthand experience of what it is like to participate in a state general assembly," says Ring. "Although it is a simulation, it encompasses almost every aspect of a real general assembly; has real debate on topics that impact Tennessee as a state; shows how the committee system, caucuses, and campaigning can work in real life; and teaches how to write and research legislation. TISL allows for us to take what we learn in a classroom and see how it functions in a real-world example. After graduation, I am interested in working within the private sector to connect companies with the government, possibly through being involved in a government relations department for a business or a consulting company that helps businesses with any governmental issues that they may have."
Other Rhodes students who participated in this year's General Assembly include Connor Lambert '22, Lauren Moore '22, Christyn Sanders '25, Corbitt Driskell '25, Macy Tidmore '25, and Sarah Finch '25.
Students passed multiple pieces of legislation that they themselves drafted into "law," including ballot reforms in Tennessee, fire sprinkler regulations, tax deductions for the voluntary installation of electric vehicle chargers, a tax on carbon emissions on fossil fuel plants for the funding of cleaner nuclear power, provisions for student representation on local boards of education, and much more.
This year is the 10th anniversary of Rhodes College's participation in TISL, having first started in 2011 through the efforts of Betsy Swann '14 and Dr. Stephen Wirls, associate professor of philosophy.
Dr. Thomas Goodman, visiting assistant professor in the Department of Politics and Law, is the organization's current faculty advisor.
 
"We hope participation in programs such as TISL can familiarize our students with the art of politicking itself, gleaning a greater appreciation of important issues, conflicting interests, and the strenuous efforts required to effect an outcome palatable to all sides," says Goodman. "By collaborating as a group and with colleagues, they forged closer relationships with fellow classmates and closer ties with other members of the program, in the process developing immensely integral networking connections.
  
"Further, we also believe this experience instills within each student a stronger sense of self-confidence in their abilities and self-worth in their contributions.  Finally—and more broadly— we hope exercises of this nature better inculcate students with a renewed appreciation of the legislative body as a relevant, coequal governing body, perhaps even spurring a much-needed, long-overdue reappraisal of the institution's reputation today."