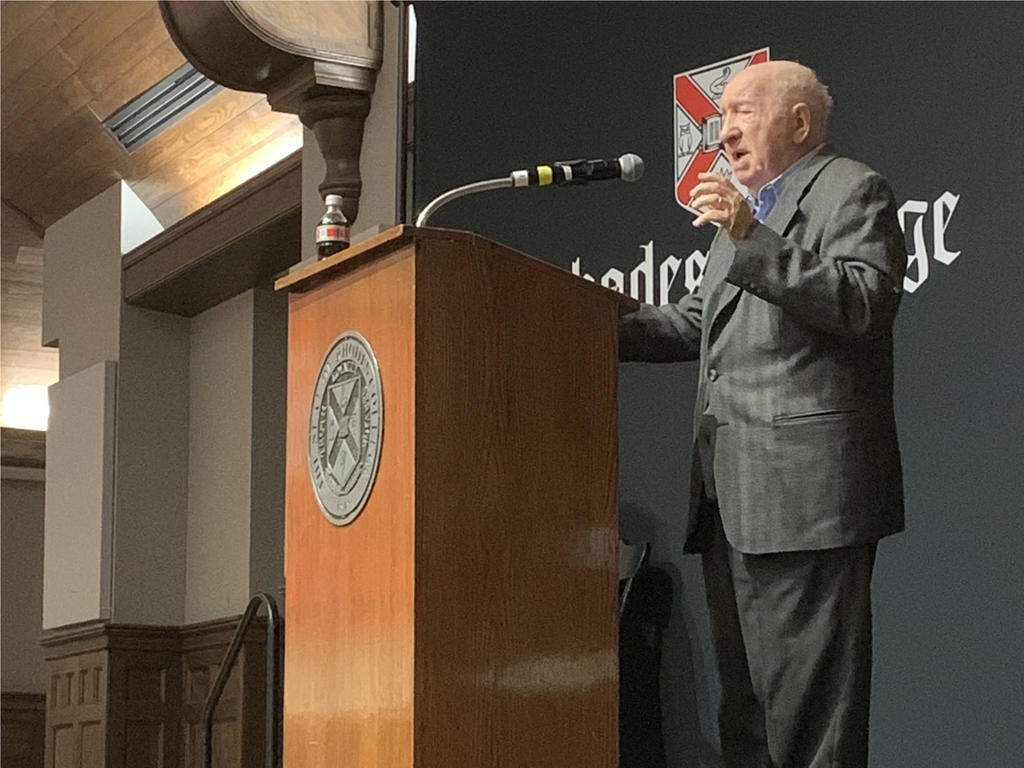 February 27, 2020
Members of the Rhodes community and local residents gathered in the Bryan Campus Life Center Feb. 25 to hear 100-year-old Sam Weinreich share poignant moments of one of the most horrific times in history. He and his 95-year-old wife, Frieda, are the oldest Holocaust survivors living in Memphis.
Rhodes chaplain Rev. Beatrix Weil led the dialogue with Weinreich and opened the event by welcoming the packed audience, saying, "History matters. Stories matter. Community matters. And I'm grateful to you for engaging this history, this story, this community." 
The Holocaust, which was the systematic murdering of six million Jews by the Nazis, occurred between 1941 and 1945 during World War II. "You are looking at a piece of history, because there are not too many people around anymore who can tell you exactly what happened," said Weinreich.
 

Weinreich grew up comfortably in Łódź, Poland, but when Germany invaded Poland in 1939 he and his family were forced to relocate into a ghetto on the outskirts of the city.
 
"We lost so many people in the ghetto," he recalled. "I saw people hold food in their mouth; they didn't want to swallow it because they didn't have it no more if they swallowed." 
When the Germans issued a decree for young, able-bodied people to report as laborers, Weinreich went to the designated train. There, he and other Jews from the Łódź Ghetto were tricked with bread and honey into getting into cattle cars, and in a few days, they arrived at the Auschwitz concentration camp. There they were greeted by Josef Mengele, the infamous physician known as the "Angel of Death," who conducted a selection process. 
"Josef Mengele decided who shall live, who shall die," said Weinreich. "These people who went to the left did not see next daylight anymore." 
After a week, Weinreich was sent to the Dachau concentration camp to work as slave labor. He described carrying sacks of cement to help build an underground aircraft hangar. Those who tried to wear the sacks underneath their clothes for warmth would be whipped. Weinreich was emotional describing his punishment for finding a discarded potato and hiding it in his pant leg. When it was discovered, an officer knocked him down and kicked him in the face, knocking out seven of his teeth. When typhus hit the concentration camp, Weinreich was able to survive the fever because doctors would give him extra bread and soup if he sang for them.
.
Toward the end of the war, as the Germans began liquidating the camps, Weinreich found an opportunity to escape when the cattle car he was in was bombed. He and a fellow prisoner fled into the forest, but the other man wanted to give up and die. Said Weinreich, "I coached him. I told him, you survived all of these atrocities? Now you're going to give up? Get up! Try to do what I'm doing!" Thanks to Weinreich's experience as a boy scout, they came out on the other side, where they ran into an American soldier.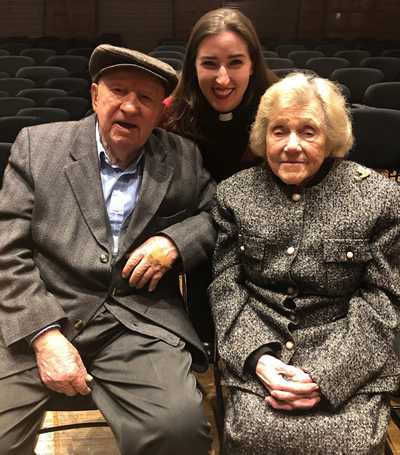 Weinreich met his wife, who had also survived Auschwitz, in a displaced persons camp 73 years ago. She attended the Feb. 25 event.
The event concluded with a question-and-answer session from audience members, and Weinreich kept the packed room laughing with his good humor and smiles, as well as his performance of the Yiddish song he sang when he was in Dachau.
 
Weinreich's advice for persevering: "Do not give up. Hope tomorrow will be better than yesterday. Be positive, all the time."
 
By Meg Jerit '20