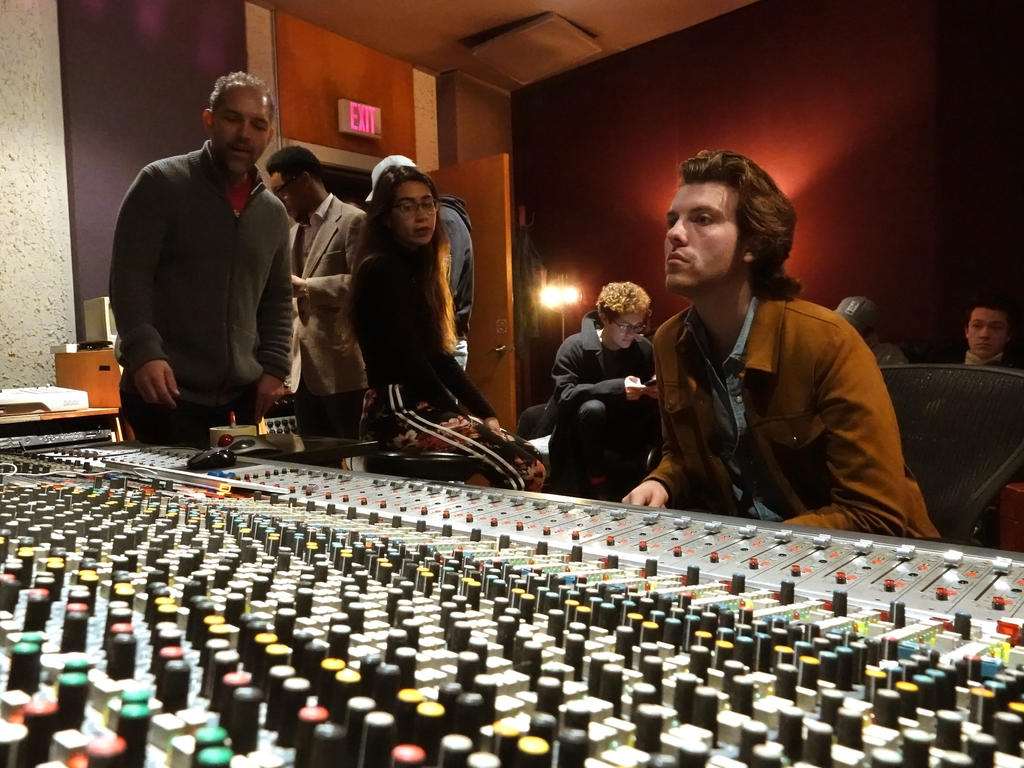 April 25, 2020
Music industry publication Billboard named Rhodes College one of the top music business programs in the nation. The programs were not ranked. Rhodes was listed among 28 other college and universities nationwide. 
"Billboard chose programs that are primarily campus-based, offering a broader, deeper education . . . It's worth noting that among the highest-achieving young executives in the music business, as profiled in Billboard's 2019 "40 Under 40" feature, nearly 40% said they were graduates of a liberal arts program," Billboard says.
Rhodes is praised for the Mike Curb Institute for Music's hands-on curriculum, the relationship between Rhodes and Memphis musicians and recording studios, and the liberal arts foundation given to all students interested in music.
"Studying music at Rhodes is unique because it is built on the college's vision of education and engagement through the liberal arts. Co-curricular programs like the Mike Curb Institute for Music work in tandem with the academic program to create broad student learning opportunities. Students come to Curb from diverse majors and backgrounds and bring that knowledge to our team," says director of the Mike Curb Institute for Music John Bass. "Engagement in the city of Memphis is key, as it allows students to learn from and network with top professionals and creatives. Most importantly, our primary focus is on access and building community. It is an incredible honor to be recognized by Billboard, and I think it is a validation of the model we have created at Rhodes and the continued value of the liberal arts."
"By being a student musician at Rhodes, you get to create your own unique experience. It's the best program for artists who truly thrive in freeform, experimental environments. The curriculum gives you a lot of liberty to be your own artist and get creative with whatever art you want to produce," says Raneem Imam '20.
"From my first year, I saw the potential Rhodes has for being an incubator for creative artists wanting to push the bounds of art, taking it to new and different places no one has ever been before."
"The music business curriculum at the Curb Institute is centered around a core question: How is it different studying this topic in Memphis? After all, this river city is where the explosive mix of country and R&B at Sun Studios in 1954 gave birth to rock 'n' roll," the article says.
Billboard cites courses at Rhodes such as music and community in Memphis, music urbanism and audio engineering: history, theory and practice. They also note that students are able to see Memphis music history firsthand in session rooms, including Royal Studios and Ardent Studios. 
From the Audubon Sessions, Respect Fest, and lectures from both scholars of music and local musicians, Rhodes has set itself apart through creative ways for the community to participate in and engage with the arts. The Curb Institute also works to promote new music and rising artists from the Memphis region, as well as hosting established artists from Memphis and across the country.
Rhodes also hosts a number of experiential programs for students interested in music such as trips to meet music industry leaders in New York and fellowships in marketing, community engagement, audio/video production, and writing. These interdisciplinary programs and experiences make it possible for students of any major to participate in creative activity and prepare for possible careers in the music industry.
"The recognition from Billboard Magazine marks our place in the community of Memphis with its many opportunities available to our students. In the Department of Music, we support students, majors and non-majors, in their individual, self-designed projects. From music coursework to local internships in studios, archives, and nonprofits, Rhodes students have many unique options," says Elizabeth G. Daughdrill Chair in the Fine Arts Carole Blankenship.
Rhodes also boasts several prominent alumni in the music business, including Allen Reynolds, music entrepreneur Marcie Allen Van Mol, recording studio owner-founder Niko Lyras, songwriter and record label owner Sid Selvidge, professional guitarist Elliot Ives, record producer and musician Ben Tanner, and composer Erick Devore.
"This is such an honor for Rhodes, and I am glad that Billboard has recognized the outstanding opportunities at the intersection of music and business we provide," says President Marjorie Hass.
"We are committed to graduating career-ready students. Memphis' vibrant music scene and creative energy is part of what makes this city so special, and I am glad that Rhodes students can both benefit from and contribute to it."