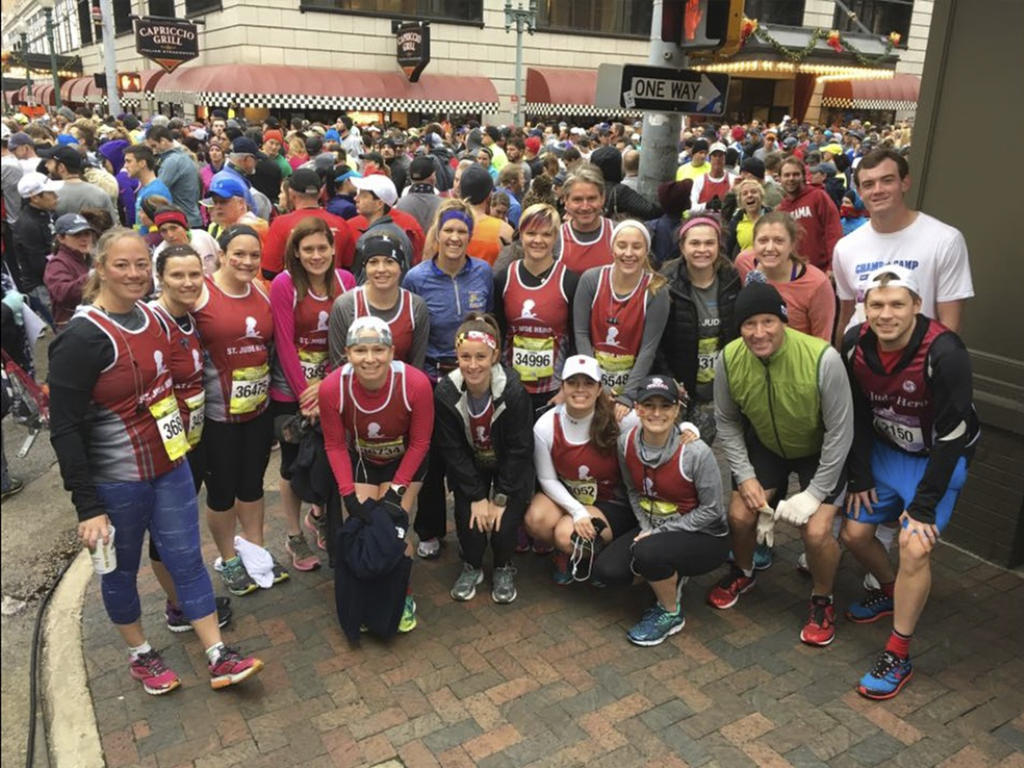 November 11, 2020
Dr. Dana Horgen's dual passions for running and chemistry have defined her personal and professional trajectories. In addition to teaching and directing chemistry lab studies remotely this semester, the assistant professor of chemistry is captaining Team Rhodes, comprised of student, faculty, and staff runners, which participates in the annual St. Jude Memphis Marathon.
"In 2014, during my first year in Memphis, a few staff members encouraged me to join Team Rhodes and do the St. Jude Marathon—the half marathon distance," says Horgen. "I signed up as a St. Jude Hero and found that fundraising the $500 goal I had set for myself was super easy because so many of my friends and family were excited and willing to donate to such an amazing and nationally renowned research hospital. Since that year, I have run the half marathon two more times and the full marathon three times."
Horgen took over as captain of Team Rhodes in 2018, promoting participation and leading the team's fundraising efforts. Over the past few years, Team Rhodes has averaged 40-plus members and raised between $35,000 to $55,000 each year. Last year, Horgen helped the team with a Goodr sunglasses fundraiser, where the sale of custom-designed sunglasses raised more than $8,000 in donations alone.
"Although COVID-19 has changed things up this year, I'm confident we can still get 40-plus Team Rhodes participants and fundraise at least $20,000," says Horgen.
The Memphis St. Jude Marathon is entirely virtual this year, so Team Rhodes members can complete any of the race distances—5K, 10K, half, and full marathon—from anywhere and at any time during 'race week,' which is Nov. 29-Dec. 5.
"As the race week draws near, Team Rhodes will have a few rallies and meet-ups to help team members with fundraising ideas and with sending out emails to friends and family," says Horgen. "St. Jude still desperately needs our help in providing the quality of care and the high level of research that is independent of COVID and still affects kids and families every day."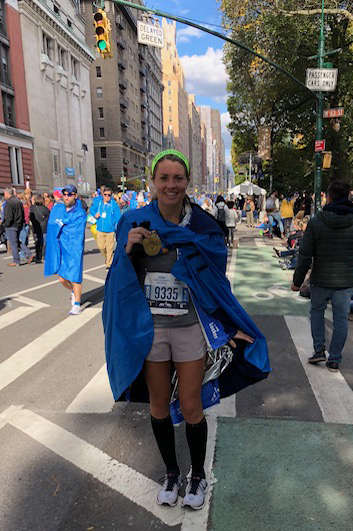 With 14 full marathons under her belt, Horgen is always trying to find new ways to share her love of running and her experience in long-distance training with new communities. In 2018, Horgen helped start the Rhodes Running Club, which, before the pandemic, was one of the only groups on campus that would have regular student, faculty, and staff participation, and also started a 5K-specific training group out of the gym she attends. Most recently, she has been volunteering with the Farmington Elementary School cross country team, which sends several runners to compete at the state meet each fall.
Horgen's engagement with the Memphis community extends beyond her love of running. When the college was awarded its first installment of a $600,000 grant from the Andrew W. Mellon Foundation in 2014, Horgen was among the first cohort of faculty Innovation Fellows. With the grant, fellows developed new academic courses and research projects that connect the college with communities in Memphis and throughout the Mid-South. Horgen designed an experiential learning course called Collaborative Chemistry Communities, in which Rhodes students master a chemistry topic, then create fun chemistry experiments that they teach to 5th, 6th, and 7th graders at local middle schools.
"During class time at Rhodes, we discuss how to convey information in a way that will make students excited about science, instead of being afraid of it. We practice the lab experiments that our students have chosen, and order all of the supplies that will be needed," says Horgen.  "Not only do our students gain teaching experience by leading the classes themselves at our partner middle schools, but we provide the teachers there with the equipment and supplies they will need to do the experiment for future classes, as well.
"This course has been truly transformative for many Rhodes students," adds Horgen. "I have always enjoyed reading their final reflection essays, where they often admit how intimidated they were to lead a group of middle schoolers in a science experiment—but how by the end of the semester, they have learned so much about connecting with others, how to convey information, and about their own personal philosophies on education."
By Grace Merriman '21
Interested in being a part of the team? Make a donation or join Team Rhodes here!