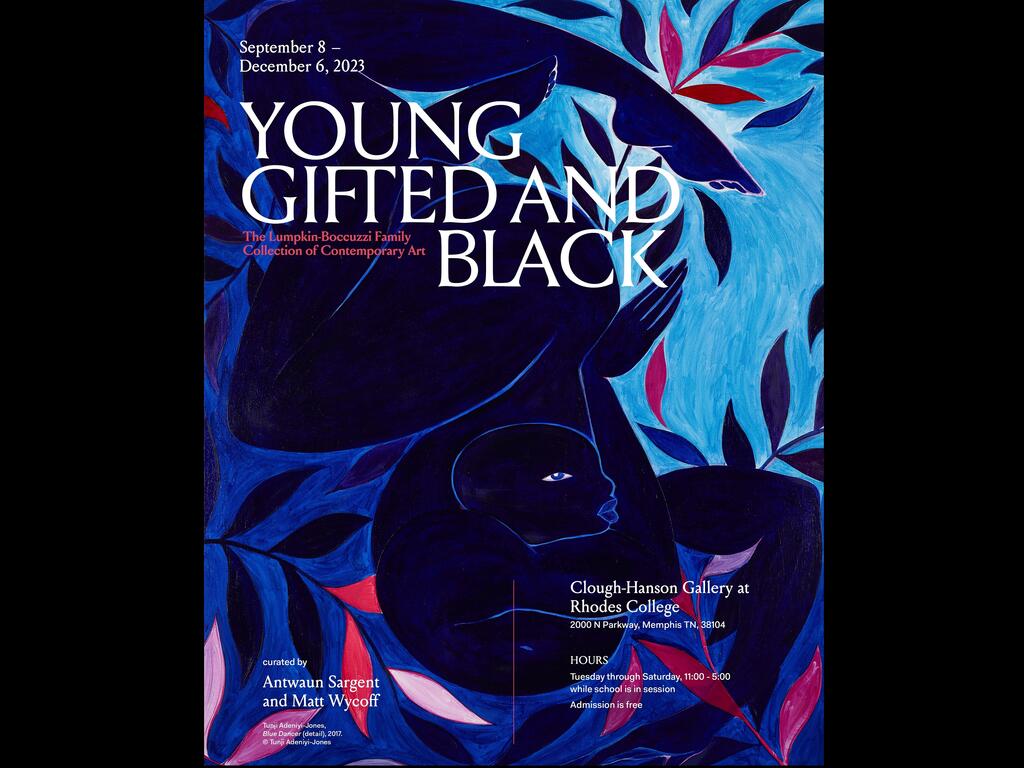 September 01, 2023
Clough-Hanson Gallery at Rhodes College will present Young, Gifted and Black: The Lumpkin-Boccuzzi Family Collection of Contemporary Art on Sept. 8. Making its debut in the American South and on view through Dec. 9, 2023, this wide-ranging exhibition highlights artists of African descent whose work explores politics, identity, and art history, among other themes.
The private collection is spearheaded by Bernard Lumpkin, who is an art collector, patron, educator, and advocate. Lumpkin sits on the board of trustees of the Studio Museum of Harlem and the Skowhegan School of Painting and Sculpture and serves on acquisition committees at the Whitney Museum of American Art and the Museum of Modern Art. The Lumpkin-Boccuzzi Family Collection also is the subject of the bestselling, critically acclaimed book Young, Gifted and Black: A New Generation of Artists (D.A.P., 2020).
As a key component of Lumpkin's focus on art education, the Young, Gifted and Black exhibition is traveling primarily to college and university galleries and museums. It is curated by Antwaun Sargent and Matt Wycoff and organized for Rhodes by Joel Parsons, director of the Clough-Hanson Gallery.
"We're pleased to organize this exhibition in partnership with the Memphis Brooks Museum of Art, which will present Black American Portraits concurrently with our exhibition," said Parsons. "Works by many artists are on display in both locations, and we hope you'll experience the conversation happening between these exhibitions."
Young, Gifted and Black features a range of contemporary artworks in various media and organized around four themes — dramatic use of color, reclamation of the color black, materiality (non-traditional materials), and an expanded idea of portraiture.
The exhibition also gathers and elevates an emerging generation of contemporary artists who are engaging with their predecessors while finding new and different ways to address the history and meaning of Blackness. The group includes well-known artists such as David Hammons, Kerry James Marshall, Mickalene Thomas, Henry Taylor, and Kara Walker, as well as a younger generation gaining wider recognition, including Tunji Adeniyi-Jones, Sadie Barnette, Cy Gavin, Chase Hall, Jennifer Packer, and others.
"Join us at Clough-Hanson Gallery for this very exciting exhibition and a full season of related programming," said Parsons.
Rhodes' Clough-Hanson Gallery is open to the public Tuesday–Saturday, 11–5 p.m. Admission is free.
Young, Gifted and Black related programming (free and open to the public) includes:
Opening Reception
Sept. 8, 5-7:30 p.m.
Clough-Hanson Gallery
Cultivating Community to Support Black Art: A Conversation With Bernard Lumpkin, Elizabeth Andrews (Spelman College Museum of Fine Art), and Rachel Knox (Hyde Family Foundation)
Oct. 12, 6 p.m.
Blount Auditorium at Rhodes College
Artist Talk: Sadie Barnette
Nov. 2, 6 p.m.
Blount Auditorium at Rhodes College
Young, Gifted and Black in Memphis: Artist Panel Discussion
Nov. 14, details to be announced