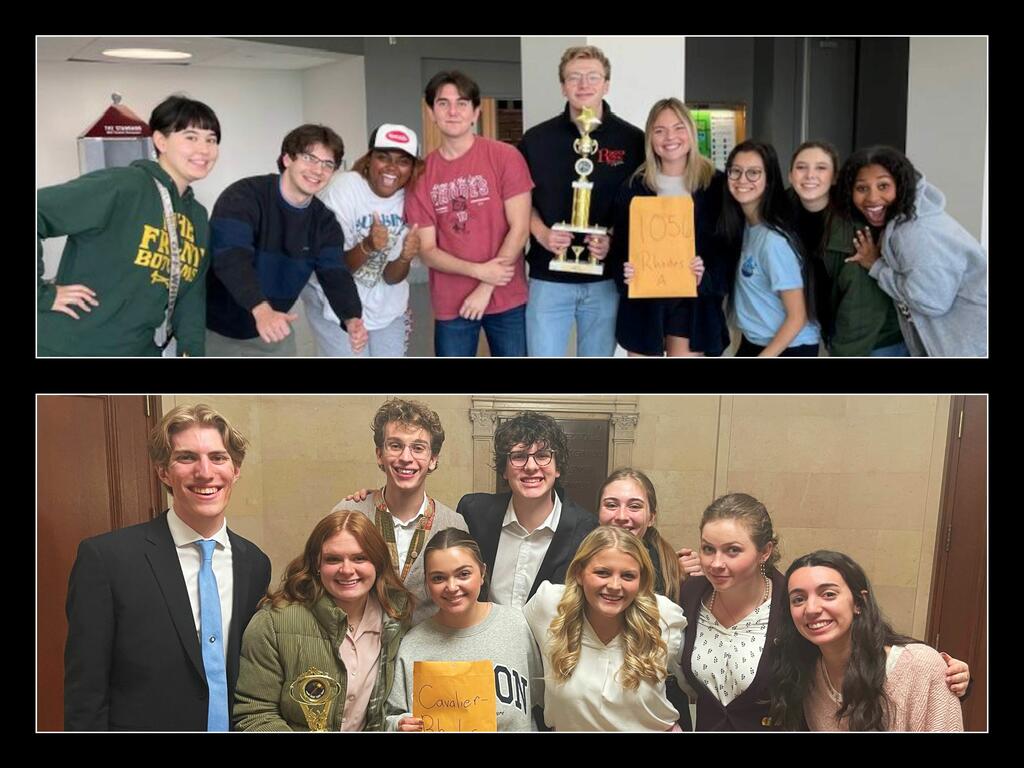 November 14, 2023
Rhodes A and B mock trial teams were crowned champions at tournaments they competed in Nov. 10-12. Rhodes "Red" took second place in the invitational hosted by Missouri State University.
Rhodes B brought back the first-place trophy after competing in Northwestern University's  "Mock at the Rock" Invitational held in Chicago, IL,  Nov. 11-12. "To win, they had to defeat a field of top 25 ranked teams from the Ohio State University, University of Wisconsin, University of Chicago, and the University of Michigan. These teams average between 8,000 to 50,000 undergraduates, and our B team left them in the dust. We could not be more proud," said Anna Eldridge, director of Mock Trial at Rhodes.
Rhodes A won the Bear Brawl Classic Mock Trial Invitational hosted by Missouri State University Nov. 10-12 in Springfield, MO. Rhodes "Red" finished second. In addition to team awards, Hannah Goto, Maya Bridgeman, Oliver Stockman, and Zoey Ragan won top performer awards
Members of the teams are:
Rhodes A: Reese Conners and Sam Frank (Captains), Destiny Baugh,  Maya Bridgman, Noah Dickerson, Hannah Goto, Nina Keller, Cormac Maclae, and Christyn Sanders
Rhodes B: Kevin Caltry and Bell Tucci (Captains), Madi Bagsby, Ben Hayes, Gwenaelle Monnet, Megan O'Keefe Zoe Haug, Mitchell Leander, and Emma Timmons
Rhodes Red: Zoey Ragan and Oliver Stockman (Captains), Astrid Balink, Khalila Bandele, Jen Long, Parson Simmons, Carlton Sears, and Ava Tighe.  (Alternates who help the team but do not travel are Brandon Washington, Hunter Rheinfrank, and Merritt Shemwell.)
Rhodes Mock Trial relies heavily on volunteers to assist with coaching. " I want to thank Richard Madden, Veda Krumpe, Jacqueline Laxson, and Anna Cole along with Quincy Griffione acting as a student coach this fall," said Eldridge.