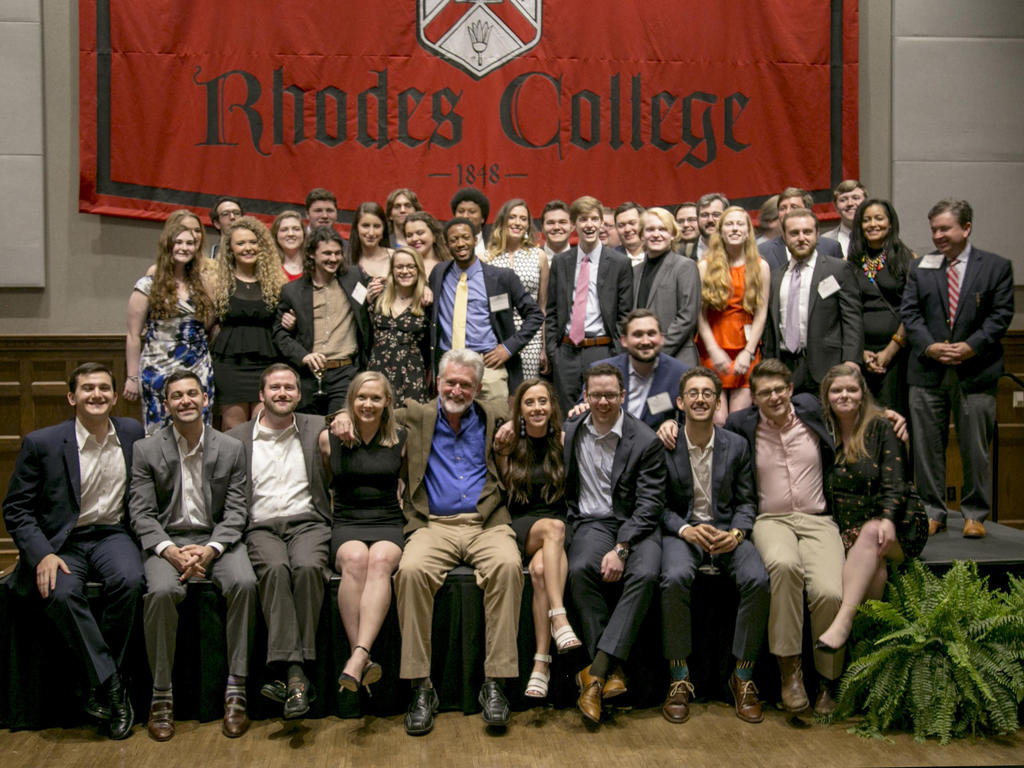 June 29, 2018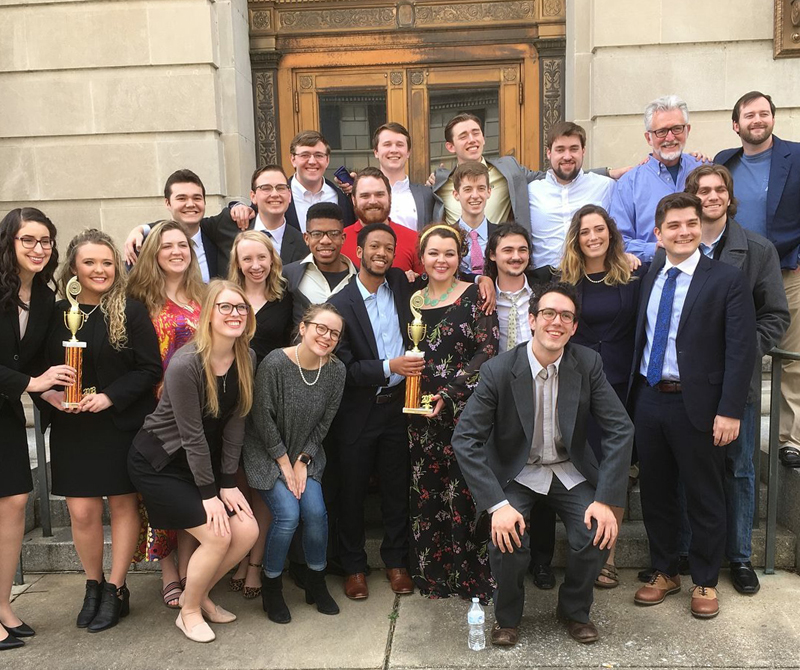 When Dr. Marcus Pohlmann formed Rhodes' first mock trial team in 1987, the collegiate mock trial circuit consisted of only 56 teams. Since that time, the American Mock Trial Association (AMTA) circuit has expanded to more than 700 teams from more than 400 colleges and universities.
When the 2017-2018 regular season came to a close, all but 48 teams had been eliminated from competition, and Rhodes had once again secured bids to the National Championship Tournament. Rhodes has now appeared at the tournament every year of the mock trial program's existence, an unchallenged 32-year streak. Additionally, for the sixth consecutive year, Rhodes had two teams at nationals, giving the college both the longest streak of nationals appearances and the longest streak of consecutive two-team appearances.
This spring, with the news of Pohlmann's retirement, political science majors and mock trial alumni flocked to campus for a special reunion to help celebrate his tenure at Rhodes. The weekend included a continuing legal education program, tours of the National Civil Rights Museum, and a celebratory dinner and program on Saturday night, among other events. A highlight of the weekend was Pohlmann's "Last Lecture."
The celebration and reunion was the brainchild of Tracy Patterson '84, director of alumni relations, Mike Palazzolo '86, a senior development officer at Rhodes, and Dr. Amy Jasperson, associate professor and chair of the Department of Political Science—but even they didn't envision what would happen next. It started with Zac Hill '08, who called the Alumni Relations office about attending the reunion and mentioned that he would like to find a way to honor Pohlmann's legacy at Rhodes. Palazzolo reached out to Hill, who spoke about his time on the mock trial team, his mother's volunteerism and support of the team, and the incredible impact Pohlmann had on his academic and professional development. Out of these conversations, Hill issued a $50,000 challenge to members of the Rhodes community to establish an endowment to support the Department of Political Science and the mock trial program. The challenge match was quickly accepted by Claudia and Joe Bartholomew, who made a gift to honor Pohlmann's impact on their son, political science major Joey Bartholomew '18; Matthew Marcotte '99; and many others who wanted to honor Pohlmann. More than $131,000 was raised to establish the Marcus D. Pohlmann Endowment, which will fund a range of academic and co-curricular opportunities and honors for political science and/or mock trial students.
Pictures of the memorable weekend can be viewed in the slideshow below.