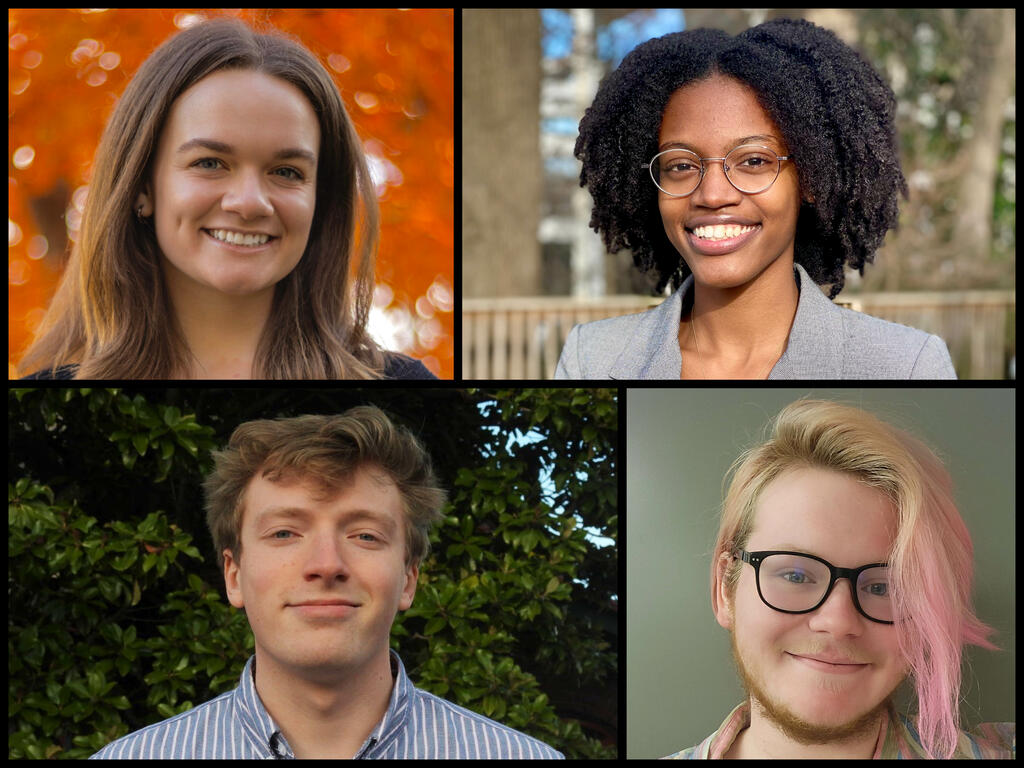 January 20, 2023
Rhodes College juniors Mia-Miracle Craig, Sam Frank, Claire Kiernan, and Vaniel Simmons are competing for the 2023 Truman Scholarship, a national competitive, merit-based award offered to students who wish to attend graduate school in preparation for a career in government, the non-profit sector, or public service. It provides up to $30,000 to be applied toward graduate school.
The Truman Scholarship Foundation was established in 1975 by Congress as a federal memorial to the 33rd president, Harry S. Truman. Recipients must be nominated by their institution, have outstanding leadership potential and communication skills, demonstrate academic excellence, and be committed to careers in government or the nonprofit sector.
Here is information about this year's Rhodes College nominees:

Mia-Miracle Craig
Major: Educational Studies, Anthropology/Sociology
Hometown: Baton Rouge, LA
Craig is a Bonner Scholar, president of the Nu Phi Chapter of Zeta Phi Beta Sorority, Inc., and member of the Traditions committee of the Rhodes Activity Board. She also serves on the Bonner Leadership Team as co-retreat chair and has served as a Bonner Mentor, assisting first-year scholars. In addition, Craig is program assistant for Girls on the Run Memphis.
Sam Frank
Major: History
Hometown: Cincinnati, OH
Frank is on the honor council at Rhodes and a captain in the mock trial program. He works as a intern at the legal nonprofit Just City and has been an intern at the Memphis Museum of Science & History – MoSH, and Stax Museum of American Soul Music.
Claire Kiernan
Major: Political Science
Hometown: Fairhope, AL
Kiernan currently serves as the student body vice president and is a member of the Dobbs Decision task force. She has worked as an intern for a congressional campaign through The Fund for American Studies in Washington, D.C. On campus, she works as an events Rhodes Student Associate in the Office of Admission.
Vaniel Simmons
Major: Psychology and Gender and Sexuality Studies
Hometown: Conway, AR
Simmons is a Bonner Scholar and president of the Gender and Sexualities Alliance. He has been a member of the Support for Sexual and Gender Minority Research Lab and has conducted independent research on the history of the LGBTQ+ community on campus. In addition, Simmons is a Youth Advocate at OUTMemphis as part of its Youth Emergency Services.
Past recipients of the Truman Scholarship at Rhodes include Thomas Mitchell '18, Brooks Lamb '17, and Frankie Dakin '14.
Students interested in learning more about the Truman Scholarship application process and other nationally competitive postgraduate scholarships should contact the co-directors of post-graduate fellowships at Rhodes, Dr. Esen Kirdis at kirdise@rhodes.edu or Dr. Jason Richards at richardsj@rhodes.edu.