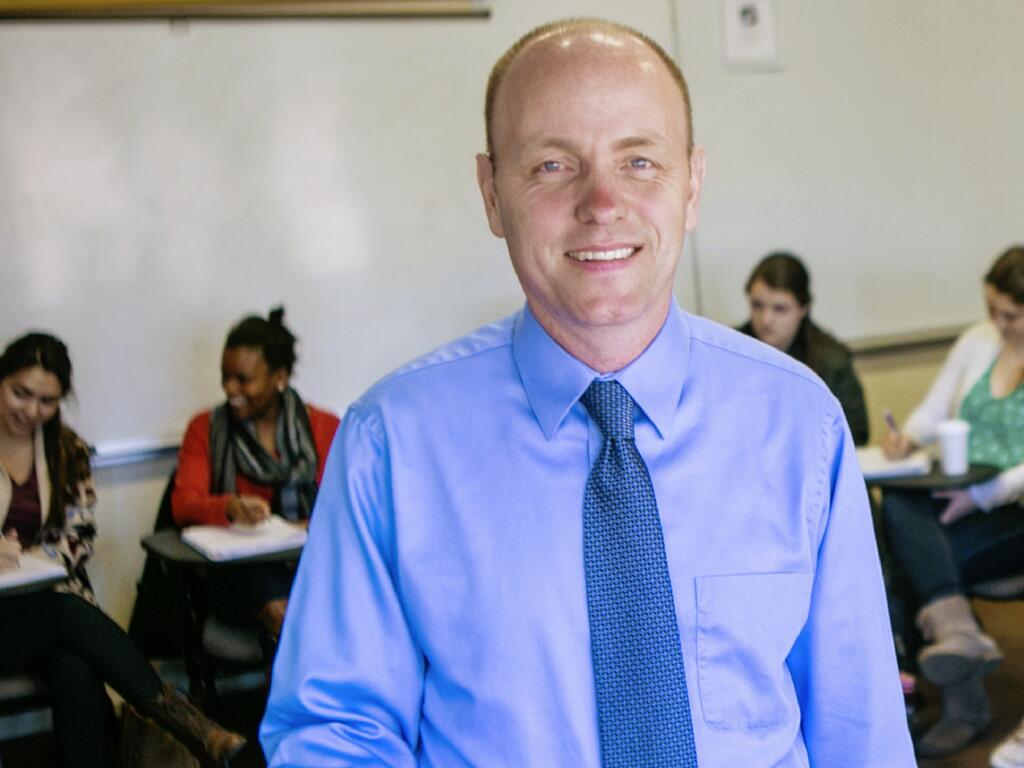 January 24, 2023
The Associated Colleges of the South (ACS) has announced that Dr. Eric Henager, associate professor of Spanish at Rhodes College, is one of 10 academic leadership fellows, following a competitive selection process among ACS member institutions. The ACS Mellon Academic Leadership Fellows program, supported by a $1.5 million grant from The Andrew W. Mellon Foundation, is aimed at providing leadership experiences to a diverse cohort of humanities faculty members, thereby expanding the demographics of academic administrations at ACS colleges and eventually beyond.

Each role and project that the fellows will take on has been individually designed by their home institution. Henager will serve as associate dean of global initiatives in Rhodes' Office of Academic Affairs. In the two-year position, he is expected to provide leadership in program development and evaluation as well as offer a strategic vision for preparing our students to succeed in a globally interconnected world.

"We are so pleased that Eric has been selected for this role," says Dr. Katherine Bassard, provost and vice president for academic affairs. "Eric's experience will serve him well in working with the Buckman Center for International Education and advancing global education at Rhodes."
"Walk down nearly any hall on the Rhodes campus and you'll pass offices and classrooms where people are every day doing phenomenal work that connects our campus community to global issues and global opportunities," says Henager. "Rhodes is, in a number of important respects, already richly international. That means we're in a great position to act ambitiously to support, coordinate, and build on our strengths in ways that address internationalization challenges. I'm excited for the chance that the Global Initiatives role offers to work with other campus entities and partner institutions toward those goals."
Henager has taught at Rhodes since 1995 and has designed and directed more than 20 summer intensive programs in Spain, México, Argentina, and Ecuador. He has served as chair of the Department of Modern Languages and Literatures as well as chair of Latin American and Latinx Studies. He has worked tirelessly to diversify the Rhodes curriculum and engage students in projects that will have a direct impact on the local community. Currently, Henager serves as a first-year faculty mentor and a member of the Faculty Leadership Institute.
"This ACS Mellon fellowship gives us an incredible opportunity for faculty and leadership development in the area of global education. Eric has been a terrific member of our Faculty Leadership Institute, and he is well prepared to take on this new role," says Dr. Rashna Wadia Richards, dean for faculty reviews and assessment at Rhodes.
The ACS Mellon Academic Leadership Fellows will take part in cohort programming and professional development aimed at fully supporting their transition into higher education leadership, and each will benefit from two mentors—one on their home campus and one external expert in higher education administration.
Fellows will participate in meetings with experts on topics relevant to higher education administration, campus visits to participating institutions, and monthly virtual gatherings for networking and sharing experiences and best practices. In addition, there will be periodic gatherings of fellows from ACS, as well as from the Associated Colleges of the Midwest and the New York Six Liberal Arts Consortium.
"This next level of collaboration among these three consortia of higher education is especially exciting," says Beth Adcock Shiroishi, director of the ACS Mellon Academic Leadership Fellows Program.