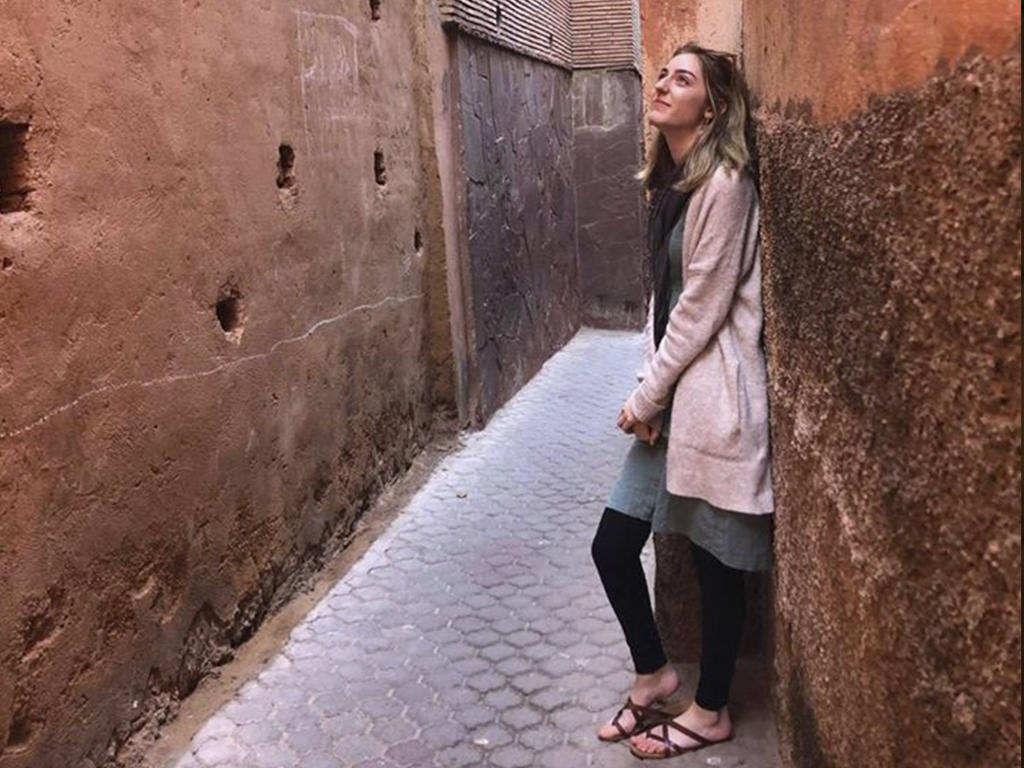 September 25, 2019
There is no one path to breaking into the art industry, but for Jenna Gilley, the journey has included internships with the Memphis Brooks Museum of Art and the UrbanArt Commission, as well as travel to Meknès, Morocco, where she learned about the city's arts communities. Grounded in the belief that museums help to broaden a person's world view and perspective, Gilley hopes to take the skills and experience she has gained as an art history major and curate the kinds of art spaces that encourage new conversations.
"I want to do something that makes museums more accessible to the public, and I would really like to be a part of trying to get more diverse cultures represented," says Gilley. "It's critical to get exhibition information out through flyers, for example, where people might not have computers, and to get the word out to schools, have free days, and make exhibits more interactive and engaging."
Gilley came to Rhodes the fall of 2016 from New Albany, IN, having grown up creating her own artworks using primarily charcoal and graphite, as well as ceramics. Her first year, she landed an internship in the Office of the Registrar of the Brooks Museum, getting a behind-the-scenes view of setting up and taking down exhibitions, the planning process, entering art objects in the museum's archiving system, and returning artwork to its owner. "My boss and I catalogued textiles that had never been on view before. It was really cool to get that first view."
The Brooks Museum internship came as a result of a recommendation by Professor David McCarthy in Rhodes' Department of Art. "Also, art history professors Victor Coonin and Miriam Clinton have really helped me explore career paths, and there are a lot of connections I've made through all of them."
As Gilley's art history knowledge has expanded, she also has learned to view art through the eyes of contemporary artists and appreciate art not confined to museum walls. As part of Rhodes' Summer Service Fellowship in 2018, she interned at the UrbanArt Commission (UAC), which facilitates public art in Memphis through commissioning murals and leading outreach events that both educate the city and encourage local artists. "I chose UAC as my service site because it encapsulates the beauty and change I believe art can bring to communities."
While working there, Gilley was tasked with completing an inventory list of artworks housed in public spaces. "I did a little scavenger hunt around Memphis, trying to find these pieces, and I learned a lot about local artists."
In addition, Gilley became very familiar with UAC's process of planning, fabricating, and installing pieces of art. She encourages everyone to visit City Hall, where there are upwards of 20 works of public art on display.
To complement her art history major, Gilley is pursuing a minor in religious studies. "I believe most art has some kind of religious connotation. I think one of the best ways to learn about other cultures is through their art. Also, if you don't know much about religion, art can help you learn in a completely different way."
In the spring of 2019, Gilley studied abroad in Meknès, Morocco, through International Studies Abroad (ISA) and learned about Islam through Moroccan art. "Many Moroccans still make their livelihood as traditional craftsman and artists. Art is a vital part of the economy, and is one of the main reasons the country has become such a sought-after tourist destination. However, Meknès was nice, too, because it is not a tourist city, so the experiences were much more real and representative of true Moroccan culture. Old traditions as well as new styles are encouraged, which is very inspiring to see."
Gilley plans to take Rhodes' Gallery Management course this academic year, and she hopes to bring art by local Memphis artists to campus as well as curate a unique exhibition focusing on textiles. For her senior seminar, she is working on a presentation on the performative nature of Andy Warhol and his work.
 
Looking toward graduation in spring 2020, Gilley says, "My dream is to secure a fellowship at the Metropolitan Museum of Art to get a foothold in the amazing New York art world."
By Meg Jerit '20