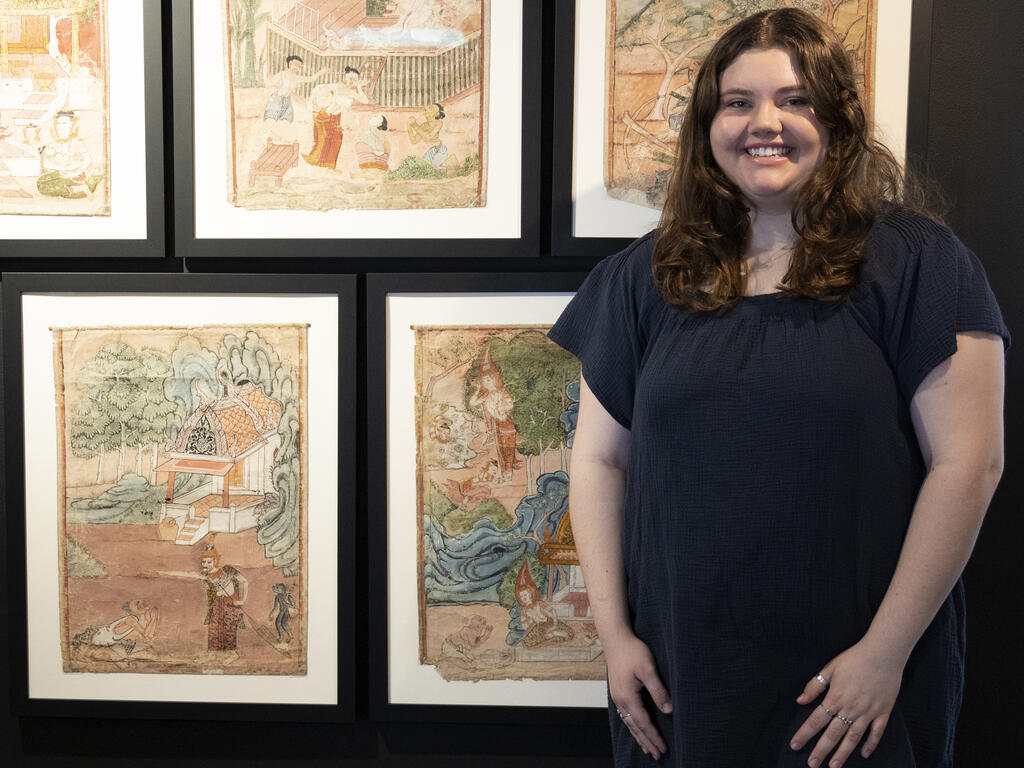 March 27, 2023
Religious studies major Maxie Sansom '24 is bringing one of Buddhism's best-known stories to life through her arts fellowship with The Lynne and Henry Turley Memphis Center. Collaborating with Assistant Professor of Religious Studies Dr. Brooke Schedneck and Visual Resources Curator Rosie Meindl, Sansom has organized an on-campus exhibition of one of the world's only complete set of paintings depicting the Vessantara Jataka tale. 
The Vessantara Jataka is one of the most prominent stories in Theravada Buddhism, perhaps second only to Siddhartha Gotama Buddha's life story itself. Describing the penultimate life of the Buddha, the Vessantara Jataka tells of his achievement of the last of Buddhism's Ten Perfections required for Buddhahood: generosity. Although generosity is an important value in many religions, Buddhism places a special emphasis on achieving it. The level of generosity required for Buddhahood is not achievable nor encouraged for every practitioner of the religion, and the Vessantara Jataka illustrates the extremity of virtue, sparking much discussion and reflection among Buddhists.
The collection of 14 nineteenth-century paintings from Central Thailand tell the tale from Vessantara's birth to his achievement of the final perfection. Throughout the story, Vessantara's generosity is demonstrated time and again. By the eleventh painting, he has given away the kingdom's prized elephant and his own chariot, horses, children, and wife. In the final painting, he is crowned King Vessantara.
The paintings, part of the Jessie L. Clough Art Memorial for Teaching at Rhodes, were not ordered nor contextualized when Sansom first learned about them from Schedneck. Working with Schedneck, Sansom has now correctly ordered and contextualized the paintings after a series of readings and discussions. In consulting Buddhist readings to ensure the paintings would be displayed chronologically, they realized their uniqueness. "As we started reading more about painted sets of the Vessantara Jataka tale, we realized that the panels we have at Rhodes are one of very few complete existing sets," says Sansom.
Once she realized the cultural value and rarity of the collection, Sansom applied for the Turley Memphis Center Arts Fellowship to acquire funding to further research, preserve, and eventually exhibit the collection. She has been working with these paintings since September of 2022, and in January, the paintings were reframed with museum glass and hung in Clough-Hanson Gallery.
The culminating event of the exhibition is a reception to be held March 31, when the curator of the University of Southern California Asia Pacific Museum Dr. Rebecca Hall will give a brief lecture. Catering by the local Soi Number 9 food truck will also provide authentic Thai food to all attending. Sansom is extending invitations to not just Rhodes students and faculty, but also to local arts organizations and the four Theravada Buddhist communities in the Mid-South. 
Through her pursuit of highlighting Buddhist culture and history at Rhodes, Sansom has also taken a deep dive into the history of Rhodes' interaction with art and community. "This fellowship has offered me a chance to connect with Rhodes' past and the opportunity to explore Memphis and Rhodes in new ways," says Sansom. "We are also piecing together the story of the Clough Art Memorial for Teaching and asking questions about how Jessie Clough and Florence Hanson acquired these paintings in Thailand and eventually brought them to Memphis."
Once the exhibition is over, Sansom's work won't be finished. She is currently writing a catalog to accompany the set of paintings and hopes to have them displayed at various art museums throughout the country. After graduation, she plans to attend graduate school to further her study of religion.
By Hannah-Elsie Meit '25
Sansom has digitized the complete set of paintings, which can be viewed, along with their descriptions, at A Complicated Tale of Perfect Generosity: The Vessantara Jataka.