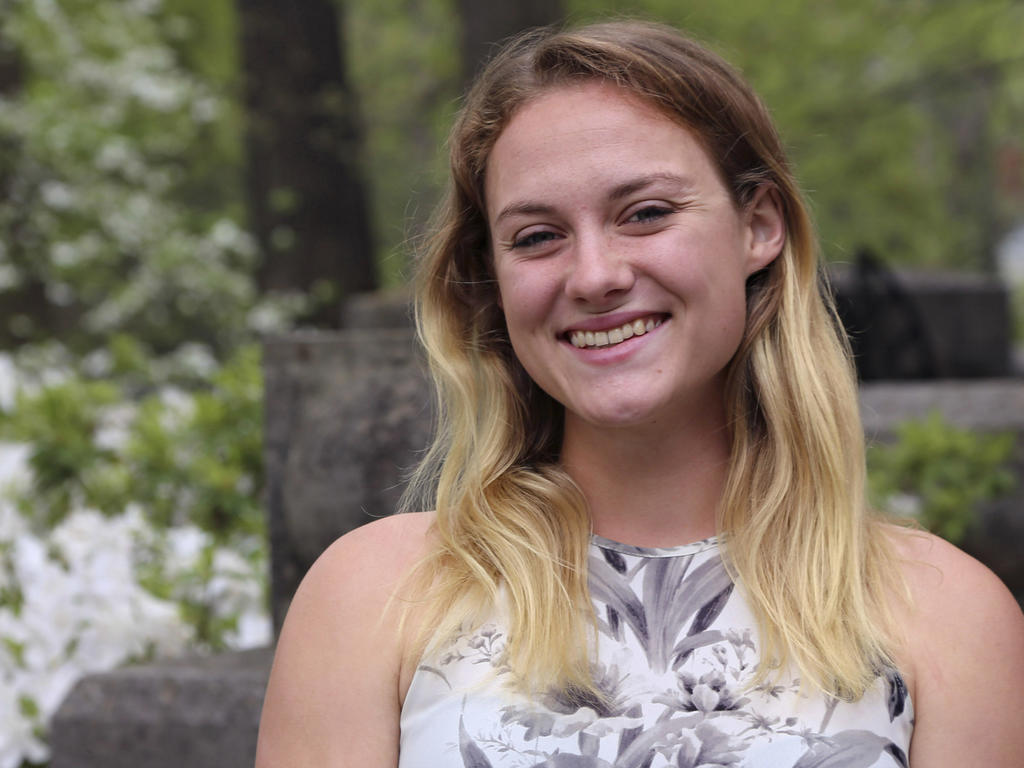 January 29, 2018
McKenna Davis '18 first heard about Rhodes College while being recruited to help build the school's new lacrosse program. After a visit, she was convinced that the college was the right place for her—and not just because of its beautiful campus located in the heart of a major city. "I love that even though we're a liberal arts school, our sciences are really strong. So I could come here and get the liberal arts education without sacrificing a rigorous physics education," says Davis. "One of the main reasons I came here was that small-class dynamic." 
Davis declared math and physics majors right away at Rhodes, and, the summer after her first year, began working for Dr. Shubho Banerjee of the physics department researching electromagnetism. This research project was instrumental in Davis' evolving path, introducing her to theoretical physics and research methods for the first time. She has since published two research papers with Banerjee.
The summer after her sophomore year, Davis spent two months in Birmingham, England, through a program funded by the National Science Foundation, studying theoretical gravitational physics. Her particular research focused on reducing noise in a gravitational wave detector, as noise complicates reading miniscule gravitational wave signals. This research led to her third publication.  
Davis studied abroad in the Budapest Semesters in Mathematics program in Budapest, Hungary, during the fall semester of her junior year. That spring, she was one of 240 sophomores and juniors nationwide selected as a Goldwater Scholar for the 2017-2018 academic year. The prestigious scholarship is awarded to highly qualified college students who intend to pursue careers in mathematics, the natural sciences, and engineering.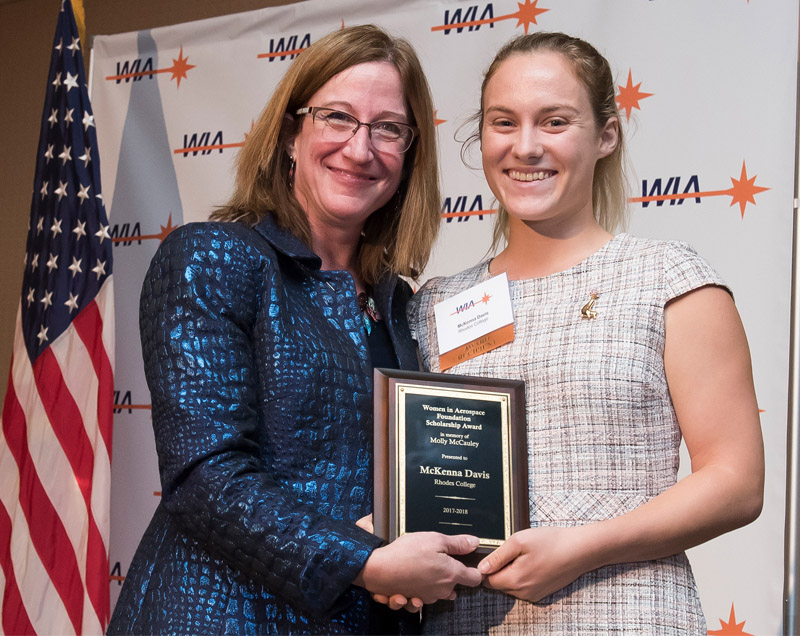 Over the course of her studies, Davis has shifted her focus to the field of aerospace. She is the recipient of a scholarship from the Women in Aerospace Foundation, which awards scholarships to women studying engineering, math, or science to encourage them to pursue careers in the aerospace field. "In all of engineering, and really in all of STEM, the gender gap is pretty bad, but aerospace engineering is one of the worst of the disciplines when it comes to gender disparity," says Davis. "The industry, at a professional level, is about 13 percent women, following only mechanical engineering."
Helping to address this issue has been a motivating factor in Davis' own studies. "I think we don't just need more women with PhDs, we need them to be visible to younger women, especially to younger undergrads, because it can be daunting to enter these all-male fields."
In September, Davis became a symbol of that change when she attended the Committee on Space Research (COSPAR) Symposium in Jeju, South Korea. While the five-day-long conference was dedicated to the science of satellites, the conference drew a crowd of students and professionals from all walks and stages of life. Many of the participants came as representatives for their nation's research projects, looking for others to collaborate with.
Davis, who is currently applying to graduate schools, says the conference helped her feel better prepared for a future in aerospace physics. "The coolest part of the conference was the ability to network with so many incredible scientists from all over the world," says Davis. "I can genuinely say that I have friends studying in the Netherlands, Paris, Germany, and so many more places."
By Swaneet Mand '18