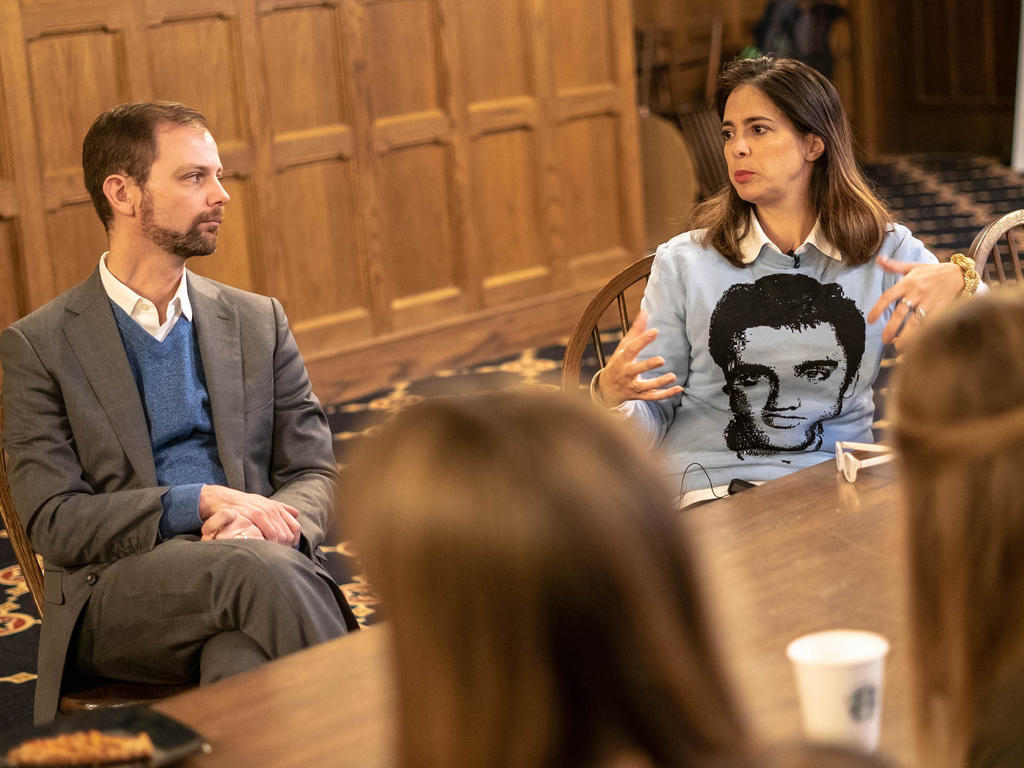 December 04, 2018
Isabel González Whitaker, former features editor of InStyle magazine and deputy editor of Billboard magazine, will engage with students and the campus community throughout the academic year as Rhodes' Curb Visiting Scholar in the Arts. Blues icon Bobby Rush and author Preston Lauterbach are past holders of the position sponsored by the Mike Curb Institute for Music.
"The position supports the mission and learning objectives of the Curb Institute by providing access for our campus and city to people who are doing important work around music and Memphis. It gives our students a unique opportunity to learn from and be mentored by professionals who are doing the kind of work they hope to do one day," says Dr. John Bass, director of the Curb Institute.
González Whitaker has worked for powerhouse media brands covering celebrities, fashion, politics, and breaking news. Bill Clinton, Michelle Obama, Beyoncé, Heidi Klum, Jennifer Lopez, and Britney Spears are just some of the individuals González Whitaker has interviewed, and she has published numerous culture and lifestyle articles in publications such as The New York Times, Harper's Bazaar, Time, and The Hollywood Reporter, to name just a few. 
On Nov. 28, González Whitaker gave an intimate talk on campus to students, faculty, and staff about the steps she took in her career and some of her accomplishments. "Everybody here seems to have a clear vision of their future, but I didn't. I can say when I graduated [from Tulane University], with certainty, I did not know what I wanted to do, and so I moved to Europe for a year. That was a great opportunity for me to sort of reflect on what it is I wanted to do." 
She explained how, when she came back to her hometown of Atlanta, GA, she got her start in television booking and producing a show for the Cartoon Network but realized she didn't enjoy the long hours of animation editing. She shared how one day she met the editor of an Atlanta alternative weekly newspaper and on the spot pitched a nightlife column. When the editor asked if she would write for free, González Whitaker said she agreed. "One of the things I always tell young people is when opportunities present themselves, take them." She added that the column took off, and that began her journalism track. "I really wasn't a journalist, but I had a good editor who talked me through how to write a nightly column, and taught me how to tell stories in an interesting way." 
She eventually moved to New York City, and after being there for two years, landed a job with Teen People as a special projects editor. She worked there for six years before becoming the editor of Tu Vida, a Hearst Magazines publication.
Over her career, González Whitaker has created and managed content for various media platforms including online, mobile, and video. As Rhodes' Curb Visiting Scholar in the Arts, she has been giving guidance to Curb Institute fellows, who are involved in writing, public relations/marketing, and video and audio production for their music projects with community partners and Memphis professionals. 
This semester, González Whitaker twice visited Rhodes' Music and Community in Memphis class.  She also has conducted a workshop on how to conduct interviews and approach potential subjects.
"Isabel González Whitaker provided a lot of great insight into her methods of interviewing," says Jad Qaddourah '19, who participated in the workshop. "Aside from the more tangible tools she offered, what stood out to me the most was that she stressed how essential it is to make the subject of an interview feel important and to formulate questions framed around this idea, as ultimately this is the most effective way to get the subject to really open up and to speak candidly. Furthering this idea, she discussed how it is easy to fall into the trap of conversing with the subject too much, especially when the interviewer is nervous.  Instead of putting too much on the table with the subject, she suggested that silence is a useful tool to prompt the subject to speak more or further elaborate on what is being discussed, as peoples' natural tendency is to fill in the void of silence by offering up more information."
In addition to being the Curb Visiting Scholar in the Arts, González Whitaker is in this year's class of Presidential Leadership Scholars, a national program that inspires participants to create solutions for complex challenges in their communities. Participants also are involved in activities at the Clinton, Bush, and Johnson Presidential Centers. As part of her project, González Whitaker established the Sara J. González Memorial Park to commemorate the legacy of her mother, who fled Cuba in the 1960s and who was an advocate for minorities and immigrants. The park features ADA-compliant wheelchair access throughout, a playground, a soccer area, the first electricity-powered "Learning Nook," and a legacy plaza that celebrates Atlanta's diverse population.
Next semester, González Whitaker will present talks about her work as a community and parks advocate. She also will give guidance to students on their documentary projects, as well as work with juniors and seniors to help them think about positioning themselves favorably for postgraduate opportunities in their fields.
Plans are underway for her to moderate a campus event tied to the release of the forthcoming collection of essays about Beyoncé titled Queen Bey: A Celebration  of the Power and Creativity of Beyoncé Carter Knowles. González Whitaker contributed an essay to the collection. The event is scheduled for March 28 on campus.