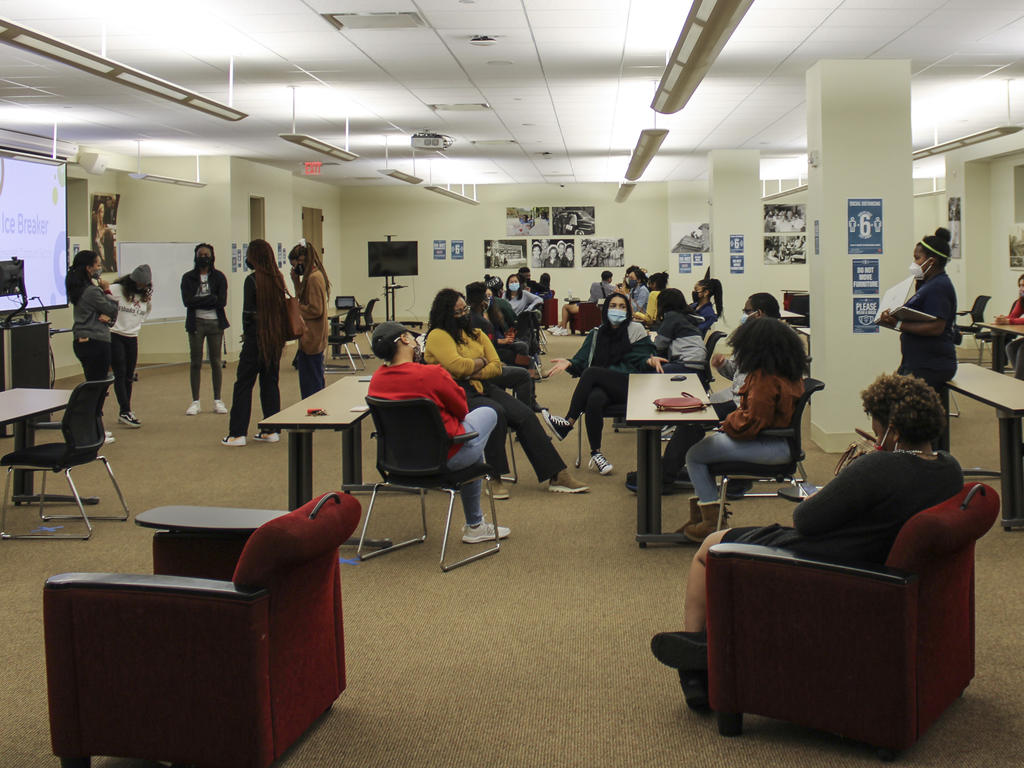 April 26, 2021
At the heart of the Rhodes community is a commitment to an inclusive campus and a culture of belonging. As part of that commitment, the Office of Multicultural Affairs has a unique role in enhancing the overall quality of life for students, and in particular students of color, on campus through retention, programming, leadership development, diversity education, and recruitment––regardless of race, gender, age, religion, disability, sexual orientation, and national or ethnic origin.
One of the programs sponsored by the Office of Multicultural Affairs, originally named Serving Our Students (SOS) Peer Mentoring Program, pairs incoming multicultural students and students of color with returning students of color. Mentors answer questions, connect students with campus resources, and assist in developing connections with faculty and staff and with their peers from diverse backgrounds. Recently, the program revisited its name in an effort to better reflect its overall purpose and further its outreach. The new name—Multicultural Vision Program: Peer Mentoring for Success (MVP)—represents the organization's goals of building community and empowering members to succeed by building their community at Rhodes.
"Earlier this semester, some of our mentors suggested that we revisit our program name," says Mallory Mire '23, a student associate in the Office of Student Life and program chair for the multicultural mentoring program. "SOS is commonly known as a signal of distress, and, while our program name was not intended to sound like a distress signal, we decided it would be best to change our name. We collected feedback and introduced a program name that better represents our community and purpose."
Priscilla Foreman '23, director of communications for the Multicultural Vision Program and the Black Student Association, says MVP has been instrumental in building community for students of various multicultural backgrounds. "Coming to Rhodes from a rural public education background, I was used to often being the only minority in the room. But for many of my fellow multicultural students who experienced more minority representation in high school, coming to a predominantly white institution was a huge culture shock," explains Foreman. "I'm so grateful to MVP for the mentorship it provides to ease the first-year transition process and how it continues to give students the space and community to connect, learn, and thrive throughout their four years at Rhodes."
In addition to changing the organization's name, MVP recently added new policies and guidelines aimed toward ensuring commitment from mentors and facilitating mentor training. They have also established new leadership positions, such as program chair, director of training and involvement, and cultural holidays and celebrations chair, to direct programming efforts toward celebrating diversity within the program and across campus. Although MVP has created social media initiatives to promote cultural celebrations such as Día de Los Muertos and Diwali and hosted hangouts and game nights, Mire hopes to see MVP working with other communities to promote diversity and equity on campus.
"We want to ensure that there is a connection between multicultural students and multicultural staff through socials and other events," says Mire. "We also plan on working alongside other multicultural organizations on campus to provide our mentees with access to safe spaces and a community where they feel embraced."
By Grace Merriman '21