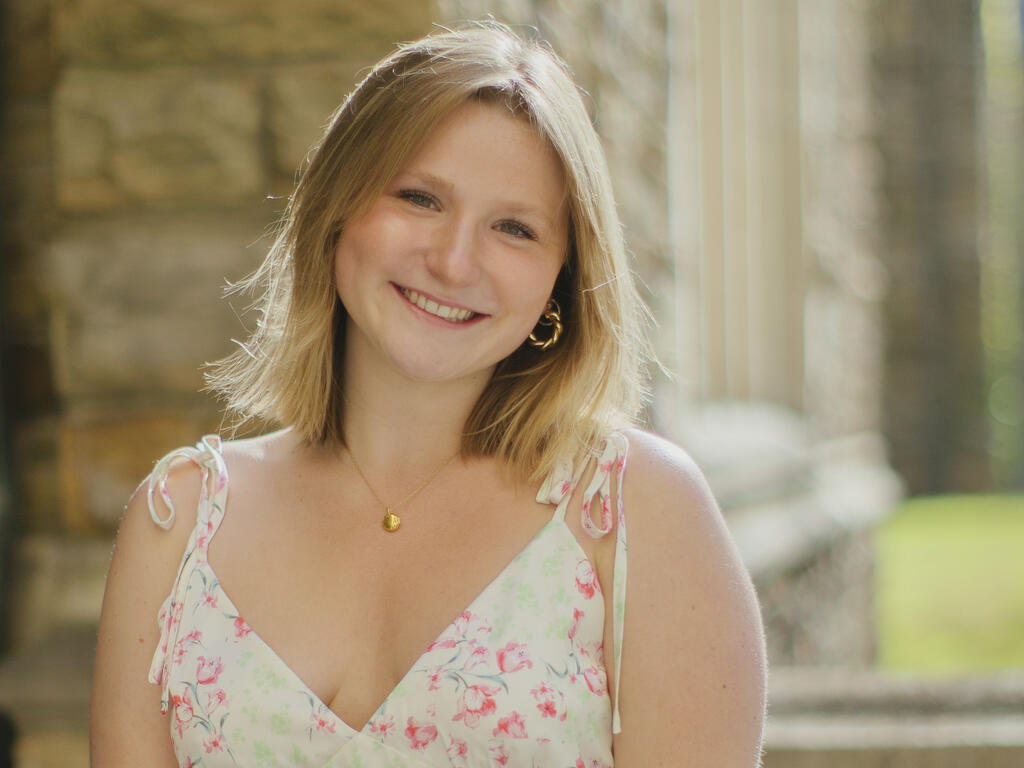 May 09, 2023
Though passionate about healthcare, Kentucky native Merrick Moore '23 came to Rhodes with something different in mind. She initially intended to major in neuroscience, but Dr. Kendra Hotz's course on the social determinants of health in Memphis made her realize the path she had been looking for. "I came to understand the gravity of damage that occurs from systemic racism and the profit-driven healthcare system in the United States, and I was deeply disturbed by my ignorance in this area. From that point on, I haven't looked back on my path as a health equity major at Rhodes," she says.  
"My time in the Urban Studies Program at Rhodes has afforded me a rich understanding of healthcare within the United States and a deep appreciation for the power of communities in propelling their own change. This was possible due to the department's wide array of intentional and dedicated professors."
After beginning her senior seminar research, Moore found that her aspiration to conduct research to inform community health initiatives in Memphis aligned with the aims of the Lynne and Henry Turley Memphis Center at Rhodes, which supports students creating social change in Memphis through community-based fellowships. In her application for a Turley Fellowship, Moore proposed to partner with a local Memphis hospital to evaluate the Community Asthma Program (CAP), the hospital's pilot school-based pediatric asthma intervention program. "I aimed to explore the perspectives of stakeholders such as school nurses, hospital and school administrators, and community health educators to unveil challenges and successes they experienced throughout the pilot program," Moore says.
Moore believes that CAP is unique because of its emphasis on community health workers. "The incorporation of community health workers into CAP provides the program with an edge that many others do not have. Community health workers, most of the time removed from the medical profession, exhibit a sense of approachability and trustworthiness that is not mirrored by some medical personnel, such as a nurse practitioner or pediatrician. In this way, the CAP program will speak to the benefits of bridging community and medicine within asthma interventions."
The project took a new direction when, despite a positive outlook, CAP failed to take off within the school where it was piloted, prompting Moore to shift her focus. "Instead of exploring the landscape for healthcare services in schools, I looked at barriers to enrollment in community-based health programs, ranging from trust barriers in community health to parental engagement within schools." In April, Moore presented her research on the impact of CAP at the annual conference held by the Urban Affairs Association, an international professional organization for urban scholars, researchers, policy analysts, and public service professionals.
Moore, who received the Award for Excellence in Health Equity at the college's recent Awards Convocation, is finishing off her last semester of college with a nuanced understanding of the intricacies of program implementation and funding models for community-based programs. "As I prepare to enter the health policy space post-graduation, I am determined to apply the lessons I have learned from the fellowship and approach my career with health equity and justice at the forefront of my mind.
"I hope to offer new perspectives that further the empowerment of patients and their families, inform policymaker's decisions, and ultimately, help the United States get a couple of steps closer to providing healthcare as a human right, rather than a privilege."
By Tram Truong '24