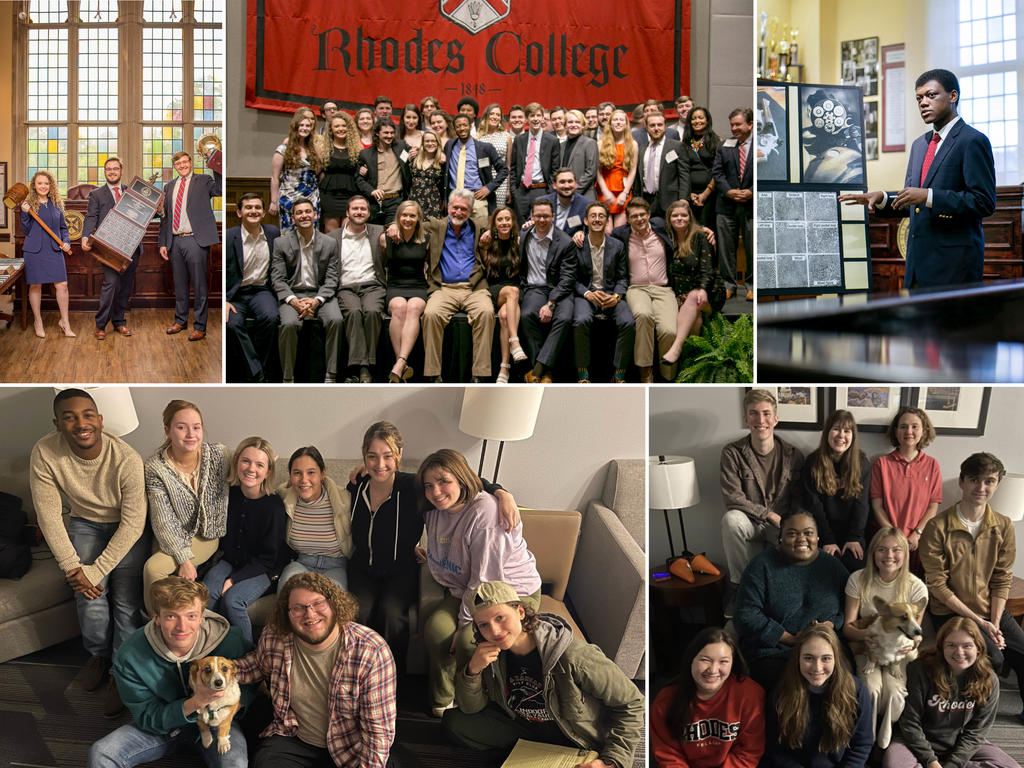 August 25, 2022
Not all colleges get to hold a national championship in their city. But Rhodes College will get that chance in April 2023, when it hosts the American Mock Trial Association (AMTA) National Championship that will bring to Memphis the top 48 teams in the country. The three-day tournament is the crowning event of the American Mock Trial Association's season, after countless hours of practices and numerous rounds of competition. 
Local judges and attorneys and Rhodes alumni practicing in the field of law will be invited to judge the competition, which will be held in the Judge D'Army Bailey and Criminal Justice courthouses in Memphis.
This is the second time Rhodes has hosted the championship, after having done so in 2010—and, to top it off, this year is the program's 35th anniversary.
 
Emeritus Professor of Political Science Marcus Pohlmann formed Rhodes' first mock trial team in 1987. "One day, I got a postcard saying 'This is the third year of the American Political Science Association's national mock trial tournament at Drake University in Des Moines, Iowa. Is your college interested in sending a team?' " Pohlmann says in a 2018 Rhodes magazine article. "I went into my con law class and picked six students, and we got funding from the college for transportation." The group had a quick rules session with Rhodes alumnus and attorney Mike Cody '58 and went to Des Moines.
Mock trial uses a legal format (opening statements, witness testimony and cross examinations, closing arguments, etc.) to hold either a criminal or civil simulated trial. Teams consist of three attorneys and three witnesses on each side and are judged by evaluators using a set of scoring criteria. The season is made up of teams competing in invitationals in the fall, and they compete in a series of regional and open-round championship tournaments in the spring. The final 48 teams from about 700 teams that began the season go up against each other in the nationals.
 
Pohlmann admits the team had some learning to do in the early days, but Rhodes Mock Trial has emerged as a top contender.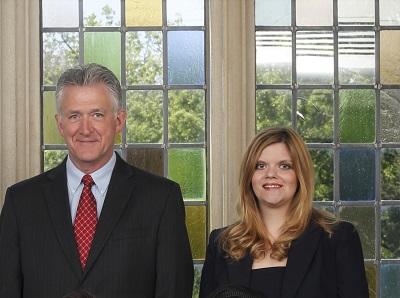 "In its 35 years, Rhodes has been in nine national championship rounds, more than any team in AMTA history and has won four national championship titles. Rhodes was the 2019 runner-up," says Anna Eldridge '02, who now directs Rhodes' mock trial program. "We have a unique perspective on hosting this event because we have seen the activity grow and evolve over the past three decades. We understand what teams coming to nationals are looking for because we have been there."
 
"I competed in mock trial all through high school. College mock trial was the number one decision factor in my application process, and I only applied to schools with top mock trial programs," says senior English major Veda Krumpe, who plans to attend law school. "When I visited Rhodes my senior year of high school, Anna invited me to observe an A-team practice. It was a roundtable strategy meeting. It was different than so many of the other practices I had observed, which were typically instruction style, where all the ideas were coming from a few choice people . . . It's been a few years. There's been a lot of roundtable discussions. Now I'm the A-team captain of the best program in the country. I'm excited to lead my team as captain, but I'm mostly excited to learn from them."
In 2016, Rhodes established a weeklong Mock Trial Academy for high school students from across the country to receive intensive advocacy training by Rhodes faculty, students, and alumni. Students assume the roles of attorney, plaintiff, defendant, and witness in the Rhodes mock trial courtroom on campus. In addition, they learn constitutional laws related to the judicial system and how to effectively present an argument. On the last day of the academy, students will perform a full trial open to invited guests.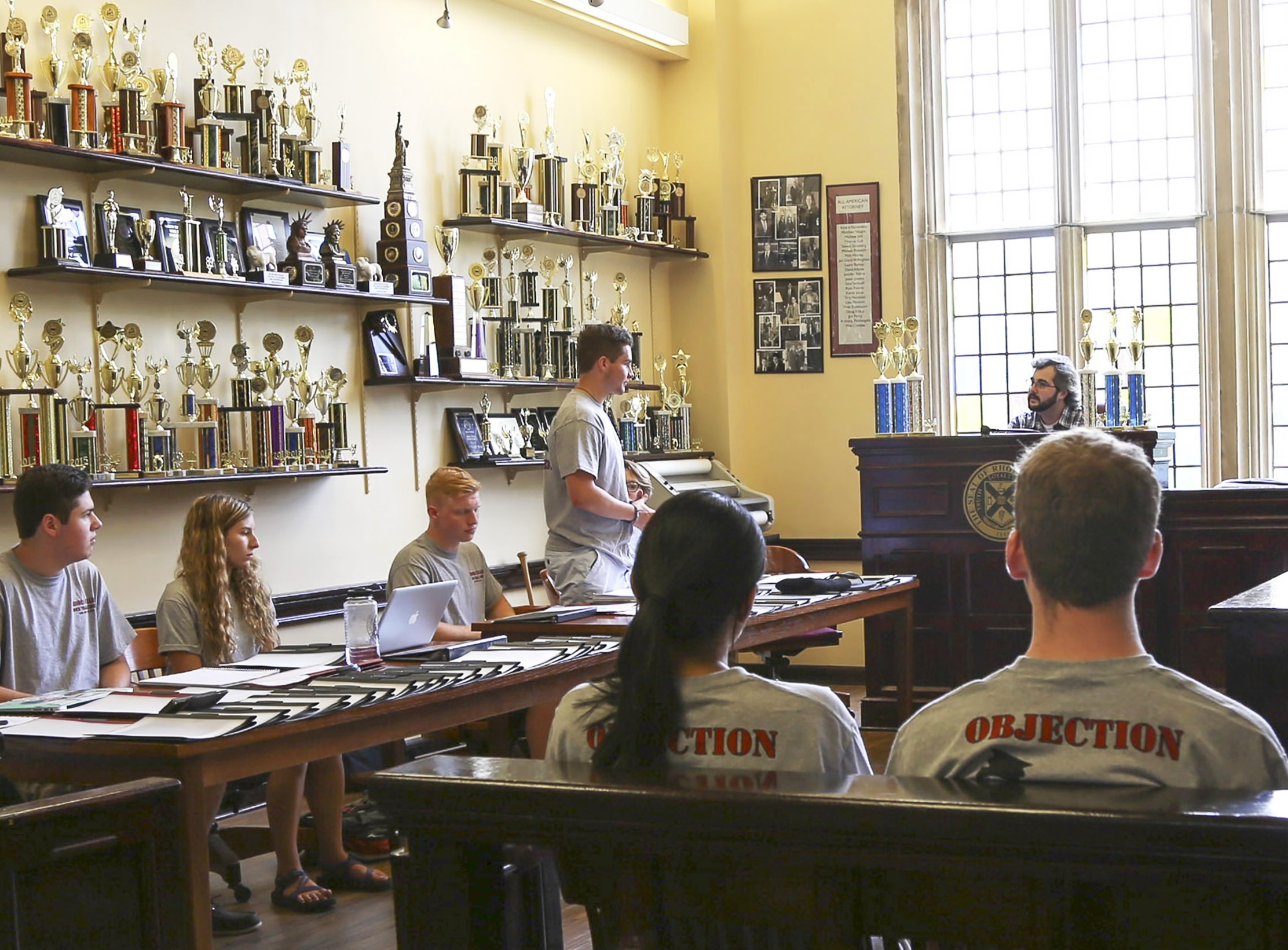 "This year was our largest academy group to date. Every year I am blown away by the talent of these high school students, and this year was no exception," says Eldridge. "We are looking for ways to include the students who live in Memphis in the national tournament.
"For the national tournament, we also know how important it is for teams to have judges who represent the diverse, intelligent, and competitive community that make up the mock trial circuit, and we are excited to have our alumni and local bar associations support us in this goal. We are encouraging our alumni to not only come to town to judge this event, but also to take part in a reunion with the many wonderful people who have been shaped by our program. We also are fortunate to have such a great relationship with the Cecil C. Humphreys School of Law at The University of Memphis. They have been our partner and sponsor for more than a decade, and the championship trial will be hosted in their beautiful historic courtroom."
Samuel Frank, a junior history major and co-captain of the mock trial A team, points to the commitment and dedication of competitors, alumni, administrators, and coaches as reasons why the Rhodes program stands out. "Mock trial has been an integral part of my college experience academically and socially. The program has allowed me to gain hands-on experience with legal professionals and apply those skills to competitions," he says. "We rely on dedicated former competitors who carve time out of their lives to come back and coach. Rather than auditioning and cutting freshmen, the Rhodes coaching staff encourages students with no mock trial experience to try it out, and they support them along the way. I am really looking forward to how competitive and successful Rhodes teams are going to be this year. When COVID hit, college mock trial went online for parts of the last two seasons. As a program, we've been lucky to retain a lot of great young talent."
Many students who participate in mock trial go on to attend law school. Although Rhodes does not have a formal major in law, it does offer courses across a variety of majors to prepare students interested in pursuing a post-graduate legal education. Pre-law advising is available and includes assistance with course selection, law school admissions test preparation, and planning for panels from admissions counselors and lawyers.
Eldridge serves as the college's pre-law advisor and says that 100 percent of Rhodes students who seek pre-law advising support get admitted to law school. "Right now, we have students either recently graduated from, attending, or about to start at Harvard, Duke, UNC, Wash U, UCLA, UVA, Tulane, and Texas, among many outstanding institutions. Among our former mock trial students who just finished their first year of law school, we have two who won their 1L oral advocacy competitions, another who was a semi-finalist, two more who won their class competitions, and another place in the top eight in hers. Several made law review and earned top marks in their introductory classes. Over and over, I hear from alumni who credit the skills they learned at Rhodes for making them a more successful law student."
Students seeking pre-law advising or interested in joining mock trial should contact Eldridge at smitha@rhodes.edu. "We have a commitment to let as many students join mock trial as possible, so if you are interested, please try it out," she says. "The first competition of the season will be in October at Washington University in St. Louis. We are absolutely calling on all alumni to mark their calendars to come to Memphis for the nationals. We plan to honor Mark Pohlmann's legacy by naming one of the divisions in his honor, and we would love to see his former mockers come out to celebrate this program and include events tailored to that over the weekend."