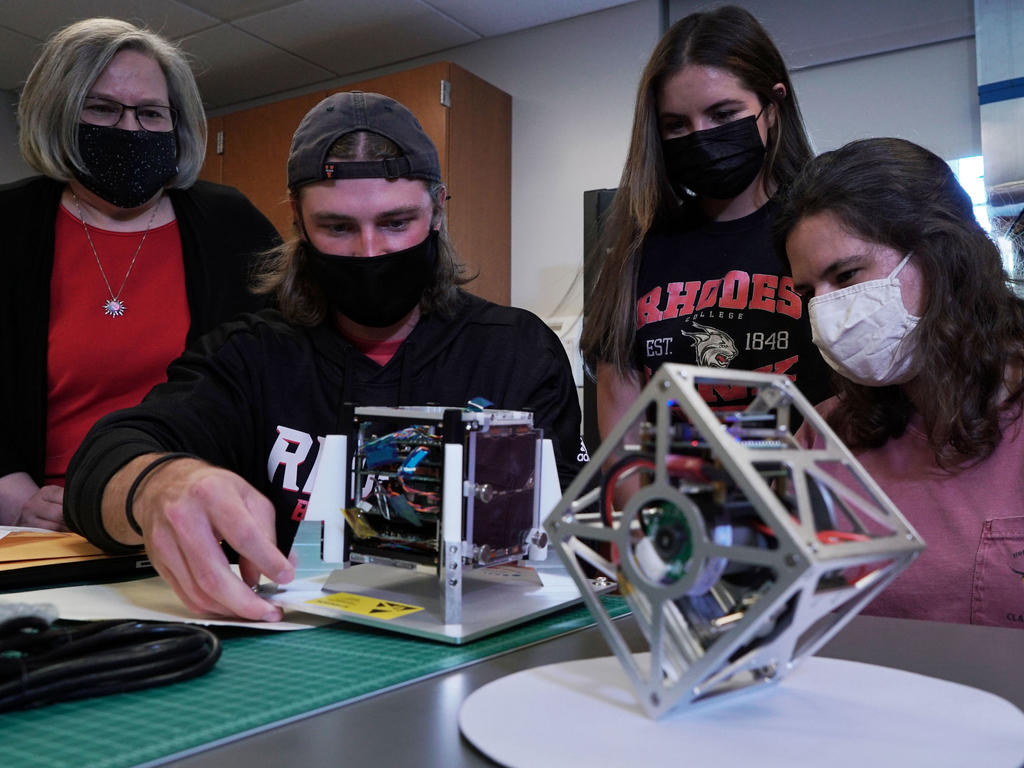 April 19, 2021
The National Aeronautics and Space Administration (NASA) will launch a Rhodes satellite into space between 2022 and 2025, the first time Rhodes has launched a spacecraft. Rhodes is among 14 small research satellite proposals and the only liberal arts college selected by NASA for the 2021 CubeSat Launch Initiative (CSLI). Rhodes is in the company of large institutions with well-established aerospace and space science programs.
Rhodes' CubeSat (a small 10x10x10-centimeter satellite called RHOK-SAT), currently being designed and built by a collaboration of students, faculty, and staff, will fly as an auxiliary payload aboard a rocket to reach its low earth orbit. RHOK-SAT (RHodes-OKlahoma) is led by Professor of Physics Brent Hoffmeister, Associate Professor of Physics Ann Viano, Engineering Technologist and Program Manager Joe McPherson, and a group of students led by Giuliana Hofheins '22, Ben Wilson '22, and Eli Matlock '21.
"RHOK-SAT has been an invaluable experience for me at Rhodes. Working on a CubeSat project has combined my liberal arts background with a highly technical engineering project. Being a student leader on a team of all first time CubeSat developers, I've been able to contribute to the project at a level most undergraduates would never have the chance to experience. RHOK-SAT and our work truly embodies NASA's Strategic Plan and the original goal of CubeSats: to open up space accessibility to small teams with big aspirations," says student co-lead Giuliana Hofheins '22.
Charles Robertson, Jr. '65 encouraged Rhodes to develop a proposal and generously provides funding for the project. The project itself was conceived by Rhodes students with a science investigation focus to test the space hardiness of novel photovoltaic devices, or solar cells, for lunar and planetary missions. The technology is not new, but has never been tested in space. The photovoltaic materials are under active development and investigation by The University of Oklahoma and will be provided by them for the satellite. RHOK-SAT will be in orbit for over one year and transmit data to the now fully operational Rhodes ground station.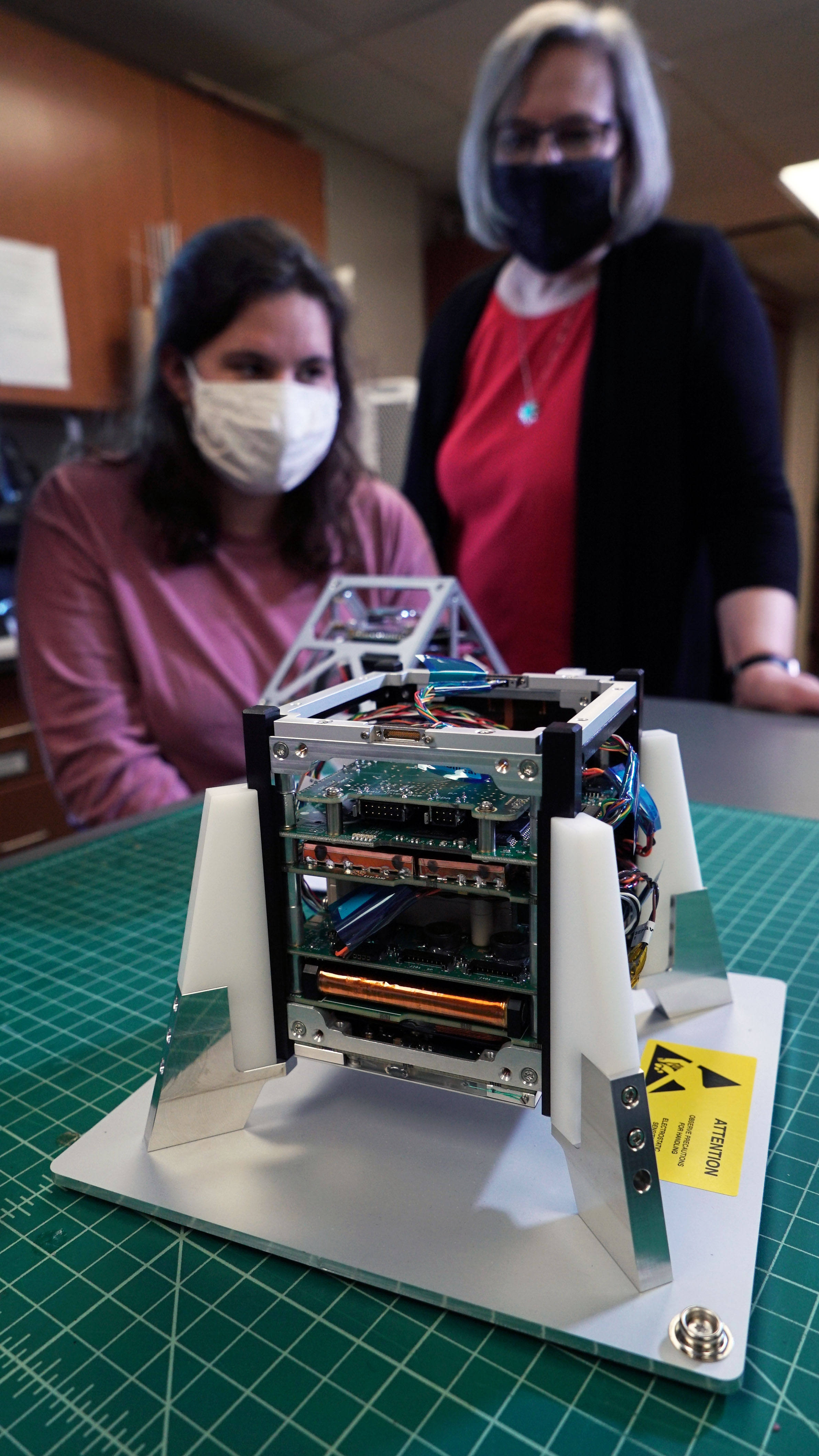 Thanks to a women in physics-centered conference in January 2020, Dr. Viano learned about the solar materials during a tour and helped develop the idea to test these solar cells, adding University of Oklahoma as a collaborator. Thanks to relationships with Rhodes alumni, The Aerospace Corporation has also supplied support for the project.
"Rhodes' CubeSat collaboration will allow students to be fully engaged, equal partners in a large-scale space science and engineering project," says Dr. Viano.  Hands-on, experiential learning is absolutely essential in developing future leaders in science and technology because students must think critically when applying what they have learned in classes, and they must develop skills to use available resources, like the collective knowledge and perspective of their collaborators, to learn outside the classroom. I am excited for our students engaged in this challenge and look forward to seeing them grow and develop skills used by professionals in not just aerospace engineering, but many other areas."
The project also has a strong outreach component that will have Rhodes students bringing a curriculum entitled Solar Cells and Gravity Wells into Memphis high schools, designed to inspire the next generation of space scientists.