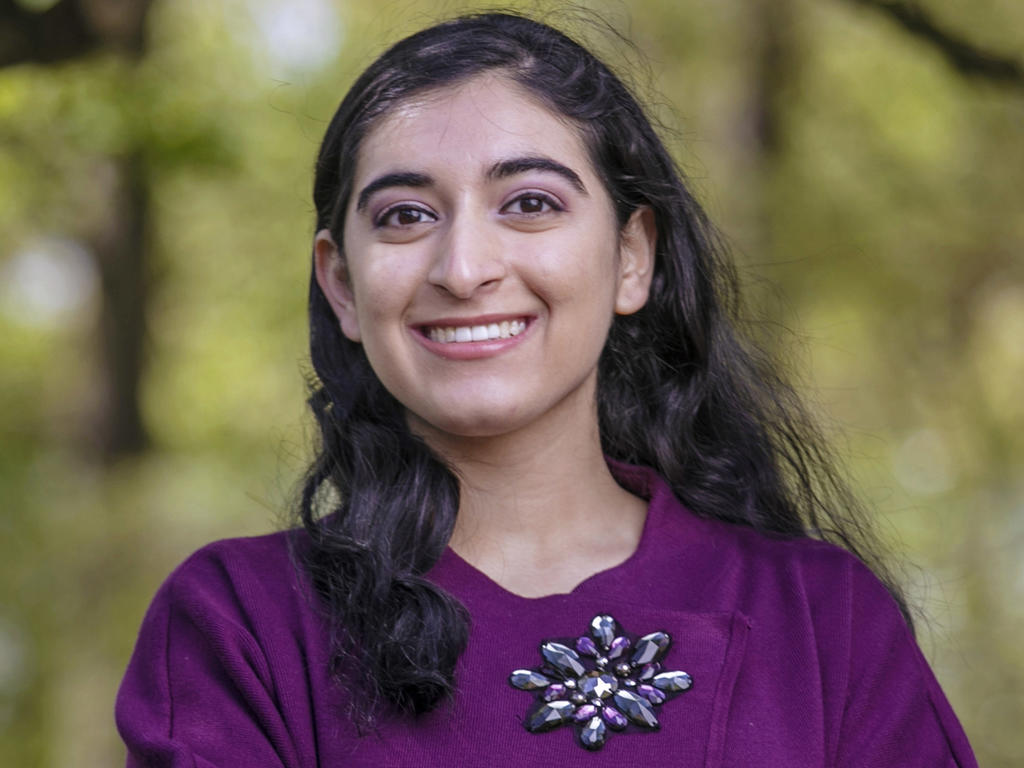 April 27, 2018
Pooja Dave '19 had her first pivotal visit to Rhodes during spring break of her junior year in high school. While walking around campus with her mother, Dave ran into Dr. Carolyn Jaslow of the biology department, who offered to give them a tour. "She showed us around and asked what I was interested in, and I said neuroscience, so she showed us a neuroscience lab, too," says Dave. "If she would pay that much attention to me when I wasn't a student, I knew that professors were definitely going to pay attention to me when I was a student." Dave says she already heard about the campus and been asked to interview with the Office of Admission, but that this special attention was "the last piece of the puzzle."
Upon coming to Rhodes, Dave fostered personal relationships with professors and Memphis community members who helped her find success both on campus and off. A business minor, Dave took a class from former President William E. Troutt called the CEO Forum, where she was able to meet CEOs of companies in Memphis. Most notably, Dave spoke with the president of Methodist Hospitals after he lectured in her class, and was able to secure a shadowing opportunity with a neurosurgeon, Dr. Paul Klimo Jr. of Le Bonheur Children's Hospital.
After Dave shadowed Dr. Klimo in the summer of 2016, Rhodes' Health Professions Advising office created the Le Bonheur Summer Plus Program with the hospital. The program gives students a chance to spend the summer, the next school year, and the following summer interning in their medical fields of interest. Dave applied for the internship and was accepted, which enabled her to continue her work and research with Dr. Klimo in the neurosurgery department of Le Bonheur.  Thanks to this program, Dave was able to attend the Pediatric American Association of Neurological Surgeons (AANS) conference in November and network with pediatric neurosurgeons across the nation. In March 2018, Dave published her first paper in the Journal of Neurosurgery: Pediatrics. "These experiences have been extraordinary. I am so grateful to both Rhodes College and the Neurosurgery Department at Le Bonheur for giving me these opportunities," says Dave.
At Le Bonheur, Dave engages in hands-on work both in the labs and in the operating rooms. While working in the lab, Dave codes data from patient charts and then inputs it into a database. When Dave is in the operating room, doctors will point out brain anatomy and let her look at different parts of the brain through a microscope. Dave appreciates seeing operations first-hand—for example, an operation to relieve hydrocephalus—because she is able to relate the experience to her neuroscience classroom studies.
In both the lab and the operating room, Dave says that her foundation in neuroscience at Rhodes has prepared her for her work. "The classes I have taken at Rhodes gave me a good baseline to ask more in-depth questions. Because I had such a good foundation, it really helped show the doctors that I was interested and knew what I was talking about," says Dave.
Aside from bringing her Rhodes experience to her internship at Le Bonheur, Dave is excited that she gets to take part in the robust medical community that Memphis is home to. On Wednesdays, doctors from St. Jude Children's Research Hospital and Le Bonheur come together to discuss patients with brain tumors and the best possible treatment for each case. Dave, who sometimes gets to sit in on these conversations, says that they are inspiring because so many talented pathologists, radiologists, chemotherapy experts, and neurologists come together for the good of the patients.
As Dave looks to the future, she is certain that she wants to pursue a career in neurosurgery. Dave has qualified for the George Washington University Medical School early selection program and will continue her education there after her graduation in spring 2019.
By Katherine Hancock '19