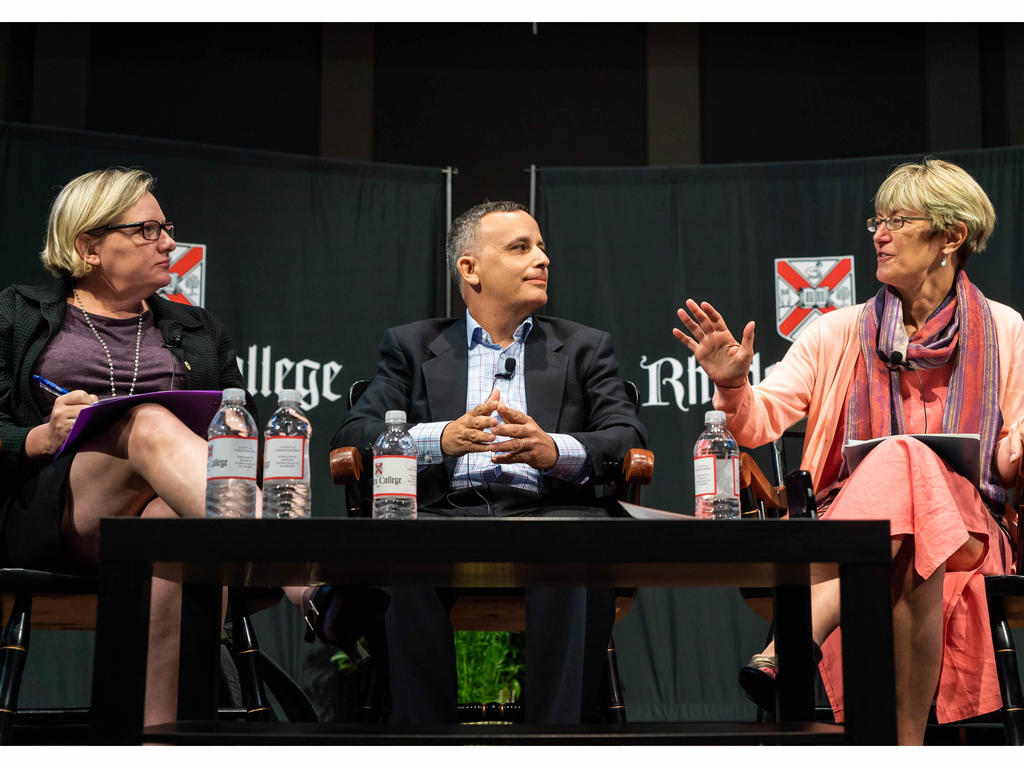 September 18, 2018
"Universities are the fundamental repositories of the truth-seeking endeavor and of training people who come through here in the rules of truth seeking," speaker Jonathan Rauch told the audience at the Constitution Day Symposium held at Rhodes College Sept. 17. "Those are the rules I have been talking about. They include freedom of expression, but they also include discipline of knowledge, subjecting yourself to harsh criticism."
Rauch is a senior fellow at the Washington, D.C.-based Brookings Institution. Speaking to faculty, staff, and students in McNeill Concert Hall, he made a case for higher education to encourage and protect free speech, even when ideas are viewed as hateful or controversial.
Panelist and Ursinus College politics professor Jonathan Marks spoke on academic freedom and what sometimes happens—such as protests or firings—when scholars make claims with which members of a campus community vehemently disagree. 
Panelist and Middlebury College professor Allison Stanger was physically injured in March 2017 when a campus protest of a guest speaker she was accompanying turned violent. She spoke on hate speech relative to the classroom, dormitory, and extracurricular life on campus. "If I think about the appropriate classroom environment, hate speech would never be permitted because that is not a learning environment where everybody has an equal place at the table," she said. "Hate speech has no place on college campuses." 
Laura Beth Nielsen, a legal scholar and a Northwestern University sociology professor, also was a panelist for the Constitution Day Symposium. "There is new evidence about hate speech that has to be part of the debate," she said, citing inequalities in society and how hate speech affects its targets. She also spoke of empirical data suggesting the negative consequences of hate speech, such as high blood pressure, depression, and anxiety.
Rhodes political science professor Dan Cullen served as moderator of the Constitution Day Symposium, which was presented by the Project for the Study of Liberal Democracy, a program devoted to the critical study of the principles of constitutional government and the philosophic sources of those principles.