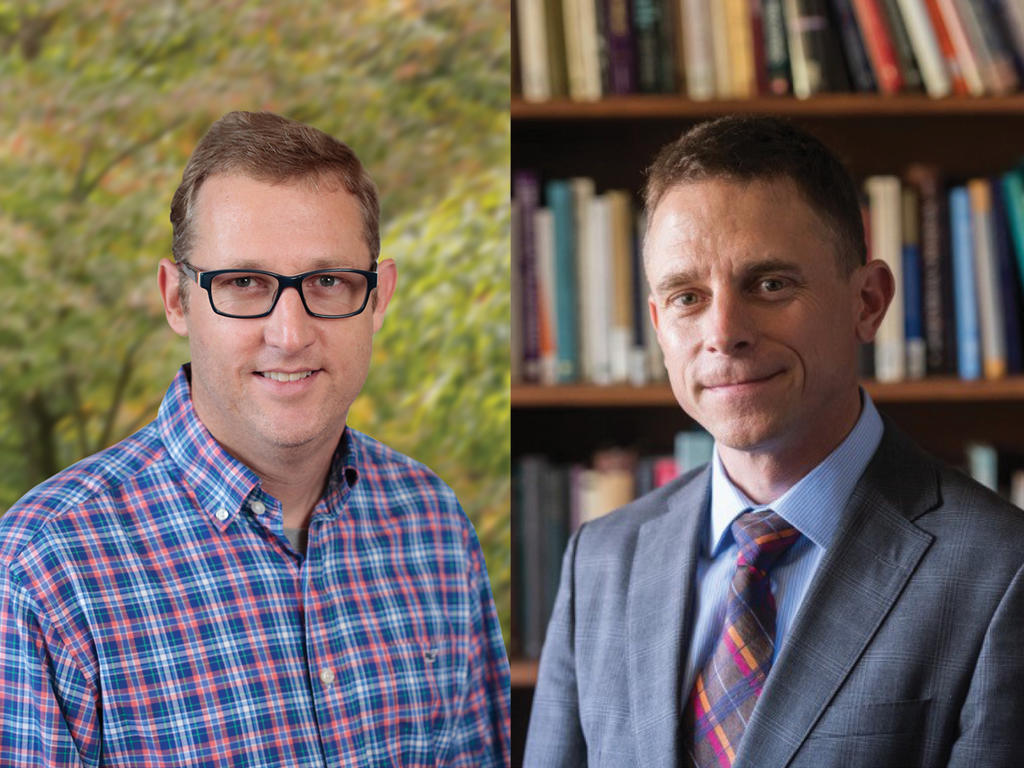 May 12, 2021
The 2021 Clarence Day Awards for Outstanding Teaching and for Outstanding Research and Creative Activity are awarded to Dr. Brian Larkins and Dr. Scott Newstok, respectively. The Clarence Day Awards, presented to two faculty members each year, are two of the college's highest honors for its faculty.
Clarence Day, whose dedication to the college's mission led to the establishment of these generous awards 40 years ago, was a great friend of the college and a champion of the work of the faculty. Provost Katherine Bassard recognized the recipients at a virtual faculty meeting on May 12. The full text of Provost Bassard's speech is reprinted below:
I am delighted to present this year's Award for Outstanding Teaching to Dr. Brian Larkins, Professor in the Department of Mathematics and Computer Science.
Professor Larkins earned his Ph.D. from The Ohio State University in 2010 before earning tenure in Computer Science at Coastal Carolina University in 2015. That same year he made the move to Rhodes where he earned tenure and was promoted to Associate Professor in 2020. Over the course of his career, Dr. Larkins' scholarly work has focused on programming models in high performance computing. Specifically, his research has been centered around parallel programming models and parallel compile-time and run-time systems. Dr. Larkins publishes regularly in peer-reviewed conference proceedings and presents his work at national and international computer science conferences.  
In addition to being an accomplished scholar, students and colleagues have used words like "phenomenal," "inspiring," "passionate," and "rigorous" to describe Professor Larkins teaching. As one colleague mentioned, "He is the epitome of a teacher-scholar, constantly interjecting real-world examples into his classes. His time in industry before returning to academia, as well as his ongoing collaborations with industry allow him to draw parallels in the classroom that serve our students incredibly well." Dr. Larkins is known for conjuring fantastic analogies that elucidate difficult material so that students can contextualize concepts more easily. In fact, all of his recommenders commented on the value of his industry experience to his teaching. As one noted, "Brian brings a wealth of industry experience to the table. He peppers his class with anecdotes from his time in industry, which is a great technique to connect with students."
Without question, the connection Dr. Larkins fosters with his students is one of the hallmarks of his teaching.  Students often comment on his availability, expertise, and relatability when they take his courses. One colleague offered, "Brian has a well-honed ability to make students comfortable around him and keep a relaxed classroom environment." Students in his classes are not only willing to ask questions, but to state outright that they do not understand something. He is skilled in cultivating a classroom environment where students feel safe being vulnerable and are comfortable asking questions.  
Dr. Larkin's commitment to excellent teaching is evidenced not only in comments from colleagues and the accomplishments of his students, but also in his work to advance computer science education more broadly. In addition to his parallel computing research, Professor Larkins has published six papers on computer science pedagogy and he devotes portions of his summers to Camp Codette, a week-long coding camp for middle school and high school girls. For the past four years, Professor Larkins has been there "for every second of the camp." As one colleague stated, "He has played an integral part in the curriculum every year and has bonded with each of the campers. He eats lunch with the campers and plays all the games! He is one of the reasons why Camp Codette has been so successful."
In 2020, Dr. Larkins was the mastermind on an NSF grant that enabled the college to procure a high-performance computing cluster that is used as a centralized research computing source. As one colleague mentioned, "this is a tremendous teaching resource for students of computer science who may not otherwise get direct exposure to this technology before moving into digital careers." This same colleague went on to say that, "I have come to have a high regard and appreciation for his dedication to providing these types of resources for not only his students, but also to those in other disciplines on campus." This latest NSF award is one of 18 external grants that Professor Larkins has received over the course of his career.
From the many letters of nomination that praise Professor Larkin's teaching abilities, there is no doubt that he is an invaluable teacher of computer science at Rhodes. Thus, with appreciation for his dedicated and tireless commitment to motivating students, promoting his discipline through scholarship and service to the community, and advancing the pedagogy in the field of computer science. I am pleased to recognize Dr. Brian Larkins as this year's winner of the Clarence Day Award for Outstanding Teaching. Congratulations.  
I am delighted to present this year's Clarence Day Award for Outstanding Research and Creative Activity to Professor Scott Newstok of the Department of English.
After completing his Ph.D. at Harvard University, Professor Newstok joined the faculty at Rhodes in 2007 and for the past 14 years has been a model teacher scholar in the Department of English. A world-renowned Shakespeare scholar, Prof. Newstok's latest book, How to Think Like Shakespeare (Princeton University Press), was named one of the Times Literary Supplement 2020 Books of the Year, and was a Finalist for the PROSE Award in Literature from the Association of American Publishers (AAP). After noting that Newstok's book grew out his 2016 Rhodes Convocation address, one recommender goes on to say, "I had it on my nightstand for weeks and can attest to how rich a resource it is for reflecting on what we are trying to accomplish in providing a liberal arts education and for providing a unique historical perspective on how this has changed over time."
How to Think Like Shakespeare is one of five books that Prof. Newstok has either authored, edited, or co-edited. He currently has another book How to Teach Children, a selection of Michel de Montaigne's writings under review for advance contract with Princeton University Press, and has received a grant from the Folger Shakespeare Library to complete another book, Orson Welles, Shakespeare, and Race. In fact, his scholarship has been recognized by many major national grants and fellowships, including such organizations as the American Philosophical Society, the Institute for Research in the Humanities, the Marco Institute, the Mellon Foundation, the National Endowment for the Humanities, the National Humanities Center, and the Newberry Library.
In addition to his book-length manuscripts, Prof. Newstok has authored several dozen articles, book chapters, reviews, and is regularly featured in local and national media outlets.  As a result of his tremendous body of published work, Prof. Newstok speaks regularly as an invited expert at national and international conferences.  In many ways, Prof. Newstok is the embodiment of the public scholar.  When he is not being quoted in popular media outlets, he is being featured on podcasts.  As one recommender observed, "In my own personal podcast browsing, I am still stumbling across his appearances when I least expect it—a pleasant surprise and a testimony to how far and wide his work has spread."
Prof. Newstok has long served the Rhodes community by convening a wide range of symposia, bringing together scholars and creative artists to share and discuss their work with faculty and students. As the founding director of the Pearce Shakespeare Endowment at Rhodes, Prof. Newstok has hosted eight international symposia, involving over fifty visiting scholars ranging across the disciplines. The first such symposium, on African American adaptations and appropriations of Shakespeare, led to his co-edited collection Weyward Macbeth (2010).
For the breadth and depth of his scholarly achievements as a scholar of English, and for the successful merging of his scholarship with his roles as a professor and mentor, I am pleased to recognized Professor Scott Newstok as this year's recipient of the Clarence Day Award for Outstanding Research and Creative Activity.  Congratulations.