For more than 50 years, The Southwestern Review has published the literature and art of Rhodes students, inspiring original thought, community-building, and support for creative expression. This year's issue was produced by students in Prof. Amy Benson's literature course English 265, which focuses on literary magazines and the role they play in shaping literature. Students gained hands-on publishing experience, including editing, design, and promotion.
"Many students entered the class never having read a literary magazine and were amazed to discover this world of independent literary publishing," says Benson. "They rose to the challenge of reading more than 400 pages of submissions from across the campus, selecting a range of voices, and creating a beautiful magazine."
Memphis celebrates its bicentennial this year, and the 2019 issue of The Southwestern Review dedicates a section to the legacy of this city and its impact on the Rhodes community.
"Looking through the submissions, we noticed that several pieces centered on Memphis and the Mid-South, so the editors decided to incorporate those into the magazine in a separate section to highlight that theme," says editor-in-chief Claire Hancock '19. "Each of these pieces was explicitly influenced by the area in which Rhodes is situated, and it meant a lot to myself and the other editors to include them in such a special way.
Hancock's own "Upon Seeing Red in the Mississippi Delta" is included among the Memphis-themed works, along with "The Ballad of Avon John" by Sam Brown '21 and "Hard Rock Café" by Kailey Payne '20.
The Southwestern Review editors also included a collection of artworks for the 2019 issue from the Rhodes Digital Archives. The pieces were created by Rhodes students from the 1960s to the present and include watercolors, oil paintings, prints, and photography.
The editors worked with graphic designer Robert Shatzer of Rhodes' Office of Communications to create the publication's layout and design, which was unveiled at an April 16th launch party on campus that featured readings by contributors to the issue. 
"Working on The Southwestern Review has been one of the most rewarding experiences of my career at Rhodes," says Hancock.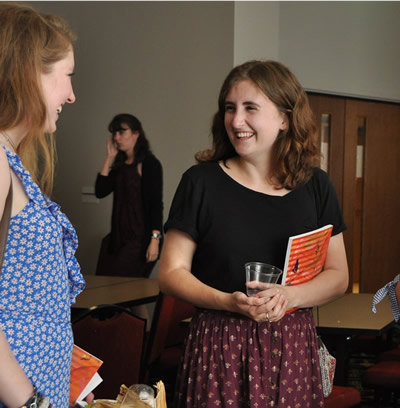 Students at the launch party