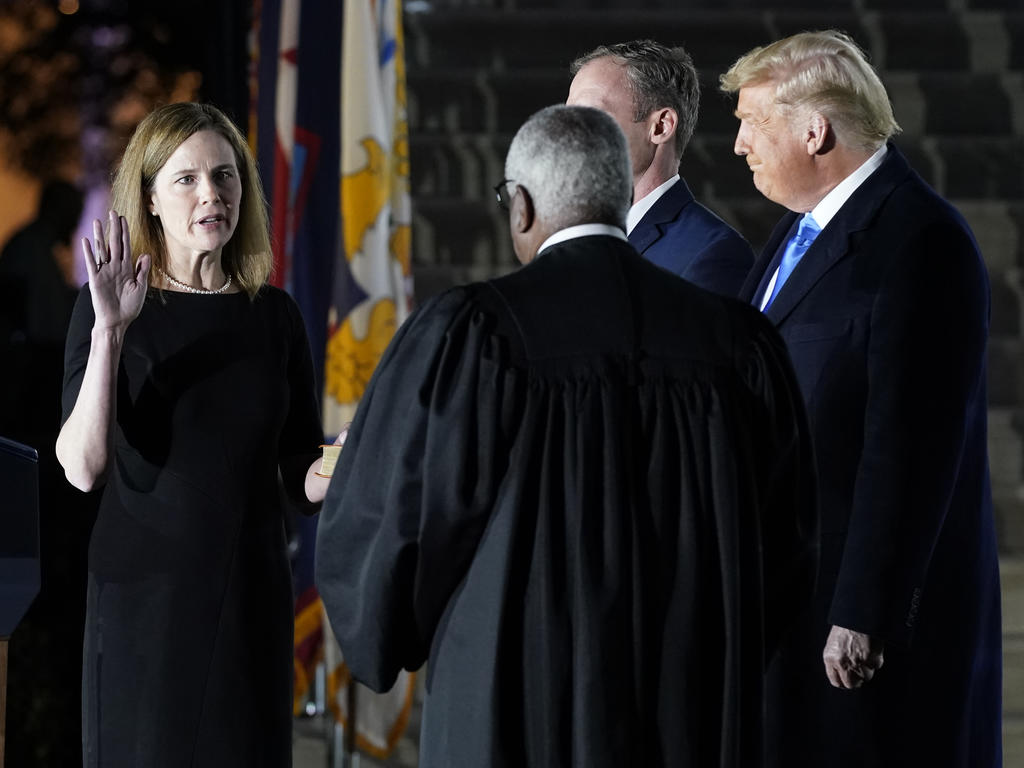 October 26, 2020
Rhodes College alumna Amy Coney Barrett '94 has been confirmed to serve on the Supreme Court of the United States.
President Donald Trump nominated Barrett on Sept. 26, 2020, to be an Associate Justice. After the nomination was considered by the Judiciary Committee and reported to the United States Senate, the Senate confirmed the nomination on October 26, 2020.
After taking the oath of office, Barrett is the 115th justice and the second Rhodes graduate to serve on the Supreme Court. Abe Fortas of the Rhodes College Class of 1930 became an Associate Justice in 1965.
"Justice Amy Coney Barrett's confirmation puts Rhodes College in the front ranks when it comes to having undergraduate alumni on the U.S. Supreme Court," says Associate Provost and the Irma O. Sternberg Professor of History, Dr. Timothy Huebner. "During the last 60 years, since the Kennedy administration, Rhodes has had two of its alumni end up on the highest court in the land. Only Stanford (with four), Harvard, and Princeton (both with three) have had more undergraduate alumni serve as justices during this time."
Rhodes has a long history of connections to the Supreme Court. Alumni have clerked for justices and currently serve as federal judges, and Rhodes has hosted both the late Associate Justice Antonin Scalia and Associate Justice Stephen Breyer on campus. Rhodes alumna Allison Bruff '14 is a 2020-2021 Supreme Court Fellow.
"At Rhodes College, we set our graduates on a path to professional success at the highest levels. Being confirmed to the Supreme Court, Judge Amy Coney Barrett is part of that legacy," says Rhodes College President Dr. Marjorie Hass.
In the Rhodes tradition of active civic discourse and engagement, alumni expressed both opposition and favor of Barrett's nomination, and in a recent letter to students and alumni, President Hass said, "Rhodes is an institution devoted to excellence in the liberal arts and sciences; we are fundamentally committed to inclusion, belonging, and respect for all persons."
Rhodes Professor Emerita of English Dr. Jennifer Brady reflected, "Amy Coney was a stellar student and an award-winning English major during her impressive undergraduate career at Rhodes." Barrett graduated magna cum laude with a Bachelor of Arts in English and was selected by fellow students to be inducted into the Rhodes Student Hall of Fame. In addition, Barrett was a member of Kappa Delta Sorority, participated in Model United Nations, served as a Resident Advisor, and was elected to serve on the Honor Council.
While a student, Barrett was recognized for her academic accomplishments, including induction into Phi Beta Kappa, Omicron Kappa Delta, Mortar Board, and the Sigma Tau Delta English Honor Society. She also was presented awards for "Most Outstanding English Major" and "Most Outstanding Senior Thesis."
After graduating from Rhodes, Barrett attended law school at the University of Notre Dame and graduated summa cum laude and the number one student in her class in 1997. She clerked for Judge Laurence Silberman of the U.S. Court of Appeals for the District of Columbia Circuit, and then for Supreme Court Associate Justice Antonin Scalia.
Following her clerkship for Justice Scalia, Barrett joined the Washington, DC, law firm of Miller, Cassidy, Larroca & Lewin. In 2002, she joined the faculty at Notre Dame Law School, where she was named a Professor of Law in 2010. Barrett was confirmed as a judge on the United States Court of Appeals for the Seventh Circuit in October 2017.
Rhodes is a nationally ranked residential college committed to the liberal arts and sciences. Our highest priorities are intellectual engagement, service to others, commitment to diversity and inclusion, and honor among ourselves. Our students live and learn on one of the country's most beautiful campuses, located in the heart of Memphis, an economic, medical, and cultural center, making Rhodes one of a handful of prominent liberal arts colleges in a major metropolitan area.