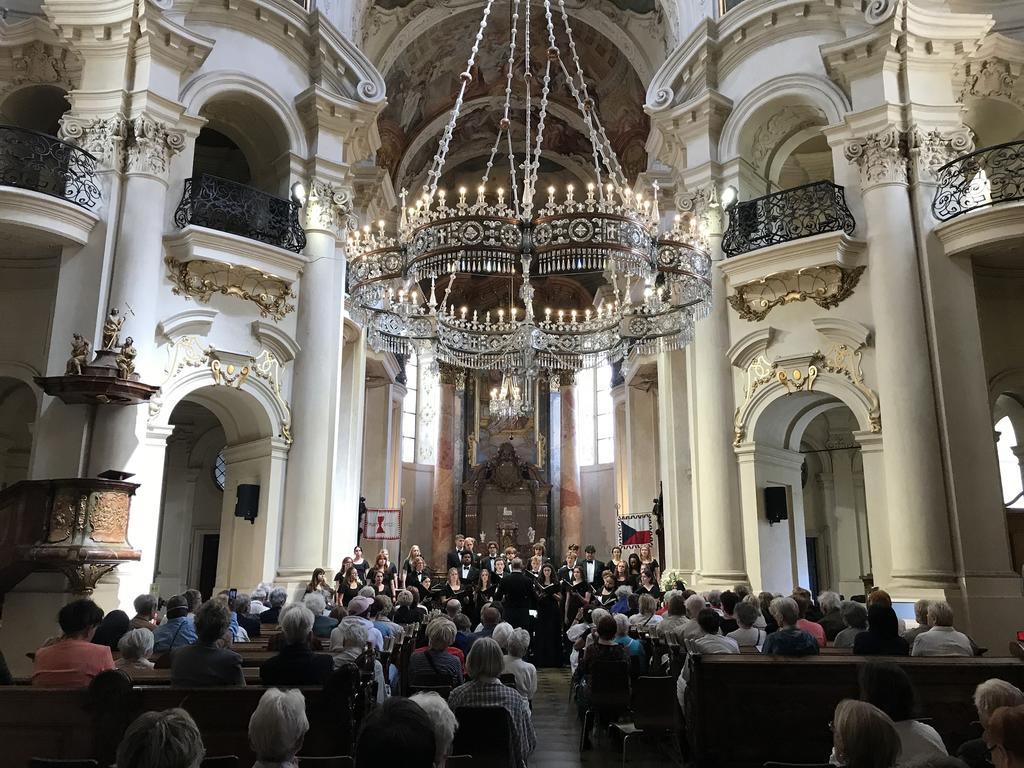 August 03, 2022
"I think one of the most beautiful things about music is that it transcends language barriers and creates emotions that words cannot do justice," says Owen Lubinski '23, a neuroscience major and member of the Rhodes Singers. "Although we had no idea the many languages our audiences spoke, or what a concert meant to them individually, by the end of each concert, we shared a bond with each audience member that only music can create."
Under the direction of Dr. William Skoog, director of choral activities at Rhodes, and collaborative pianist/organist Dr. Dennis Janzer, Lubinski and 34 of his fellow Rhodes Singers and Chamber Singers embarked on an international choir tour May 16-24. The tour included a recital at Thomaskirche and a concert performance at St. Nikolai Church in Leipzig, Germany; a recital in Dvorak Hall in Prague, Czech Republic; and concert performances at St. Nicholas Church and St. Salvator Church in Prague, Czech Republic.
In addition, four recent graduates of Rhodes who studied advanced conducting—Carly Jo Goggins, Jacob Thomas, Emily Haas, and Abigail Sweeney—got to take the podium for their European debut. They each conducted a choral piece that they prepared as part of their studies.
The tour's theme was "A Plea for Peace, Through Truth," as explained in the program notes: Our world is experiencing intense and horrific incidents of violence and terror in recent years; our local and regional communities, likewise, continue to see acts of violence. Music surely is a great instrument for healing, for urging peace, and for building a global community. That is why this year, in light of those harsh realities, our tour program features the theme of peace for all of humankind, based on truth.
Traveling to Berlin, Leipzig, Prague, Terezin, and Cesky Krumlov, the choirs participated in activities broadening their knowledge of the rich history and culture of Central and Eastern Europe. "This experience is not able to be produced in a classroom. This connection between the outside world, and what I do at Rhodes was a wonderful experience and will continue to have an effect on my education, as it was one of a kind," says English major Megan Patterson '24.
 
"We spent the entire semester preparing our musical program for this tour. I absolutely believe that this trip connected the classroom experience to the countries and cultures we were fortunate enough to visit," adds Owen Traw '24.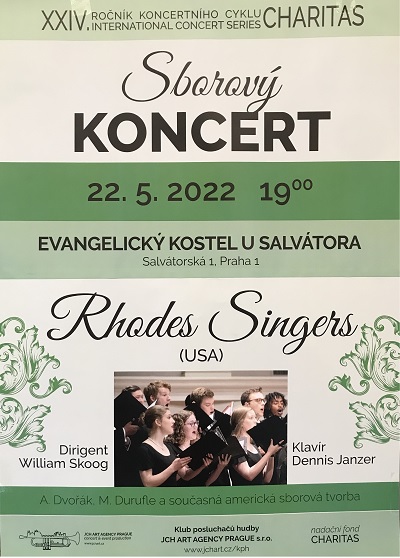 The choirs performed in beautifully historic cathedrals and churches to packed houses of enthusiastic audiences, whose appreciation demanded encores.  Immediately following their first performance in Thomaskirche, students were stopped by a woman from England who came to the concert by mere chance. Moved by the music, she was sobbing as she spoke.
Because of that experience, Patterson says, "Although I have always known that music was capable of evoking strong emotions. I finally understood just how powerful beautiful music is to someone."
To learn more about music at Rhodes, visit here.