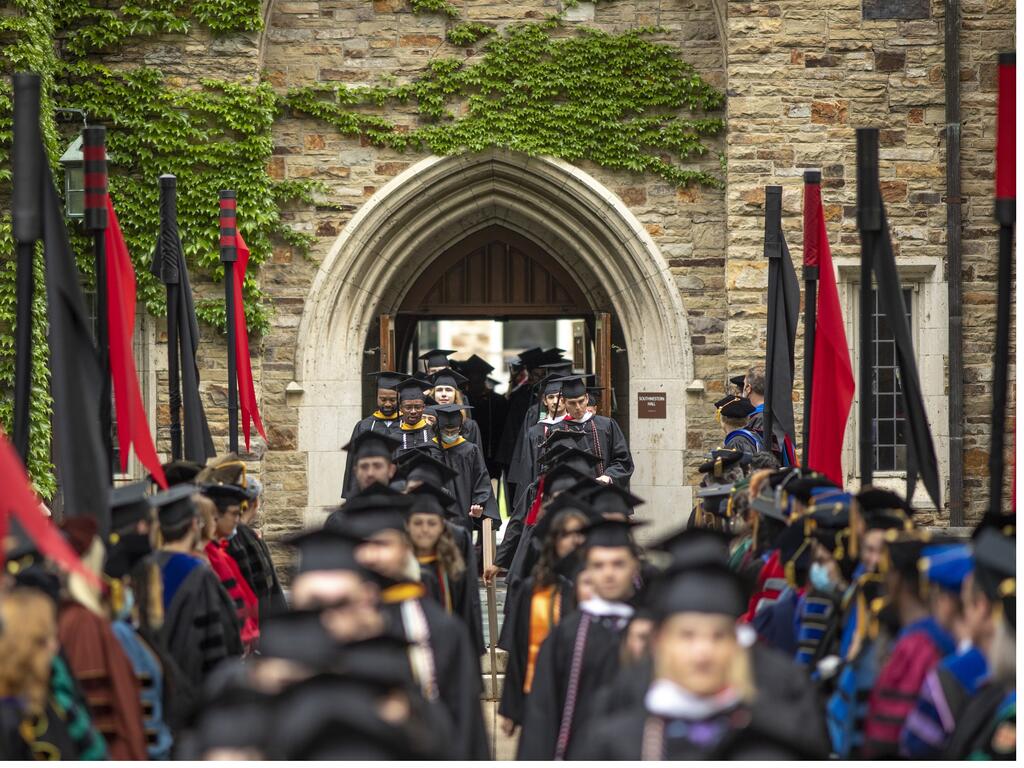 May 05, 2023
The 174th Commencement of Rhodes College will be held Saturday, May 13, at 8:30 a.m. in the Hubert F. Fisher Memorial Garden on campus. In the event of rain, Commencement will take place in the Bryan Campus Life Center. Tickets are required for seating, and the program will stream live at www.rhodes.edu.
Some 487 candidates are expected to be awarded degrees, including the Bachelor of Arts, Bachelor of Science, Master of Science in Accounting, and Post Baccalaureate Certificate in Health Equity. The candidates represent 33 states, the District of Columbia, and 15 non-U.S. countries.
Rhodes College President Jennifer M. Collins will preside over the ceremony, and Dr. Charles W. Robertson Jr. will receive an honorary Doctor of Science degree. Robertson, who is a member of the Rhodes Class of 1965,  is co-founder of NanoDrop Technologies Inc. (now Thermo Fisher Scientific), a retired physicist from DuPont Laboratories, a lifelong learner, and an enthusiastic supporter of education in the sciences.
Annual awards to be presented at commencement include the Algernon Sydney Sullivan Award, given to two graduating seniors and one non-student who have given selflessly to others and the college, and the Peyton Nalle Rhodes Phi Beta Kappa Award, given to the graduating senior who exemplifies the highest qualities of scholarship, achievement, creativity, and commitment to the liberal arts and sciences.
Prior to the commencement, Rhodes' Baccalaureate Service will be held on Friday, May 12, at 3:30 p.m. in the Bryan Campus Life Center.  Dr. Russell T. Wigginton, a member of the Rhodes Class of 1988 and president of the National Civil Rights Museum, will deliver the address.