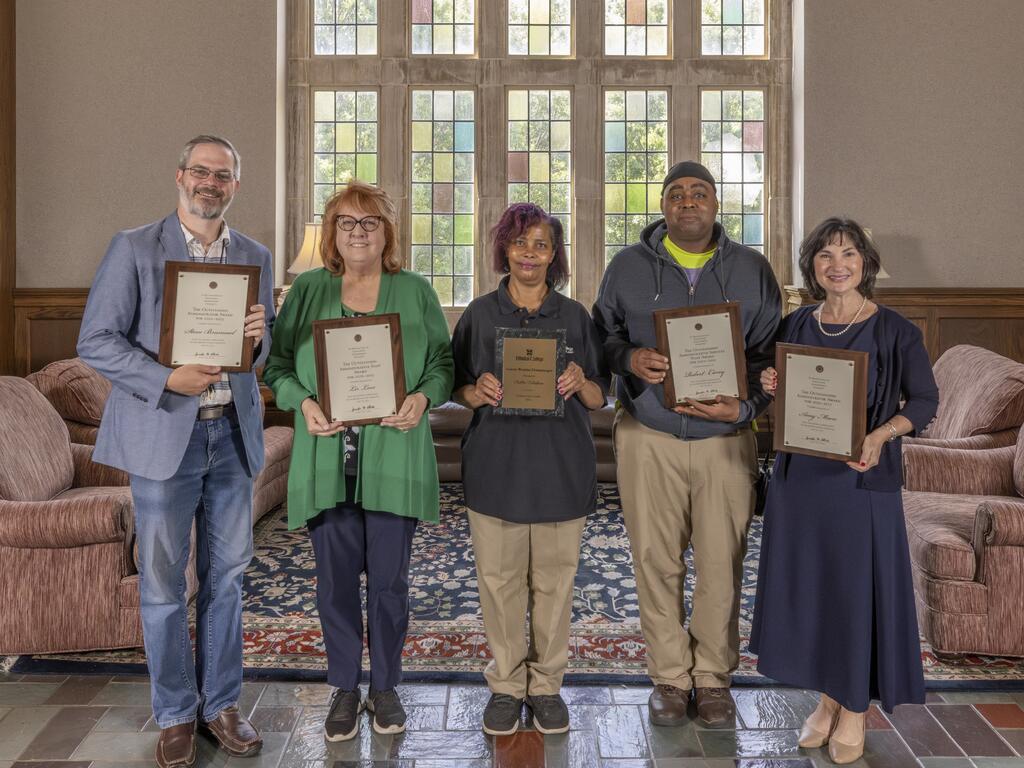 May 17, 2023
Four Rhodes employees— Robert Carey, Liz Love, Steve Brummel, and Amy Moen —were recognized with the college's 2023 Outstanding Staff Awards at the annual Service Recognition Brunch held May 16. Staff members with 5, 10, 15, 20, 25, and 40 years of service also were recognized at the program held in the McCallum Ballroom.
The Outstanding Staff Awards are by nomination and recognize employees who continually strive for excellence, keeping the mission of the college in focus. "We all understand that our dedicated staff members are the backbone of this college, and it is my pleasure to honor those who have been selected by their peers," said Rhodes College President Jennifer Collins, who made the presentations. 
The Outstanding Administrative Services Staff Award was presented to Robert Carey, special services tech, and the Outstanding Administrative Staff Award was presented to Liz Love, administrative assistant I in development.
Outstanding Administrator Awards were presented to Steve Brummel, assistant director of user engagement and experience, and Amy Moen, associate director of career services.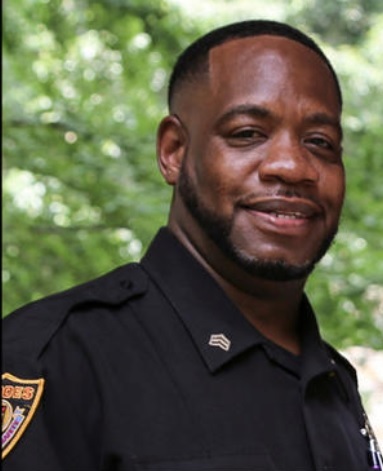 More than 1,000 students live on campus and experience residence life. At the Campus Life Awards ceremony in April, two Rhodes staff critical to housing operations were honored by students. Robbie Taliaferro was recognized as the Loretta Watkins Outstanding Housekeeper and Fred Garrett was recognized as Outstanding Campus Safety Officer. Garrett also received the award in 2022.
"The students chose to honor Robbie with this award for always being sweet, caring, hard-working, and being receptive to students concerns," said Collins. "The students chose to honor Fred with the Campus Life award again this year for his outstanding service, care, and concern for our campus community."
Here is what nominators had to say about recipients of the Outstanding Staff Awards:
Robert Carey
"Robert is a very, very hard worker, and I appreciate him for being on the team."
"He is the best!  Robert is incredibly diligent in his job . . . ."
"Robert is a silent hero;  he works on every event and room setup with grace and caution . . . I do not think students know that when beds are assembled (and many times reassembled) in residence halls, Robert is a part of this process."
Liz Love
"Liz is dedicated, hard-working, and extremely organized. Her organization and attention to detail keeps the team running smoothly. She pro-actively takes ownership of multiple projects and skillfully fields questions from donors and 'gently nudges' each team member to stay on track with projects. The team is incredibly fortunate to have Liz as such a valuable part of the team."
Steve Brummel
"Steve is very proud of the work that his team, the library team, and the entire division handles. He consistently identifies opportunities for continuous quality improvement and closely manages day-to-day activities. He works to provide responsive, reliable, accountable, and respectful customer service to both internal and external customers. Steve initiates, manages, and executes projects with outstanding efficiency. Steve is always willing to roll up his sleeves and help get any needed work completed both in and beyond his role. A self-starter, Steve approaches his work proactively, identifies barriers or obstacles, and works to resolve any issues. A high level and consistent leader, the Barret Library benefits tremendously from his experience, expertise, and humor, as well as his 'can do and fix' positive attitude."
Amy Moen
"Amy is dedicated, cheerful, kind, humble, and professional. Serving as the associate director of career services, Amy goes above and beyond to help students navigate the complex job search process. Amy always has an encouraging word for everyone at Rhodes and her authentic positive outlook is contagious. Amy is often contacted by student groups and faculty to lead programs and workshops, making sure the workshop content is relevant and meaningful. In addition, Amy is a Rhodes ambassador of goodwill on campus and in the community, cultivating relationships with employers and community partners to enhance internship and job opportunities for our students.  Amy loves Rhodes and we are happy to see that Rhodes loves Amy right back!"