May 17, 2021
Rhodes College conferred 469 total degrees on the Class of 2021 at the Commencement Exercises of the 172nd Session of Rhodes College, beginning at 8:30 a.m. at Liberty Bowl Memorial Stadium May 15. 457 graduates of the the Class of 2020 were recognized at 6:00 p.m. Their degrees were officially conferred May 2020.
"Despite obstacles of many kinds, our graduates have reached a significant milestone. Graduates, you have brought your full selves to your time at Rhodes College. You leave here ready to lead, to serve, to succeed," said President Marjorie Hass. "We reflect on your accomplishments with great pride and satisfaction. But at Rhodes, we measure the value if your education not by what it does for you, but by what it allows you to do for the world."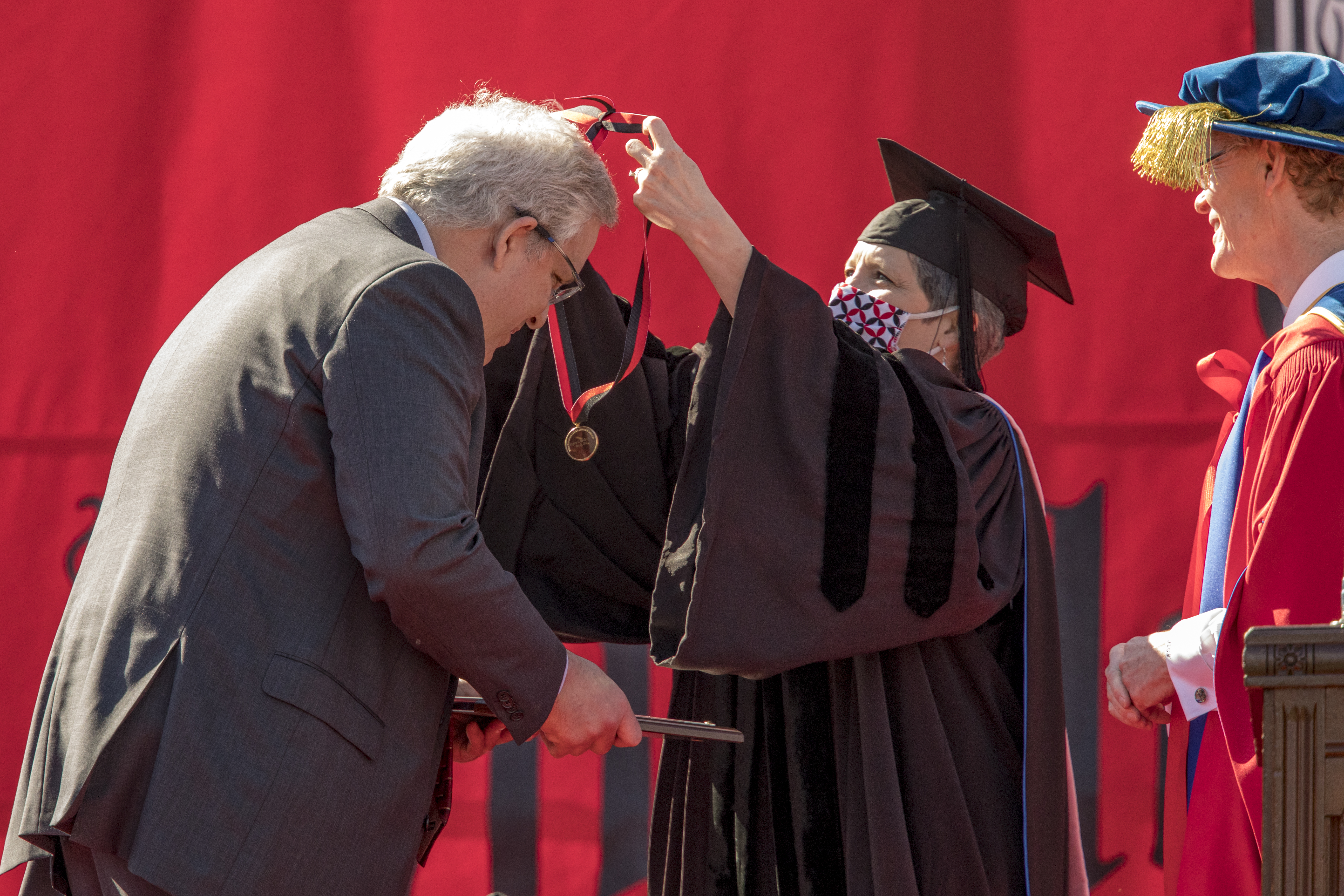 Rhodes also awarded the 2021 commencement awards, which include some of the highest honors the college recognizes.
The Distinguished Service Medal, which is bestowed upon individuals who exemplify selfless service to our society and the college and pays tribute to individuals who have made a significant difference in the community, was presented to infectious disease expert Dr. Stephen C. Threlkeld '86 for his work keeping the Rhodes community healthy and safe during COVID-19 as a leader in the college's partnership with Baptist Hospitals and for his overall work combatting the pandemic in the Memphis community.
"Dr. Threlkeld made himself available to the college twenty-four hours as day, seven days a week. He patiently answered our questions, shared the latest medical advice, and literally walked through our classrooms, laboratories, dining and recreational spaces, and residence halls to help determine the best practices for living up to the college's promise of maintaining a healthy and safe environment. It should also be noted that he did this while caring for critically ill patients, working at the hospital which was often at capacity, advising other community groups and organizations, and serving as a spokesperson to the media in order to educate Memphians about the virus," said Rhodes Board of Trustees Chair Dr. Cary Fowler '71.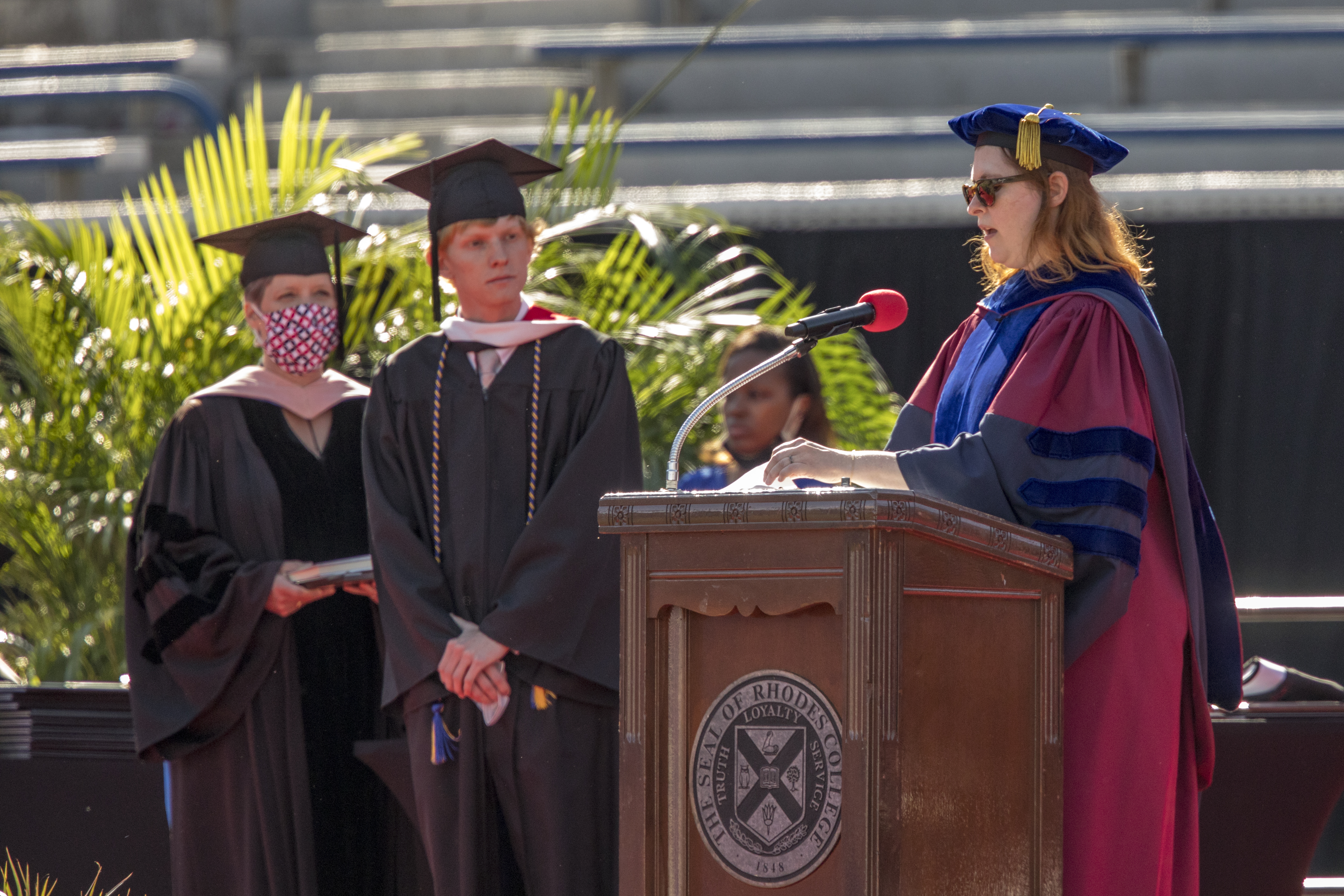 Thomas (Trey) Hayden '21 was awarded the Peyton Nalle Rhodes Phi Beta Kappa Prize, the college's highest academic honor. It is awarded to the graduating senior who has best demonstrated an exceptional combination of scholarship, creativity, and achievement and a commitment to the liberal arts and sciences. As an economics major and English minor, Trey pursued a wide range of academic interests that reflect the breadth of liberal arts. One recommender noted his "striking range of interests and talents: a standout student in economics and English courses, a former intern with the Kentucky state legislature,  an accomplished pianist, and a gifted young poet  with a literary career ahead of him."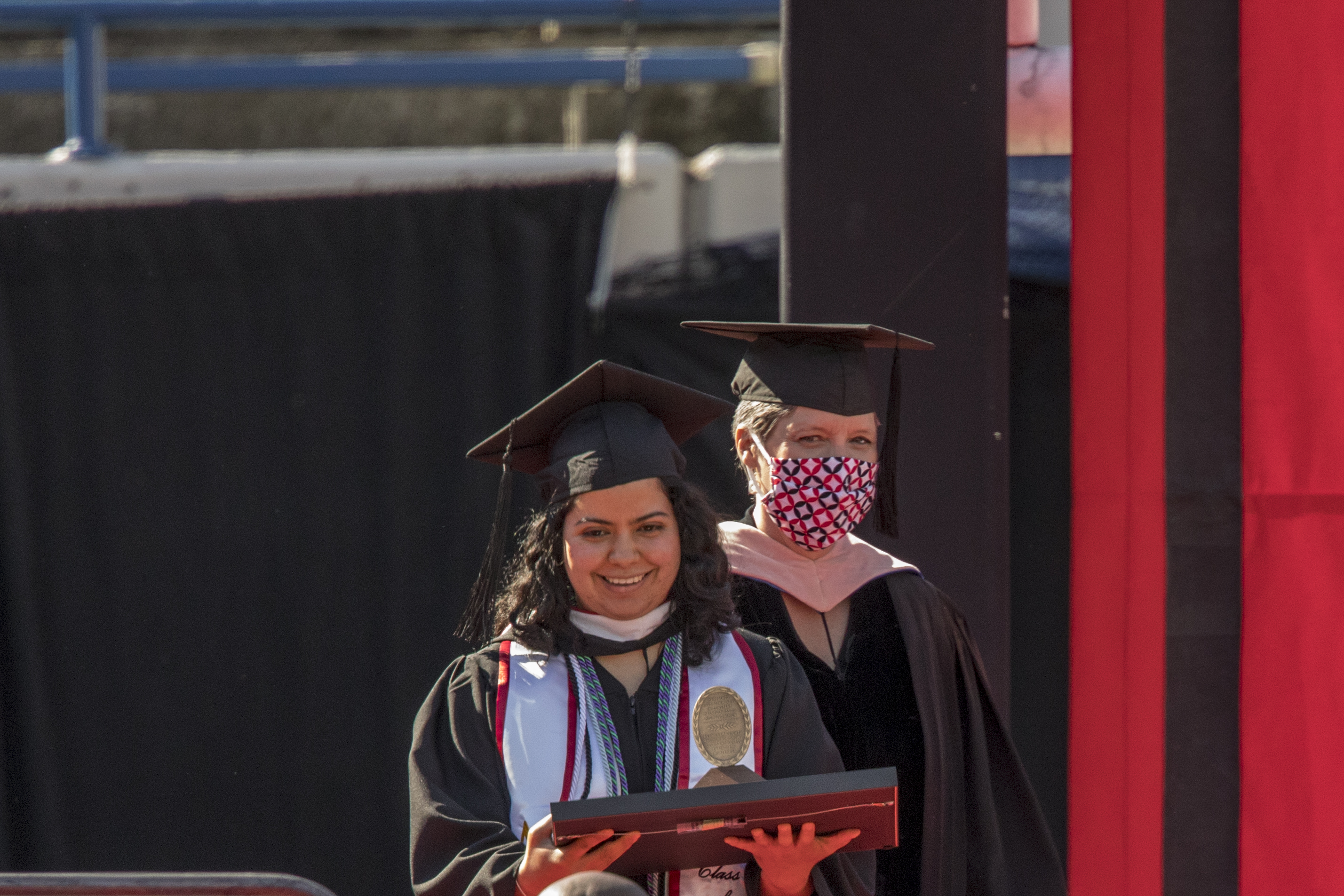 Angye Zamudio '21 and Madison D. Zickgraf '21 received the Algernon Sydney Sullivan Student Awards. Presented each year, in cooperation with the New York Southern Society, to two members of the graduating class, these students were nominated for the award by their peers and have exemplified excellence of character and service to humanity.
Angye Zamudio, an Educational Studies and History double major from Park City, Illinois, was described as "a light on our campus." Angye's excellence in the classroom was matched by her co-curricular involvement. As a strong voice for the Latinx community at Rhodes, Angye helped found Lambda Phi Chi, the first and only Latinx sorority at the college. Off campus, Angye volunteered with the Refugee Empower Program, where she mentored students with great care and concern.
Madison Zickgraf, an English major from Mount Juliet, Tennessee, has left an indelible impact on her peers. As the student director of the Rhodes College's Liberal Arts in Prison Program, which offers a credit-bearing course for incarcerated women at the West Tennessee State Penitentiary, she overcame a host of logistical obstacles requiring tremendous perseverance and time. Her skills and dedication to the program helped to achieve its success.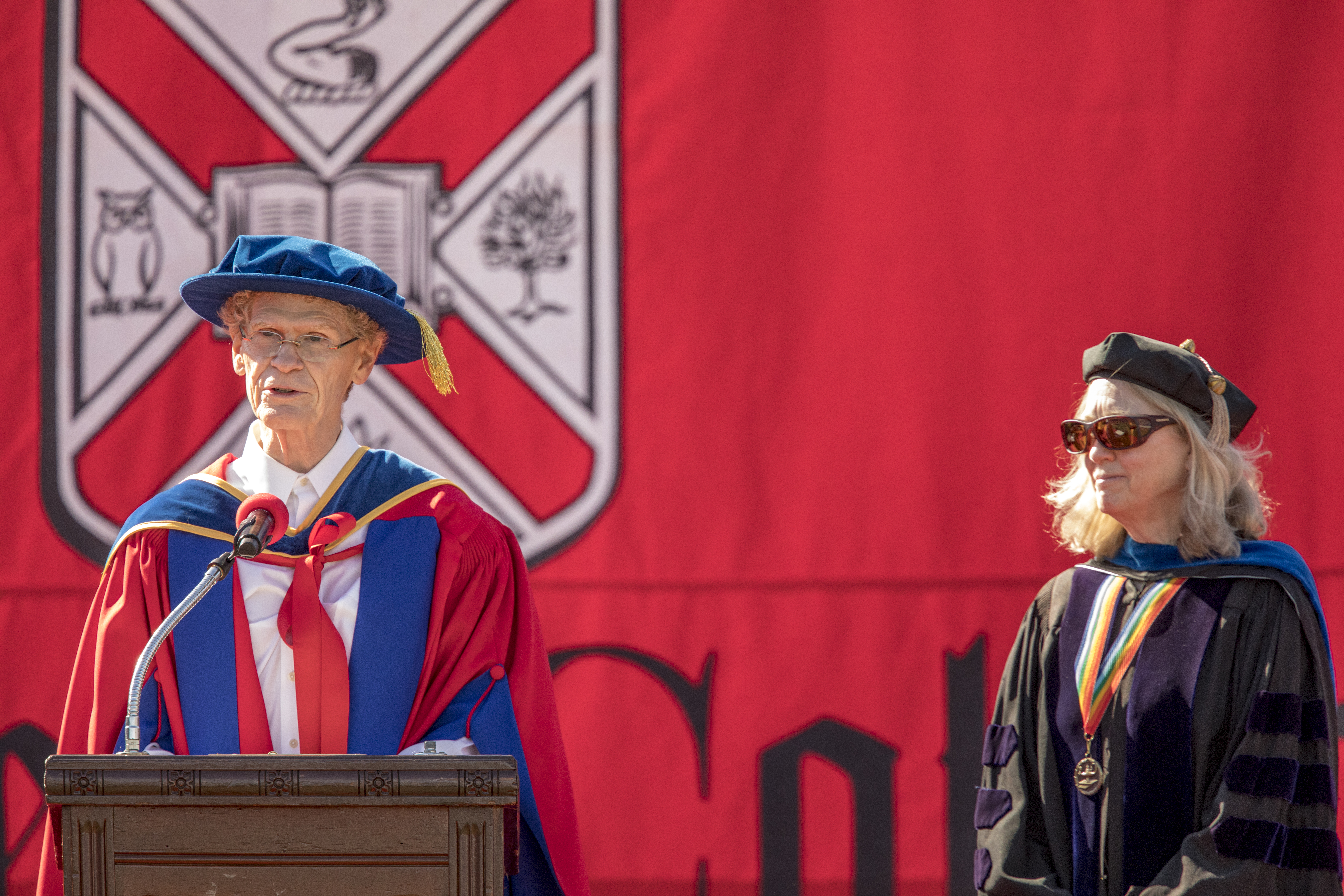 The Algernon Sydney Sullivan Award is also presented annually to one non-student who has given selflessly to the Rhodes community. This honor was bestowed on Marsha D. Walton, retiring Professor of Psychology.
"In just the last five years, her journal publications include 12 undergraduate co-authors and her (inter)national conference presentations include 23 undergraduate co-authors. Her devotion to students extends to mentoring them for future careers: Over 40 of her research students have gone on to earn Ph.D.s, and other recent mentees have pursued nursing degrees, masters degrees in public health, medical degrees, and advanced degrees in teaching and education," says Chair and Professor of Psychology Dr. Katie White.
For the breadth and depth of her work, Walton won the Clarence Day Award for Outstanding Research and Creative Activity in 2018. When the Council on Undergraduate Research named her a recipient of its Excellence in Mentoring Undergraduate Research in the Social Sciences Award in 2020, Walton commented that "It is amazing to be given an award for doing something this intrinsically rewarding."
Rhodes also awarded the honorary Doctorate of Humanities to Emmett Ellis, Jr., known as Bobby Rush. At the ceremony, Rhodes debuted the worldwide premiere of the music video of Rush's blues rendition of "America the Beautiful," recorded at Royal Studios with Eddie Cotton and Rhodes' Mike Curb for Music Institute students. The recording will be released later this month.