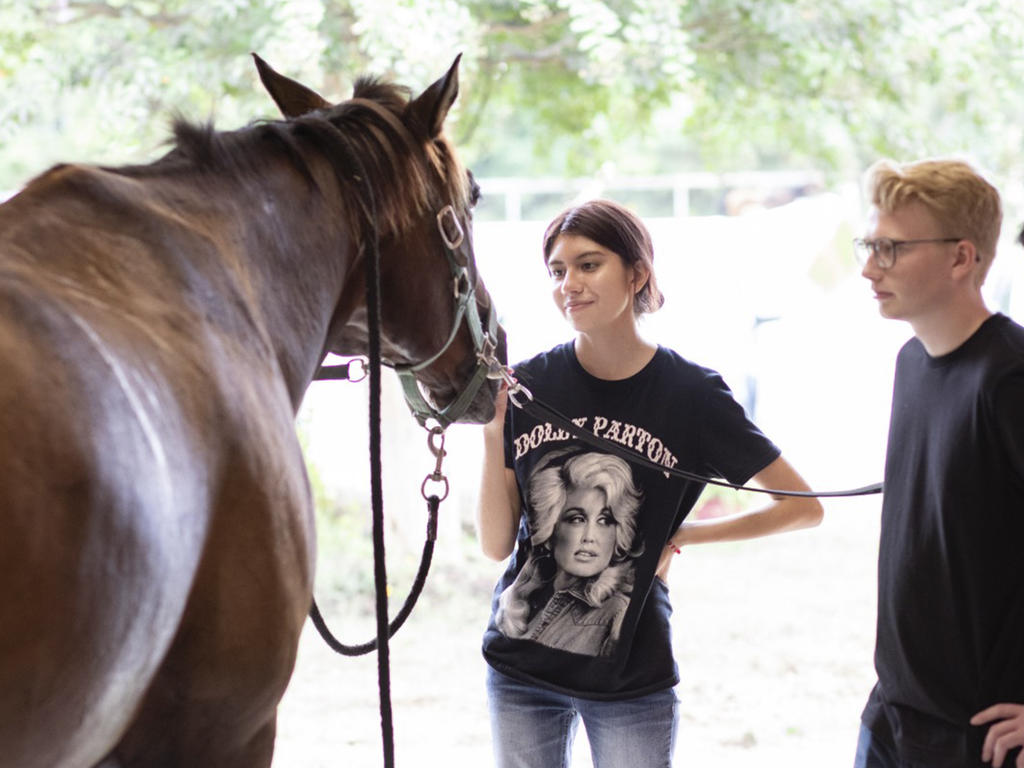 November 21, 2022
This September, for the first time since the outset of the pandemic, the Rhodes Equestrian Club sent a team to a collegiate competition. They placed in the top five in several events and are looking ahead to more success at upcoming shows.
Who are the riders, though? The answer may come as a surprise: "Some members have been riding for over 10 years, while others took their first lesson a couple of weeks ago," says club president and economics major Elizabeth Mueller '23. Club leaders like Mueller are constantly striving to push members' boundaries and make the sport accessible to everyone, no matter their experience level.
"I didn't think I would be competing so quickly, but Elizabeth encouraged anyone, especially new riders, to compete," says new rider Bailey Santos '25. "Ribbon or not, I think it it's a lovely experience to share with the club." Santos recently finished her first competition, winning fifth in the beginners walk and trot class.
 Although Santos, who plans to pursue a neuroscience major and is interested in a pre-physical therapy track, spent the past summer volunteering with horses at a therapeutic riding facility, she notes that she herself hasn't had many riding opportunities. Now she frequently rides with another new rider, Alex Walcott '26, at Hunters Edge Stables in southeast Shelby County. Walcott, a neuroscience major on a pre-med track, came to Rhodes because of the internship opportunities in Memphis' world-class hospitals. He joined the Equestrian Club to expand his comfort zone and says the club has helped him meet new friends who have the same interests. He won sixth in the same class as Santos at their recent competition. "I'm lucky to have lessons with Alex," Santos adds. "I have someone to relate to and share a similar excitement about learning to ride."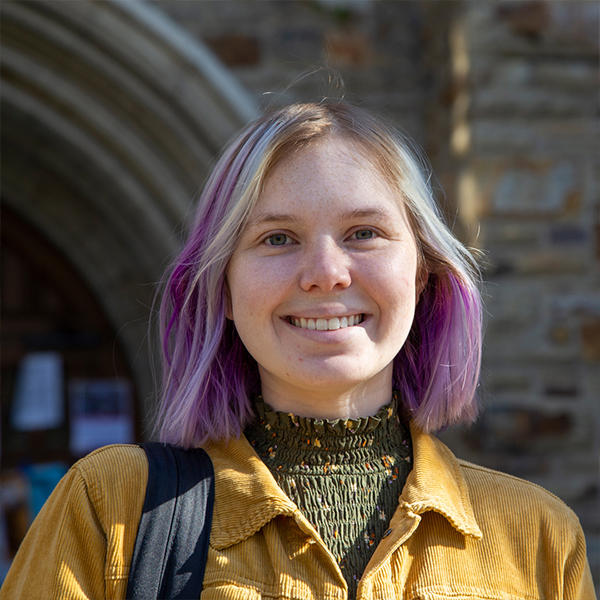 Mueller, who has been riding for 16 years, recognizes the exclusivity—both perceived and real—of the equestrian sport, but says the Equestrian Club is working to allow a broader audience to participate. One way the club hopes to achieve inclusivity is with a new three-tiered structure dependent on interest and time commitment. The first level, Horsemanship, invites students to meet for monthly team days. There, they learn the basics of horsemanship and focus on the mental health benefits of the sport. At the Recreation level, students can attend team days and ride in their free time. Finally, the Competition level encourages students to compete in up to two competitions per semester through the Intercollegiate Horse Show Association. They ride at least weekly with other Rhodes students.
This new system was just a small part of Mueller's ambitious goals for the semester. She sought to completely restructure the budget, revive the competition team, increase interest across a wider student population, and connect with collegiate equestrian networks. In addition to the funds the team receives as a Rhodes club, they also have solicited support from Memphis area equestrians to help outfit team members—from tall boots to show shirts and coats in both men's and women's sizes—so they can look their best when they travel to compete at horse shows. Associate Professor of Chemistry Larryn Peterson serves as the team's faculty advisor.
This semester, the club has 10 students participating at the competition level, some of them new riders like Santos and Walcott. It's not all about the competitors, though. Club leaders work tirelessly to include students at the Horsemanship and Recreation levels and encourage their passion for the sport. "The executive team's persistence at getting me involved and finding a place for me has been kind of shocking—in the best way possible," says new rider Niko Baranek '24.
Baranek, who had previous experience with horse care but not riding, says, "I've always found ways to be around horses, but I've never had access to lessons." Once club leaders heard about her interest, they reached out to offer her the necessary resources and support to find her a place within the club. "I felt like I was part of something at Rhodes, and it inspired me to get involved in other ways, too. It's a really welcoming place."
Mueller considers the club's emphasis on inclusivity integral to its mission. "Through the club, I regularly meet people who have never even touched a horse. I am proud to be a conduit for their introduction to a new experience," she says. "Our club is not successful by being exclusive, and it never could be."
By Hannah-Elsie Meit '25