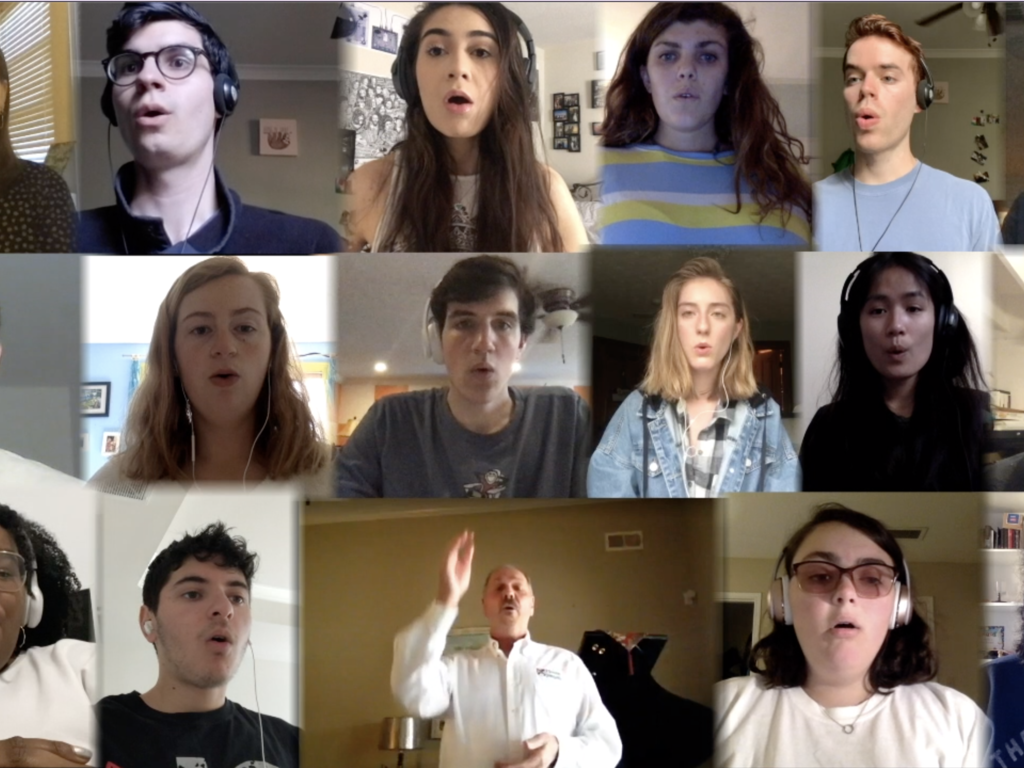 May 11, 2020
Each year, the Rhodes Singers embark on a concert tour, traveling the country and the world through the years. They have made it a tradition to close their concerts with a special piece of music, "Hear My Prayer," by Moses Hogan.
This year, they were scheduled to travel to New York during Spring Break with invitations to St. Patrick's Cathedral and Carnegie Hall. When these concerts were cancelled due to the pandemic, Raneem Imam '20 suggested producing "Hear My Prayer" virtually and took leadership over the project.
During the first week of remote learning, Imam says she was in in a meeting with Rhodes Singers when the idea of producing a virtual choir hit her. Because of her knowledge of audio engineering, she was confident in her ability to make this work. In just a couple of weeks, Imam edited together submissions from fifty choir members to produce the "Hear My Prayer" video as well as a second recording of "Neither Angles, Nor Demons, Nor Powers" by Timothy Takach.
"The two songs we chose for this project meant a lot to me, especially because it was our tradition to sing them at every Spring Concert, which was scheduled for around the end of April. We had 16 seniors graduating from the choir and this final Rhodes Singers concert was a big milestone for us," says Imam.
"Raneem said we should do "Hear My Prayer" to 'mark this moment,' which is what we did," says Rhodes Singer director Dr. William Skoog. "When the Singers heard this Virtual Choir recording for the first time together many of them were in tears. As was I.
"The seniors have lost so much of what would have been their victory lap–– a time to celebrate their time at Rhodes in real time, live, together in community. Regardless, they are resilient. The seniors have held their leadership firmly, speaking to the other members of the choir about what to hold dear, how to value their time at Rhodes, their time in Singers, and not to take it for granted. They held their heads up, remained determined, resolved, to make the best of it."
Skoog and Imam both hope that continuing this tradition will provide a capstone to an unusual year and provide meaning and comfort to the Rhodes Singers, all Rhodes students, and especially the graduating seniors.
"Producing this project has been extremely emotional for me. I gave four years of love, passion, and hard work to this choir, and never throughout those years would I have imagined this to be how it all ends," Imam says.
I wanted to mark this moment for us, for the college, for our entire community, and show everyone how music can bring ease and comfort amidst chaos. My wish is that the videos bring peace, closure, and hope to all those who need it most right now, and for everyone to show our music communities love and support for all the healing they have been doing through their crafts during this time."