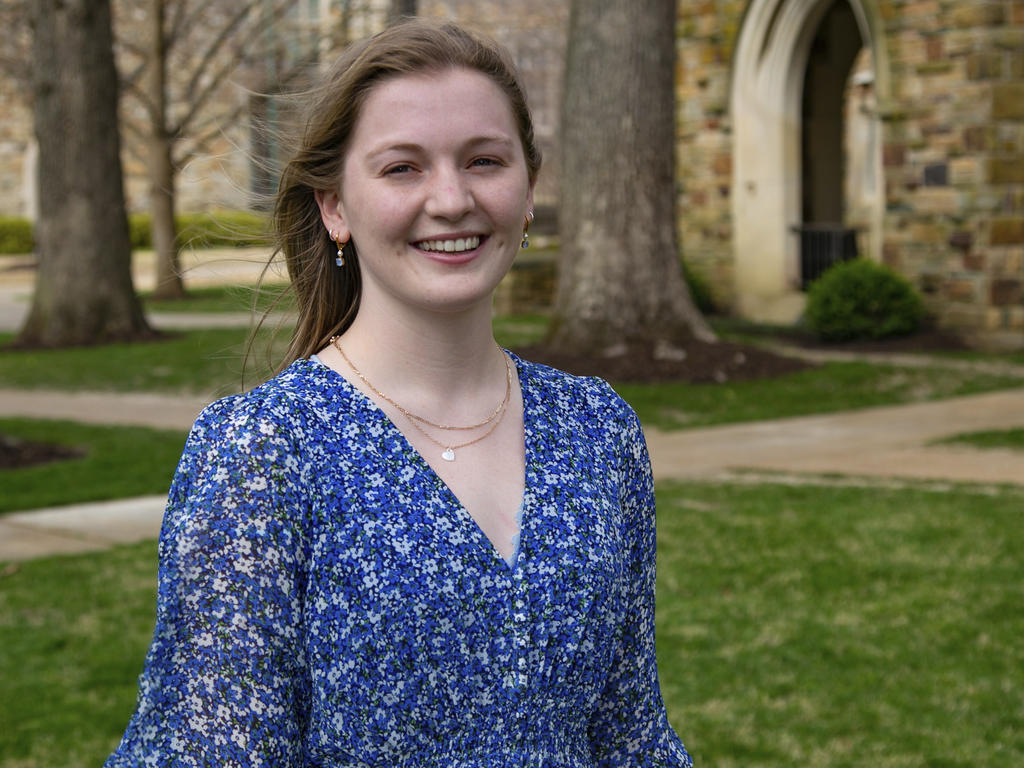 April 04, 2022
Not only is senior English major Caitlin Evans the Rhodes Student Associate of the Year, but also she is being recognized as Student Employee of the Year at the regional level by the Southern Association of Student Employment Administrators. The organization submitted Evans to be considered for the National Student Employee of the Year awards sponsored by the National Student Employment Association.
 
As a result, Evans has been named one of the winners; she will receive a cash prize and her story will be featured on their website.
As Rhodes Student Associate for Accessibility Services, Evans coordinates relations between the office and students with accessibility needs as well as organizes and directs events on study programs and accessibility awareness. Among her duties include researching accessible course materials for specific classes and converting inaccessible materials into alternative software formats (braille, accessible PDF, tactile images, etc.). Evans also assists with training students on assistive technologies. She even developed a cost guide to pet ownership for students considering an emotional support animal accommodation.
"Caitlin is the ideal professional employee.  She is an independent self-starter who completes all tasks in a thorough, timely manner. She is meticulous in everything she does," wrote a nominator.  "Her empathy and excellent communication skills have allowed her to work effectively with students, staff, and faculty."
Rhodes' Student Employee Appreciation Week, which is April 4-8, includes recognition of Evans as Rhodes Student Associate of the Year.
Carley Jo Goggans '22, who is a student employee in the Department of Music Office, is this year's Student Employee of the Year. In her role she has helped to revamp and revive music events, while boosting participation of both performers and attendees.
 
"She has truly become the ambassador of our department to new students and visitors alike," wrote a nominator. "You would be hard-pressed to find someone who is more dedicated and takes as much pride in their work as Carley Jo does."
 
Supervisor of the Year is Kevin Collier, manager of campus scheduling. "He is one of the first people I go to for advice or help," wrote a nominator. "Mr. Collier is an exemplary employee, supervisor, sponsor, and, overall, just a good human being that wants to help others."
Rhodes will celebrate the hard work of all student employees with various activities during the week of April 4-8.