Rhodes students enrolled in the course Environment and Society in the spring of 2020 used innovation and creativity to make a real-world contribution within the field of environmental studies and sciences. Collaborating with five local environmental nonprofits—Memphis City Beautiful,  Memphis Tilth, Project Green Fork/Clean Memphis, The Compost Fairy, and Wolf River Conservancy—they co-created infographics that will be used to promote the programmatic activities of each environmental nonprofit in Memphis and Western Tennessee. The course was taught by Dr. Kimberly Kasper, assistant professor in the Department of Anthropology and Sociology. 
Environment and Society is an introduction to contemporary environmental issues, including energy consumption, sustainability practices, agricultural land-use, conservation, and global environmental challenges. Required for both the environmental studies and environmental sciences majors and minors, the course is also taken by other Rhodes students who want to broaden their understanding of environmental issues on the local, national, and international stage.
 
The collaboration between the organizations and the students took place on Zoom starting in mid-April, soon after Rhodes transitioned to remote learning due to the COVID-19 outbreak. The students were organized in teams of five and engaged with each nonprofit's staff to learn more about the organization's structure and/programs. Creating the infographics became an exercise in communicating each organization's history and vision in a visual medium. Designs incorporated brand logos and mission statements, as well as graphs, maps, and other graphic elements to show relevant statistics and information, including processes, opportunities, and calls to action.
 
"This co-creative process between students and community partners also demonstrates an innovative remote pedagogical strategy, which guided the students into learning new digital art software and new techniques for collaborations," says Kasper. "The project was a great example of Rhodes' commitment to engage with Memphis, even during one of the most culturally and economically challenging times of the 21st century."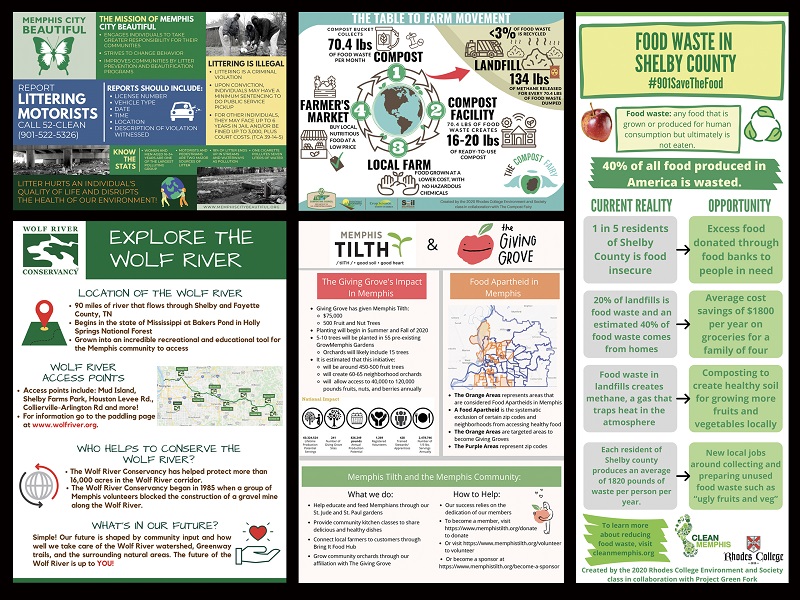 The final infographics were unveiled on May 6. All five infographics will be shareable via the organizations' websites and social media sites, and will be used as promotional materials either as posters or at public events as handouts.
"The students co-created informative products that will be useful for the five organizations to create more awareness about their amazing community projects," says Kasper. "And they gained an invaluable experience, as they had to navigate the new terrain of learning and collaborating remotely in the age of COVID. I am proud of all them for their hard work and perseverance."