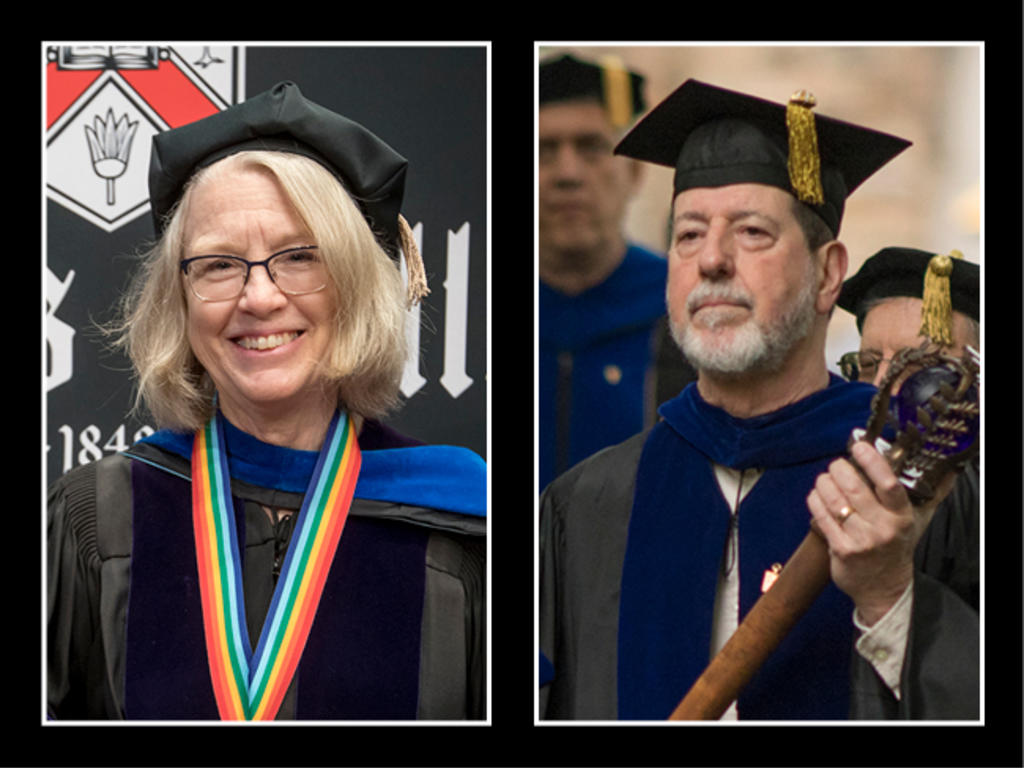 June 24, 2020
Professor of Biology Terry Hill and Professor of Psychology Marsha Walton have been awarded national research mentoring awards by the Council on Undergraduate Research (CUR.)
In recognition of her contributions to the professional and personal development of students inside and outside of the classroom, Walton has been chosen for the 2020 Excellence in Mentoring Undergraduate Research in the Social Sciences (EMURSS) award offered by the Social Sciences Division (SSD) of CUR. Walton has been on the faculty since 1979, teaching courses in psychology, education, and gender and sexuality, as well as maintaining a research program aimed at understanding middle childhood moral and social development.
"Dr. Walton has an outstanding record of excellence in mentoring students in research that results in publications and presentations. In just the last 5 years, her journal publications include 12 undergraduate co-authors and her (inter)national conference presentations include 23 undergraduate co-authors. Her devotion to students extends to mentoring them for future careers: Over 40 of her research students have gone on to earn PhDs, and other recent mentees have pursued nursing degrees, masters degrees in public health, medical degrees, and advanced degrees in teaching and education," says Professor and Chair of Psychology Katie White.
In 2017, Walton published a book, Conflict Narratives in Middle Childhood: The Social, Emotional, and Moral Significance of Story Sharing, that is co-authored with a former Rhodes student, Alice Davidson '02, who is now a professor at Rollins College.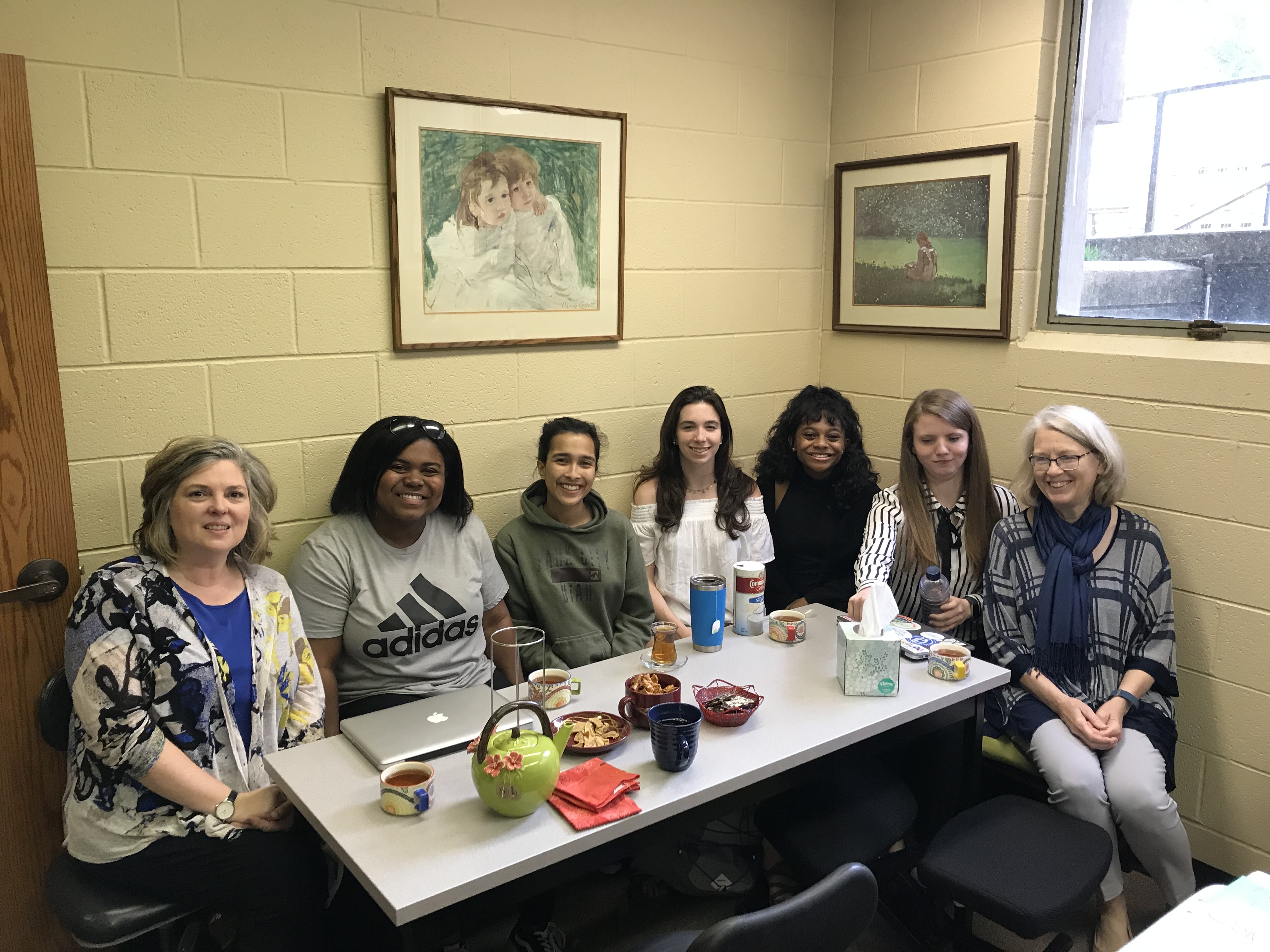 "Dr. Walton has involved undergraduate students in every stage of this important work, and she takes the time to share her passion for this work with her students through one-on-one conversations, as well as weekly research team meetings where students discuss relevant literature and coding challenges. Dr. Walton served as my faculty mentor throughout my undergraduate years at Rhodes College; to this day, she continues to be the primary person I turn to for wisdom and support in my current role as an associate professor and department chair of psychology at Rollins College. Further, I seek to emulate her approach to mentoring as I now collaborate with and support the personal and professional growth of my own undergraduate students," said Davidson in her letter of nomination.
"I have had the pleasure of working with about 75 brilliant students in research teams over the years, and this has been the most gratifying of all the work I have done at Rhodes. It is amazing to be given an award for doing something this intrinsically rewarding," says Walton.
Hill has been chosen for the Advanced Career Mentor award in the Biology Division of CUR. The advanced career award is awarded to faculty who have at least 19 years of experience and honors "biology mentors for their long-term efforts in supervising undergraduate research students." Hill has maintained an active, productive, and well-funded research lab for over 40 years that always included undergraduate researchers. In just the past six years, he has mentored well over 20 students. Hill's work on cell growth and development of fungi has been regularly funded by the National Science Foundation over the past 20 years, with his most recent NSF-funded research grant—shared with Dr. Loretta Jackson Hayes, who serves as primary investigator on the grant—ending this upcoming year and renewal of their next expected soon. In just the last 10 years, he has published with 22 undergraduate co-authors.
"When a student joins Terry's lab, they engage in cutting-edge, publication-quality research. Terry was one of the first faculty at Rhodes to maintain student positions through the summer, and can be thanked for helping to create the summer research culture that currently exists at Rhodes," says Professor and Chair of Biology Mary Miller. "Terry understands that science is a creative process, and he lets students experience this in a meaningful way. The result for our students is twofold: it gives them a better understanding of what a real career in science is like, and it develops their independence. Even if students do not pursue a PhD, that sense of independence will be carried by Terry's students for their lifetime. It will change how they approach the world and solve problems that they encounter."
"I am now writing my Genetics PhD thesis, and I do not think that I would be where I am today without the mentorship that Professor Hill provided," former student Kristen Wendt '14 wrote in her nomination letter.
"Professor Hill has an innate curiosity and passion for science that I hope to maintain in my own career. Additionally, Professor Hill has a commitment to excellence, both for his students and for himself. Professor Hill is never content to have a research student who is simply a pair of hands, and instead expects all of his students to have a deeper understanding of the experiments that they are performing."
Even as he is honored, Dr. Hill credits the skill and caliber of his students at Rhodes.
"The award recognizes what my students have done as much as it recognizes what I have done. Mentorship is a reciprocal process—each partner develops through the interaction with the other. That applies as much to each individual case (one student and one professor working together) as it does over the long run. To the extent that I may have become effective as a research mentor, a great part of that is something I've learned how to do (and am still learning how to do) from my talented and engaged students," Hill says.